This post is brought to you by LegacyChryslerJeepDodgeRam.net.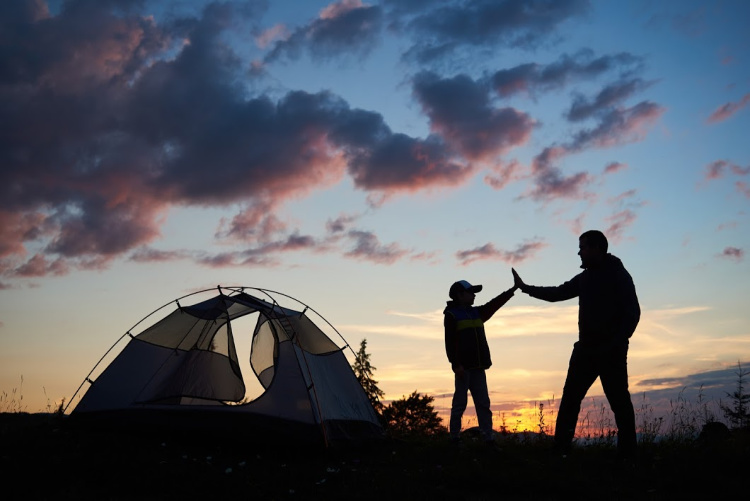 Whether driving the next town over or hours away tent camping is a fun and frugal way to enjoy nature with your family.  While kids love a night under the stars, for adults it might be a bit challenging. Many think that tent camping means you need to sleep on a hard surface and wake up with a backache, but the truth is there are plenty of ways to make your slumber a cozy one. Look below at 7 ways to make tent camping more comfortable, and see how easy it can be to tent camp and actually wake up refreshed.
1. Be sure to insulate the floor.
A dirt floor can be quite cold, and that can be an issue when you are trying to sleep. Lay some type of insulation down such as an area rug, some thin foam, or even a tarp. This will help provide some protection and insulation, keeping you warm and dry.
2. Consider an air mattress.
Your back will thank you! Take an air mattress with you, and don't forget the pump. The extra support will help you sleep better and be easier on your joints. Be sure to check it for holes prior to going, so you don't run into any issues when it comes time to inflate it. Don't forget the repair patches as well.
3. Use your household linens.
You would be amazed at how use you get to your own household linens. Take your household sheets, blankets, and pillows so you can sleep well. Take more than you think you will need, since it is better to be safe than sorry. This includes sheets, a throw blanket, and multiple pillows and cases.
4. Lavender oil can help.
A few dabs of lavender oil in your tent can help you feel more relaxed and may be able to help keep bugs away too. Just add a few drops around your sleeping area and around the entrance of the the tent.
5. Check and double check the tent screens.
Before you head out, check the screens on your tent well. Nothing will ruin your sleep more than bugs. Check the screens and repair any rips ahead of time so bugs don't have an easy way in. You will be glad you did!
6. Bring your sleepytime favorites.
This means your favorite book, a small nightlight, your cozy pajamas, silk pillowcase, fuzzy blanket and other items that you relate to bedtime. This way you can still enjoy the same bedtime routine and your brain will know when it is time to shut off.
7.Don't forget the lights.
Stumbling around in a dark tent can be a pain. Be sure you have some battery operated or solar charged lights. This way you can have a little reassurance in the dark, which kids are going to love as well.
Are you ready to enjoy some tent camping with your family? Consider these 7 ways to make tent camping more comfortable, and see how easy it can be to actually enjoy your night in the great outdoors.