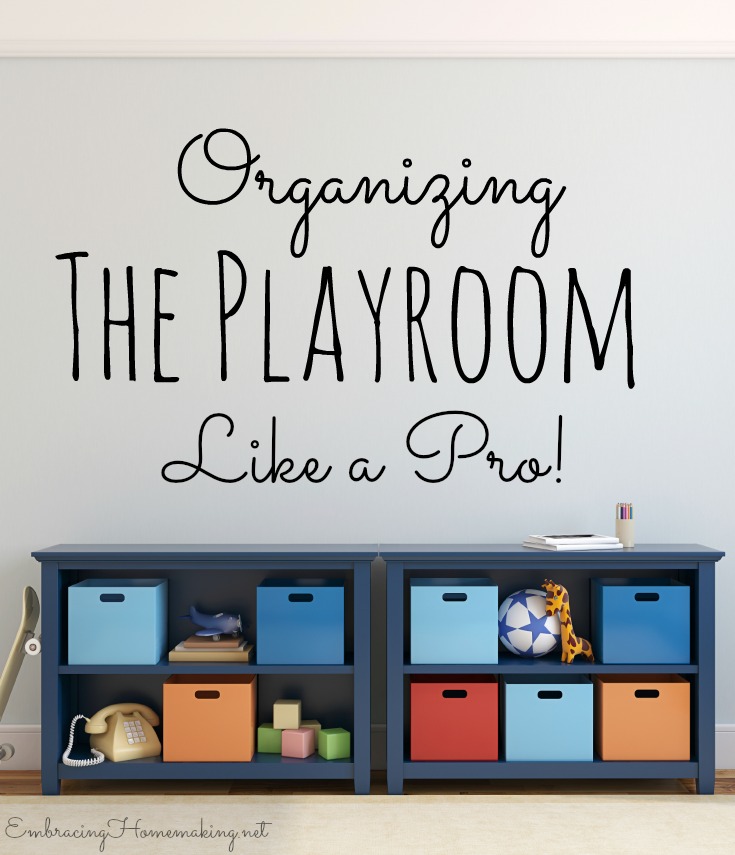 I'm excited to share this post written by Barbara Reich, Professional Organizer & Author, "Secrets of an Organized Mom."  I think you'll love it!  I'll turn it over to her now.
The playroom. We all know it's an integral part of our children's lives, but it's also that scary room with the clutter, the unidentifiable pieces, and the funny sounds that emerge even when the kids have been asleep for hours.
You do not have to fear your playroom. Just because this is a creative space for your children does not mean that it's a room without rules. Think of your playroom as a classroom. From the earliest days in preschool your children are taught to clean up. Home shouldn't be any different. Before you can instill these classroom like philosophies in your home you need to set up the infrastructure to make it easy and natural. Here are some easy rules and steps to follow to help make your playroom a livable space in your home.
– Group like things together: Walk through the room and begin to group like items together. All of the small animals, all of the matchbox cars, all of the Barbie dolls, and all of the puzzles should be grouped together. Use clear plastic boxes or labeled bins to store the small items that are grouped. This enables your child to find the toys more easily and is more visually appealing than having them scattered all over the room.
– Group small toys in clear plastic drawers that slide out. Little hands have a hard time opening boxes with lids, and this provides a sense of order to the little animals, card games, and super hero figurines that young children love to collect.
– Label toy containers with both the name of the toy and with a picture. If it works for your children at school it should be no different at home.
– Use adjustable shelving that conforms to what you need to store. Over the years, the size and shape of your children's toys will change (while clothes get bigger, toys get smaller), so make sure your shelves can adapt.
– Clutter will expand to the space you allot to it. Instead of focusing on how much more space you need, consider how much more space you'll have if you discard the toys that are broken and are missing pieces, and the gifts your children have never used.
– Throw things out! If there are pieces missing or something is broken get rid of it!
– Organizing and the spirit of giving go hand in hand. Ask your child to think about what toys s/he has outgrown and may want to donate to children who are less fortunate.  Begin a tradition of purging several times a year (before birthdays, holidays, and the end of school). Not only does it teach your child about giving to others, but it results in extra shelf space before big influxes of toys.
About Barbara Reich:
Barbara Reich is a nationally recognized organizing expert who has appeared on the Today Show, Inside Edition, Fox News, and New York 1 and has been featured in the New York Times, New York Post, Real Simple, InStyle, People StyleWatch, Family Circle, Better Homes and Gardens, AARP Magazine, and O Magazine among other publications. She is also the author of Secrets of an Organized Mom.   She lives in NYC with her husband, teenage twins and dog. More information about Barbara and her organization can be found at ResourcefulConsultants.com or on her Facebook Page.