Maybe it's the rain but I've been day dreaming of visiting another nearby town and spending the day there.  It's certainly easier than a full scale vacation and it's a great way to learn about the surrounding area.  If you live within driving distance of Richmond, Va I hope you'll enjoy my recommendations.  This Top 3 Things to Do in Richmond, Va post is brought to you by a Richmond business, PearsonChryslerJeepOnline.com.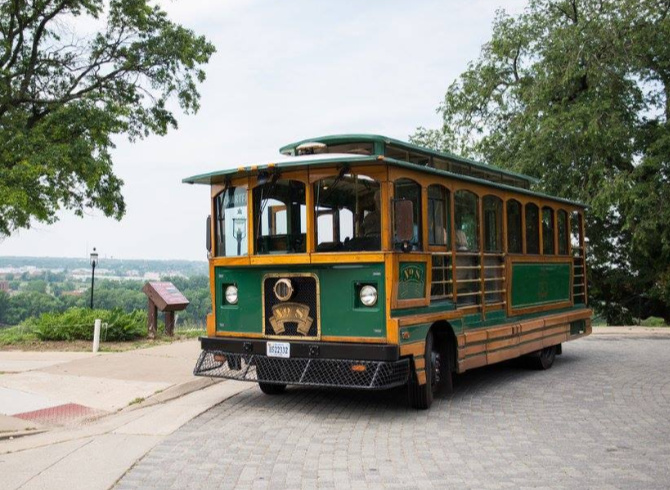 1. RVA Historic Trolley Tour
If you know me, you know my love of Mister Rogers.  It's true.  There is a deep love I have for that precious man and the work he left behind.  Loving him, means loving Speedy Delivery and all things trolley related.  I've watched his trolley tour episode with my kids over and over.  I would love to ride a trolley some day and a trolley tour seems like a great way to do just that.  You get to see a trolley up close and see the Richmond area at the same time.  The RVA Historic tours website boasts, "This two-hour historic tour will give you a great overview of the history of Richmond! See and learn about the State Capitol, St. John's Church, Libby Hill, Monument Ave, James River, and much more!"  To learn more visit RVATrolley.biz.
How come this isn't a thing where I live?  This should be a thing everywhere!  You can pay one price and enjoy a 3 hour food tour of the best eateries in the area.  I couldn't pick just one to share because they all sounded so good.  Here are your three food tour options straight from their website:
-Dive into Church Hill, Richmond's oldest neighborhood! Get a taste of the barbecue, baked goods, and everything else that makes Church Hill a food powerhouse, while uncovering Richmond's origin story in this must-visit neighborhood.
-Explore Carytown from an insider's perspective as you enjoy food and snacks from 5-6 different restaurants, cafes, and shops and learn from our expert guides about the fun and quirky history of Richmond's most exciting neighborhood.
-Discover Richmond's hip Arts District! Savor mouth-watering food and snacks from local restaurants and bakeries, meet the people behind these culinary destinations, and hear the stories of one of Richmond's defining neighborhoods.
I really don't know which one I would pick because they all sound so good!  To find more information visit RiverCityFoodTours.com.
Last but certainly not least, museums.  Richmond boasts of museum after museum after museum!  There is The Valentine, the American Civil War Museum-White House of the Confederacy, The American Civil War Museum at Historic Tredegar, Beth Ahabah Museum and Archives, Black History Museum and Cultural Center of Virginia, The Branch Museum of Architecture and Design, Children's Museum of Richmond (two locations), Chimborazo Medical Museum, Edgar Allen Poe Museum, Virginia Holocaust Museum, and so many more!  To see all the museums that Richmond has to offer visit VisitRichmondVA.com.
There you have it!  Those are the three things I would do if I had a spare day or two in Richmond, Va.  I would take a trolley tour, eat a lot of good food, and expand my mind with museum after museum.  If you love Richmond and have something to add to my list please feel free to leave a comment below.