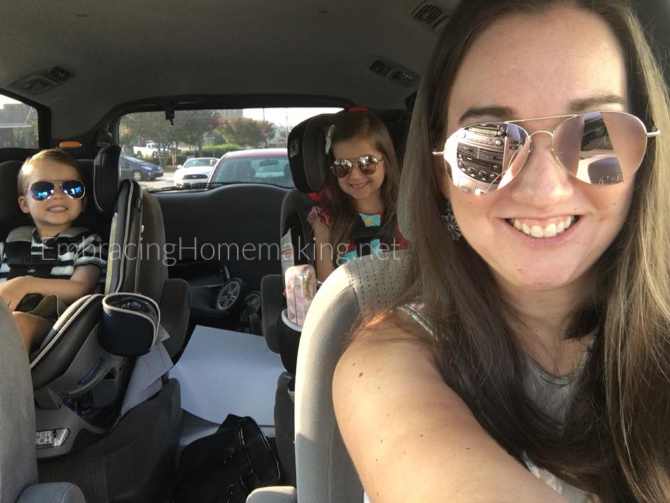 There is nothing that spoils a road trip like an unhappy child – cooped up, cranky, bored and the kid's aren't too happy either. If you are going over 50 miles with kids under 12 you are going to want to have a game plan and load the car with plenty of kid friendly fun. These How to Keep Kids Happy on Road Trip tips are brought to you by ChryslerOfCulpeper.net.
Wear comfy clothes, pack back up clothes just in case of a water spill or some unforeseen emergency.
Next you are going to want to pack snacks – Preferably items that won't completely destroy your vehicles interior. Nothing too hard to clean that is, crumbs are fine.  Just plan to vacuum out the car when you get home and plan for crumbs.  Crumbs happen, let it go.  Dried fruit, nuts (if your kid can eat these well consistently), pretzels, goldfish, and a small water bottle of theirs.  Wet wipes and hand sanitizer are also handy items you probably want to make sure you have packed. 
My kids know that I will have an activity for each of them for every hour of the trip.  It takes a little prep work but it's so worth it and I usually get home without having used many of the packets I have ready.  I have so many little busy bags, activity workbooks, dollar store activities, sticker books, puffy stickers and a blank notebook, DIY bracelet kits, etc.  I firmly believe that it's good for kids to get bored but I also think a little activity in the car here and there will go a long way.
Let them have a turn choosing music.  (On that note, you may want to see my Top Road Trip Tunes)  Sing with them.  Dance.  Let yourself have fun, which brings me to my next point.
Wear silly glasses and act like it's normal when another car sees you.  Enjoy being with your kids.  Be that mom or dad that seems more like a babysitter instead of a parent.  That's harder than ever to do on a trip but it's that much more important to do then.  If you're having a good time then they'll have a good time.  You can control your attitude and in turn your attitude will greatly influence theirs.
Punch Buggy (although that's honestly not a favorite of mine), License Plate Bingo (that's right up my alley!), anything to pass time and keep their minds occupied. Who can spot the most pickups in 20 minutes? How many yellow cars are in the state of Virginia? (See my Top 3 Things to Do in Richmond post if you're near there!) Make up the games as you go but whatever you do be part of the fun and you'll probably find that it makes the trip go even faster for you too!
Plan ahead of time for stops and allow the kids to stretch their legs at a rest stop or even a park.  A quick game of catch could be just what the kids need to get the blood pumping and burn off some energy.
Those are my 7 best tips for how to keep kids happy on a road trip.  If you have anything to add to my list please leave me a comment!