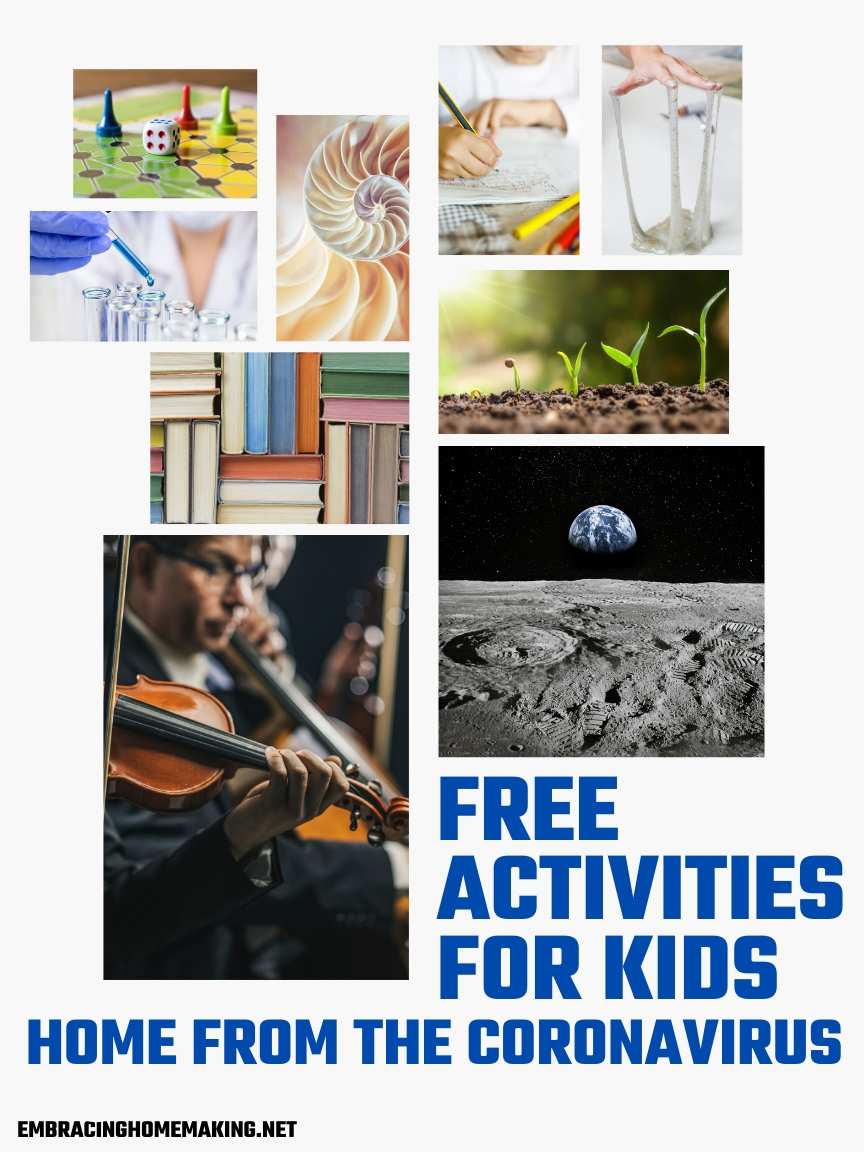 I'm seeing questions like "what do I do now?" "how do I keep my kids entertained and learning all day?" all over Facebook groups.  Here's some advice that I can share from my years of homeschooling…
(If you saw this post on Facebook you can skip a little and scroll down below the next picture)
-Breathe.  Enjoy your kids and don't try to make every activity educational. Nature walks, board games, and other family activities can be enriching on their own.
– Read. My daughter, who helped me make this list said to write LOTS! Poetry, biographies, books of strange animals, and read anything your kids are interested in or you want them to be.
– Play.  Build a fort and play in it with them.  Play make believe.  Play board games.  Play baseball. Hopscotch, bridge building competitions, make something out of a box, paper airplanes, or make a homemade marble run.
– Draw or paint a card for a loved one who is sick or feeling discouraged. Chances are you know someone who could use a little cheering up. Have them write a note in it or copy a poem if they're younger.
– Be outside. Hang that bird feeder you've been meaning to for months (oh that's probably just me), draw with chalk, build an outdoor fort with sticks and rubber bands, make a small garden, or lay down and watch the clouds in the day and the stars at night.
-Watch YouTube videos together to learn to do something new together.  Learn to draw, paint, crochet, hang photos on a gallery wall, build a bird house, or install a bidet (that's also what I'll be doing! Hey, if toilet paper is scarce, why not give it a try? Affiliate link: Get an inexpensive bidet attachment here)
– Guide kids to play with the toys they already have (and play with them sometimes too!). Legos, Kinex, dolls, etc.  Think old Christmas gifts.
– Cook together.
– Last but not least, reach out to your homeschooling mama friends.  They know your kids and could probably recommend some great personal ideas that would be beneficial to your family.
– You know your kids, enjoy this unexpected time to slow down and be with them.  Do the assigned work that they need to but other than that, don't stress.  No schedule is needed, no rushing, just being.  You've got this!! Oh and yea, it's okay to stay in pjs longer than usual. 🙂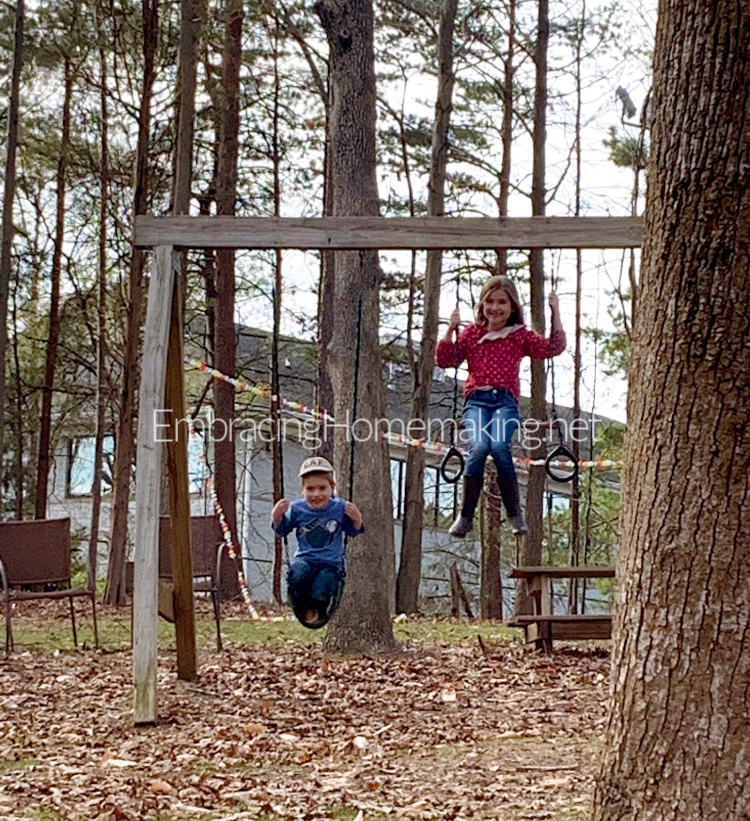 Here's my list of ideas that you can do to have fun with your kids while they're out of school.  Some affiliate links are included.
Plan a treasure hunt (The good old fashioned way is fun but if you happen to have The Family Treasure Hunt Game it's even easier!)
Practice story telling
Give your kids are supplies and let them go
Plan a meal together
Play Doh
Jigsaw puzzles
My son wanted me to add "have a conversation." I love that he values the times where we talk about important things.
Make a craft. Pinterest is your friend.  Check out my Crafts for Kids Pinterst Board.
Hide Easter eggs.  So what if it's a little early, they'll be well practiced when Easter comes. 🙂
Do fun science experiments that you loved as a child. Erupting volcano, disappearing egg shell, color changing flower experiment, etc.
Build a bridge or building (or a city!) with toothpicks and marshmallows.
Find unfinished books of sudoku, word search or crosswords to work on.
Tea parties are a favorite around here.  Add candles, a little poetry or any reading, something warm to drink and something to munch on.  Very relaxing.
Make up your own games together. Board games are super fun and challenging to create.
Make up your own floor games with painters tape.  Hopscotch is only the beginning of the possibilities.  Kids are so creative that I'm sure they'll have more ideas for this that we will.  If they don't, building a lot of roads is always a sure fire way to have fun with cars.
Watch virtual tours of museums online.  How cool is that?! You can find all twelve of them by clicking here.
Write a story together. The Brave Writer (Which I LOVE!) is graciously giving away her Daily Writing Tips (100 prompts) for FREE through the end of April. You can find those by clicking here.
Illustrate the story you wrote together.
The Seattle Symphony will offer "free video broadcasts and livestreams to share strength, comfort and unity with our community in Seattle and around the world during this uncertain time." You can find that on their Seattle Symphony YouTube channel here.
Go on a nature walk and bring items home.
Create an obstacle course.
Listen to audiobooks together.  Here are some of our favorite family friendly audiobooks.
Make homemade salt dough.
Create a family summer bucket list.
Hoopla/Overdrive/Libby These apps connect to your local library account and depending on where you live offer free ebooks and/or audiobooks.  Free books!
Play dominoes (we love the mexican train game) or set up and knock down dominoes.
HowToHomeSchoolForFree.com has a huge list of free resources to make our own lapbooks. Click here to access those.
Beginning on March 16th, the Metropolitan Opera offers free streaming of it's Live in HD series for the duration that it's closed.  The performances, originally captured as live broadcasts in movie theatres worldwide, will begin at 7:30 PM on the company's website.  The nightly series will be made available for free for 20 hours following the initial stream.  You can find out more information here.
Make slime. Relax, vinegar will take it out of almost anything…everything we've tried it has. Check out our tried and true recipes: blue ocean slime, cotton candy pink slime, & silver and gold foil slime.
Go and enjoy the ice cream truck when it comes around. (Why yes, it did just come by our neighborhood)
Curriculum Associates has free worksheets for students to work.  You can narrow their vast selection down by grade and subject.  I'm not big on worksheets but they're handy on occasion. You can find that link here.
Print photos and make a scrapbook or photo album. (Another thing I've put off for far too long.)
Play outdoor games together. Bocce ball, badminton, etc.
Toss the frisbee.
Fly a kite…or make a kite and then fly it!
Exercise together.  Maybe try a new form of exercising and watch a YouTube tutorial for it.
Make your own candles if you have the supplies or if you have a candle, a napkin, and a Cricut Mini Easy Press you can make this decorated candle. I still haven't made a full tutorial of this craft.  That was actually on my to-do list today but I thought this post would be more beneficial to everyone.
Play with tanagrams.
Plan your next vacation.
Depending on your kid's ages and how sensitive they are, you could research the coronavirus.
AmblesideOnline is a free curriculum using the Charlotte Mason philosophy. I absolutely adore them and use a lot of their suggestions each year. They put together a new great resource for parents who have suddenly found themselves doing school at home.  They have so many freebies and great stuff packed into this page that I think everyone should check it out.  I don't want to copy anything from them so head over there and see it all.  ****If you click one link on this page, let this be it.****  Go here.
If they can already write well, see if they can write with their non-dominant hand.  Or backwards, or upside, or backwards and upside down.  My amazing husband can do this and it blows my mind.
Watch and listen for birds and see if you can identify any.
Use the iNaturalist app to identify any mushrooms, plants, or animals you may see while exploring outside but don't know anything about. (Here's the link to it for Apple devices and Google devices.
Measure things with a ruler, or tape measure.  (Maybe if you've been wanting to repaint a room measure and figure to see how much paint you'll need)
Kahn Academy offers many free classes online that you could take advantage of.
Tapestry of Grace is a curriculum you can use from Kindergarten through Grade 12.  I've heard that it's great for kids of multiple ages to study together too.  They offer 2  free 3 week samples on their website—one covering Ancient Egypt and the other covering Colonial America.
Teach your kids about money, using a budget, the economy.  There is so much I wish I learned at a young age and this is a great chance to instill good ideals about money.
Readtheory.org is a free program that tests your child's current reading level and then generates short passages with quizzes.  It will track their progress, and they can even earn badges. This is great for elementary school all the way through grade 12.
Make a family Book of Centuries.  I've wanted to make one of these for years but my profectionist side held me back until this year.  It's such a great way for kids (my myself!!) to make connections across time periods.  Simply Charlotte Mason has amazing resources for the Charlotte Mason mama and I adore all that I've used from them…and I hope to use more this coming year!  They thoroughly explain what a book of centuries is, how to use it, and have a free printable to get you started.
Make a rain stick or sensory bottle.
Work together to complete a household task you've been putting off.  I don't know about you but this could keep my family busy for months.
Give nature journaling a try.  This is a picture of my daughter's entry this week.
Scholastic is developing fabulous videos and worksheets for Pre-K-6th+.  From what I've glanced at it looks very nice and free.  So far they only have 5 days worth of content but are working on 15 more days worth of content.  You can check those out here.
The San Diego Zoo has a well organized kid's section with well produced animal videos, animal crafts and coloring sheets. You can see more for yourself here.
You can explore Yellowstone National Park online by virtually touring some of the main attractions around the park.  I'm personally very excited about this one!  I've always wanted to visit there and this will help me feel like I'm there.   You can check it out here.
You can explore the surface of Mars with the Curiosity Rover.  They're updating it now but you can still view the 360 mode and it is incredible!  I can't wait to show it to my kids tomorrow!  You can see it for yourself here.
Khan Academy Kids is a free app designed for kids up through the 1st grade.  It has engaging songs, lessons, and stories to read!
If you have a clear night sky you'll want to play with the free app, Night Sky.  It lets you point your phone any direction toward the sky and helps you be able to recognize the constellations in that are visible in that part of the sky.  You can pull stars and planets out of the sky to explore in more detail too!
I just learned about this YouTube channel but from the couple of videos I watched, it looks like a good one. The Artful Parent creates simple but intriguing art projects for kids.  These might be a little more involved than you're prepared for so screen the videos before watching them with your kids.  You can see their channel here.
If you want to infuse your house with some fun kid's music that doesn't drive you bonkers….I have the miracle solution for you!  Justin Robert's & the Not Ready for Naptime Players are fantastic. I own all of their cds and have given away probably 20 of his cds as gifts through the years.  The music is catchy and the lyrics are insightful, witty, and will make you look back at your own childhood fondly.  I can't recommend him enough.  You can check them out here on YouTube or buy their cds on Amazon…oh and not all but several of his songs are on Amazon's Alexa.
Babble Dabble Do is a Youtube channel with a bunch of art, science and upcycling projects.  I think my kids will love their battery powered ballerina.  All the videos I've seem are well done and the channel provides links to further instructions and a few printables.
I'll keep adding to this list and I would love to hear your recommendations.  If you've found this post helpful please pin it or share it so others may enjoy it too.  Thank you!