Making slime is a favorite pastime for my kids. While this type of craft can be messy at times, it's such a fun way to experiment with new ingredients and have some fun with your kids. I recently created a silver glue and gold foil slime that looks spectacular. As a means to help inspire you to start making beautiful slime with your family, I'm sharing some information about this slime along with a recipe to help guide you forward in making your own silver glue and gold foil slime with your kids today. This post contains affiliate links.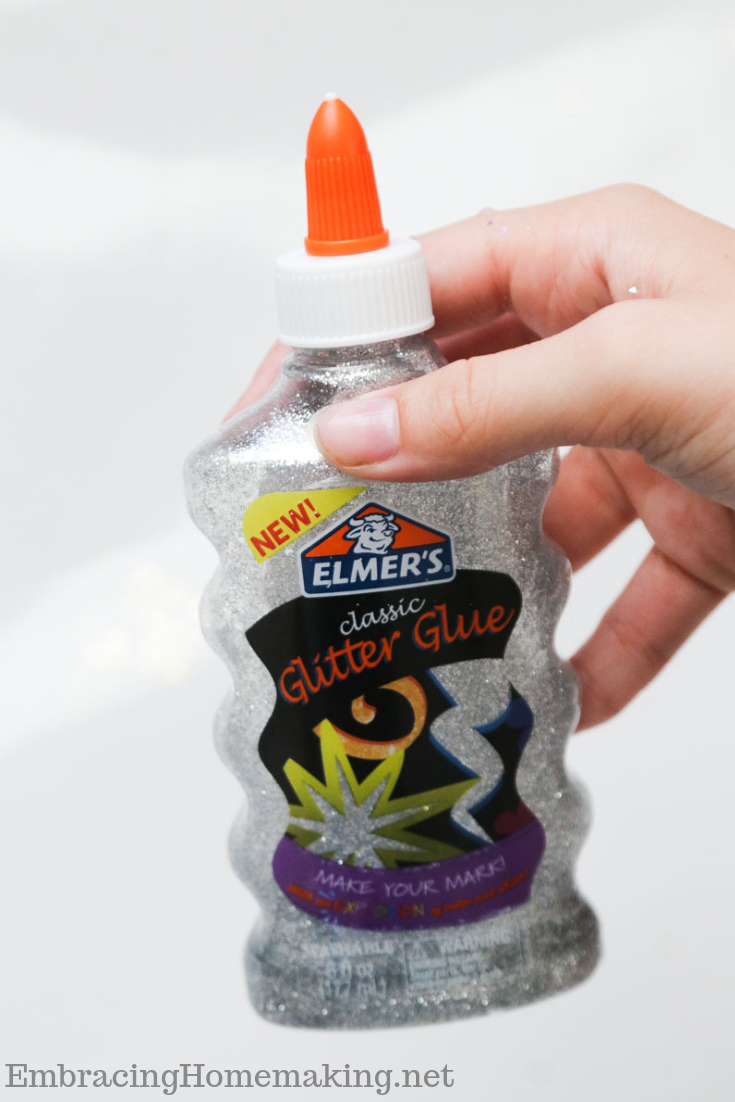 A Fun Science and Chemistry Experiment
There are so many unique ways to educate children these days and making silver glue and gold foil slime is just one of the best ways to teach some science and chemistry in a home school environment. Whether you homeschool or not, using this fun craft idea as a means to educate your kids about chemistry and science is a fun time for everyone.
You'll be teaching a concept called cross-linking when you mix the borate ions, known as slime activators, with the silver glue. These two ingredients mixed collide into a chemical reaction that creates the stretchy slime substance that kids enjoy playing with.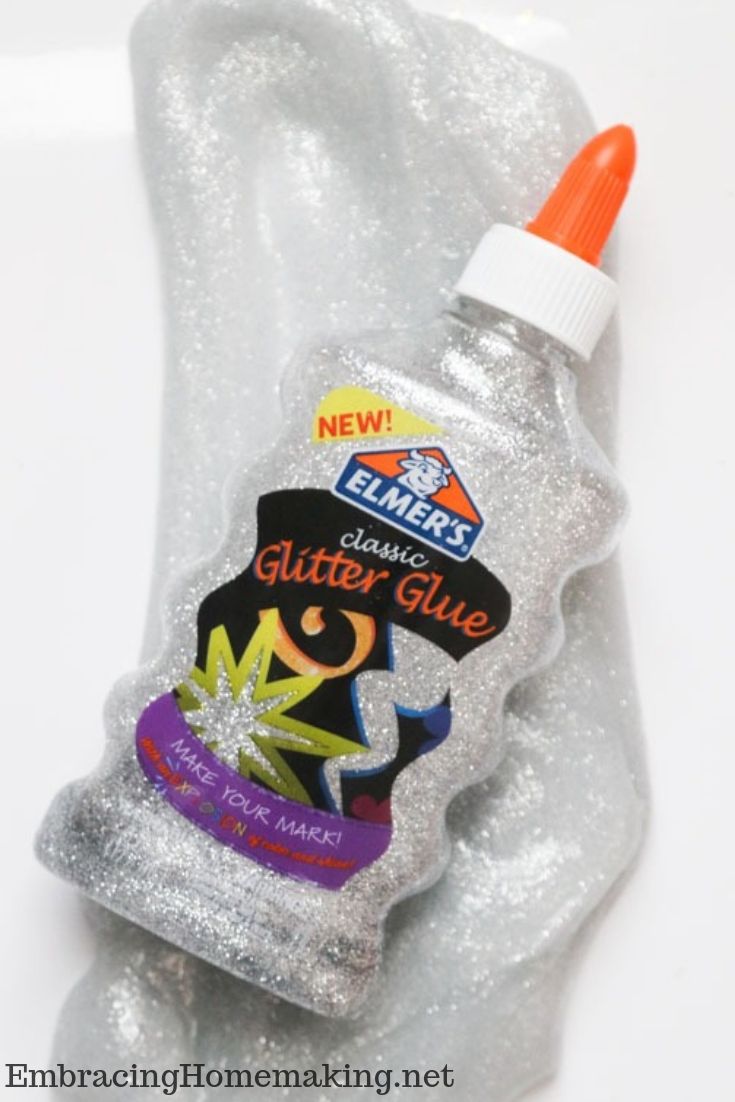 The silver glue is a liquid substance that is made of molecules that help keep it in a liquid state until you mix the borate ions into the silver glue. The borate has ingredients that mix with the silver glue molecules repeated until the silver glue is no longer in a liquid state, rather when the mixture turns to slime it's called a polymer.
Bet you didn't realize there's so much to learn from making this simple silver glue and gold foil slime with your kids? Use this fun craft time as a means to teach your kids about how molecules work and what active ingredients in the slime activators (sodium borate, borax powder, or boric acid) do with the silver glue to transition the glue from a liquid to a polymer.
Is slime a liquid or a solid?
This is a tricky question to answer because at the end of the day this silver glue and gold foil slime is neither a liquid nor a solid. Slime is a creation that seems to be both a liquid and a solid. You can play around with the ingredients to make this silver glue and gold foil slime appear to be more of a solid than a liquid, but in all reality, this substance that's called polymer is more of a mixture between the liquid and solid-state.
Now that you've read a little bit about how this silver glue and gold foil slime can be a fun science and chemistry learning experiment, it's time to follow the instructions below to make your own batch of silver glue and gold foil slime today.
How to make silver and gold glitter slime:
Basically, start slow, mix in the starch, add a little more, mix again, and keep doing that till it's no longer sticky.  Toward the end of mixing you may have to knead it with your hands instead of a spoon.  There we go, now that my disclaimer is out of the way, let's begin!
This silver and gold glitter slime needs a few specific ingredients, so let's talk about that first. 
– Elmer's Classic Glitter Glue.  I bought mine from a local craft store but found the Elmer's Silver Glitter Glue cheaper on Amazon right now.  Keep in mind Amazon prices often fluctuate but it's at a steal of a price right now.
In fact, there's also a bundle pack of Elmer's Glitter Glue to save you money and allow you to make a rainbow of slime options.
I'm a liquid starch slime fan but usually more glitter will show through when you use a contact lens solution plus baking soda instead.  This is because contact lens solution is clear and liquid starch has a kind of white-ish blue tinge.  Both of these options will make a great activator.
This one is a glitter glue so be prepared for it takes way more starch than a white glue would.  We used around 3/4ths of a cup but always add 1/4 a cup at a time and mix it in well.  When you get a consistency that no longer sticks to you and feels like you want it too you're done.  Again, it's not an exact science.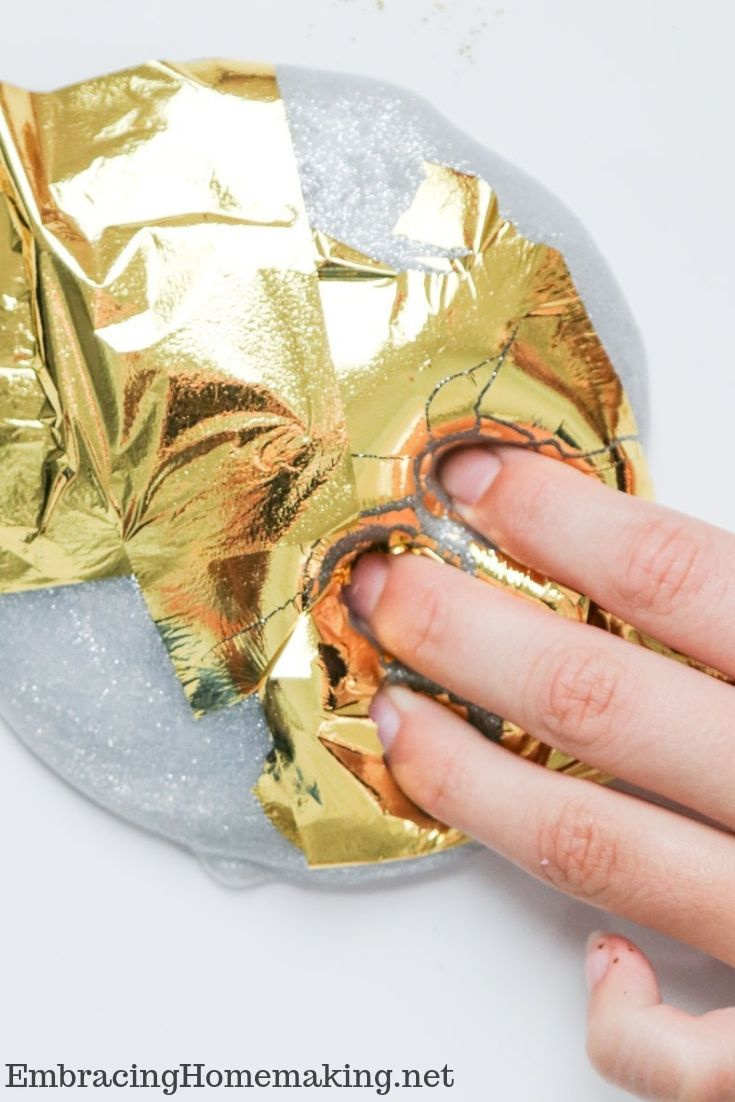 Now onto the fun pictures of playing with the gold foil sheets.  These are incredible and I want to try them in all my future slimes.  They are just so neat!  They can also be found on Amazon here – Gold Foil Sheets.  Prices often change but right now you can get 100 sheets of this for less than $6 shipped.  I still can't believe how affordable this fun crafting material is!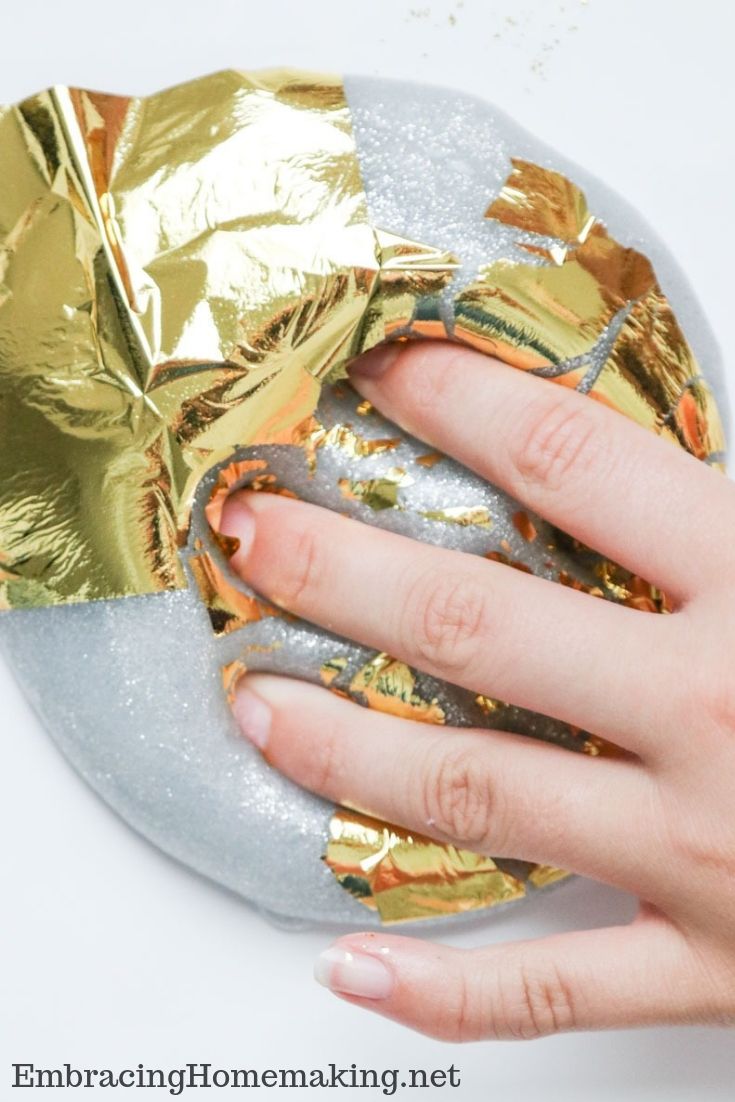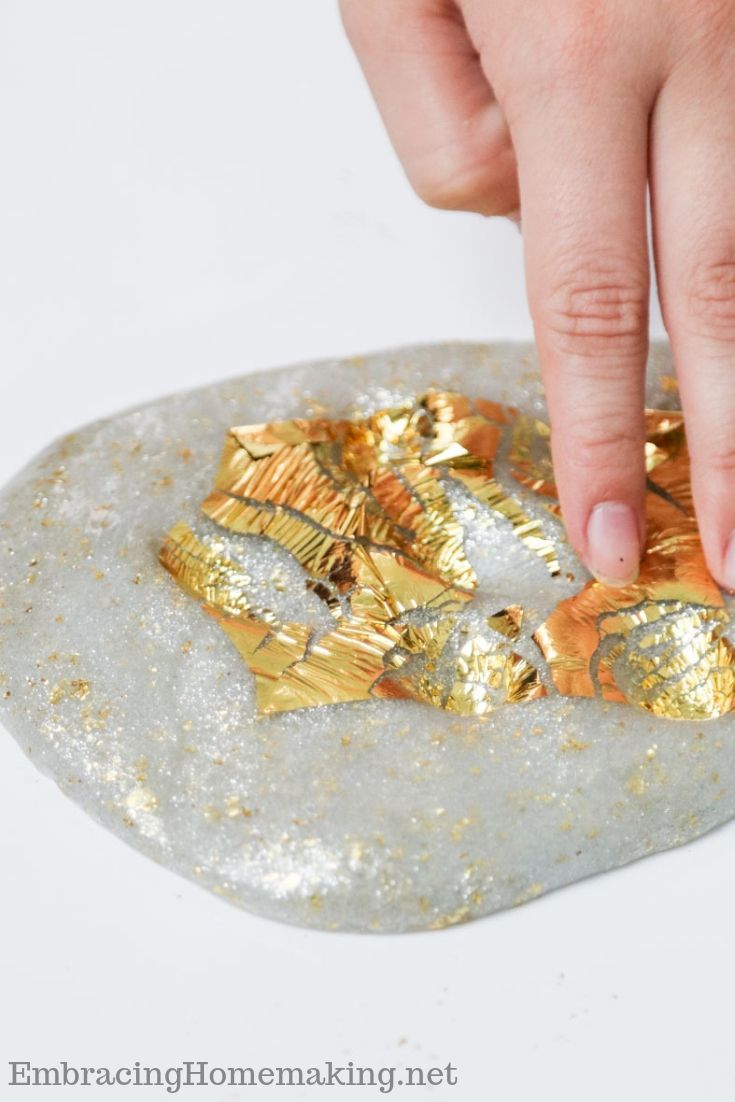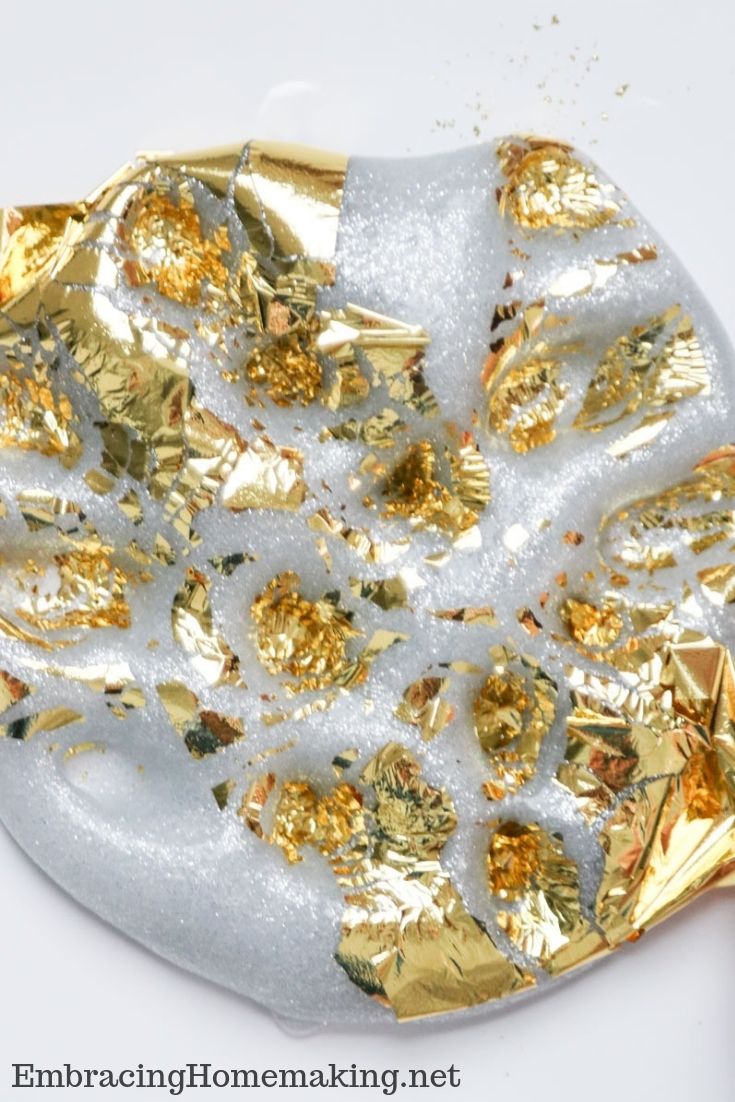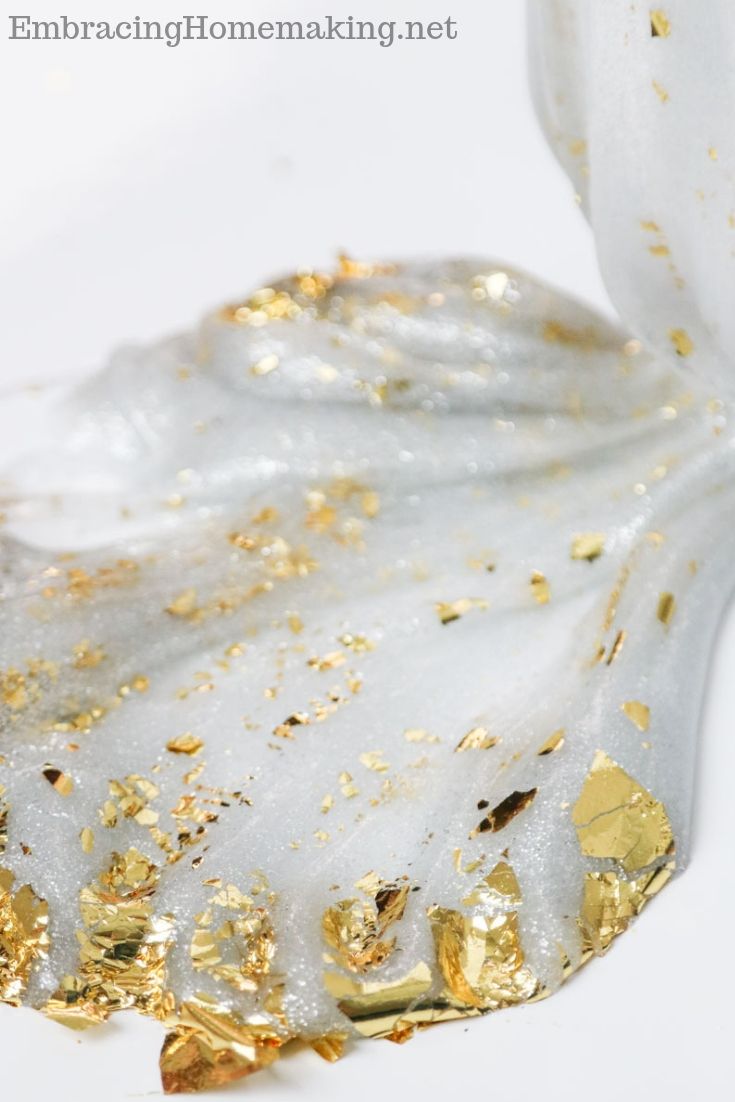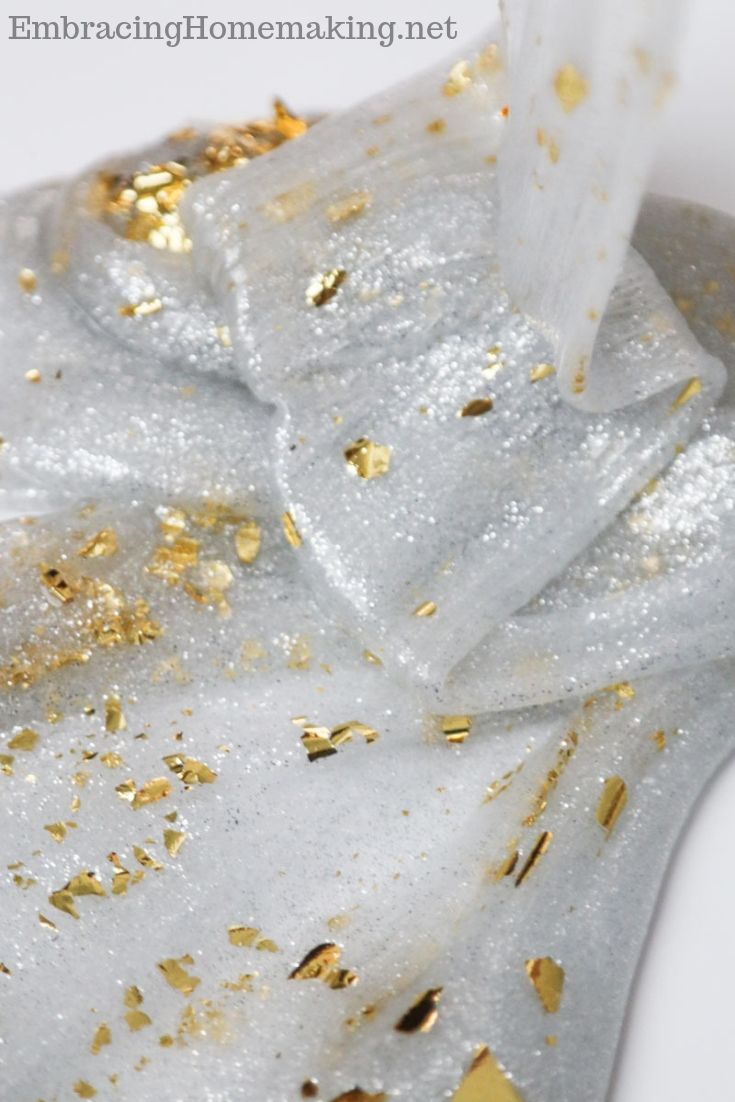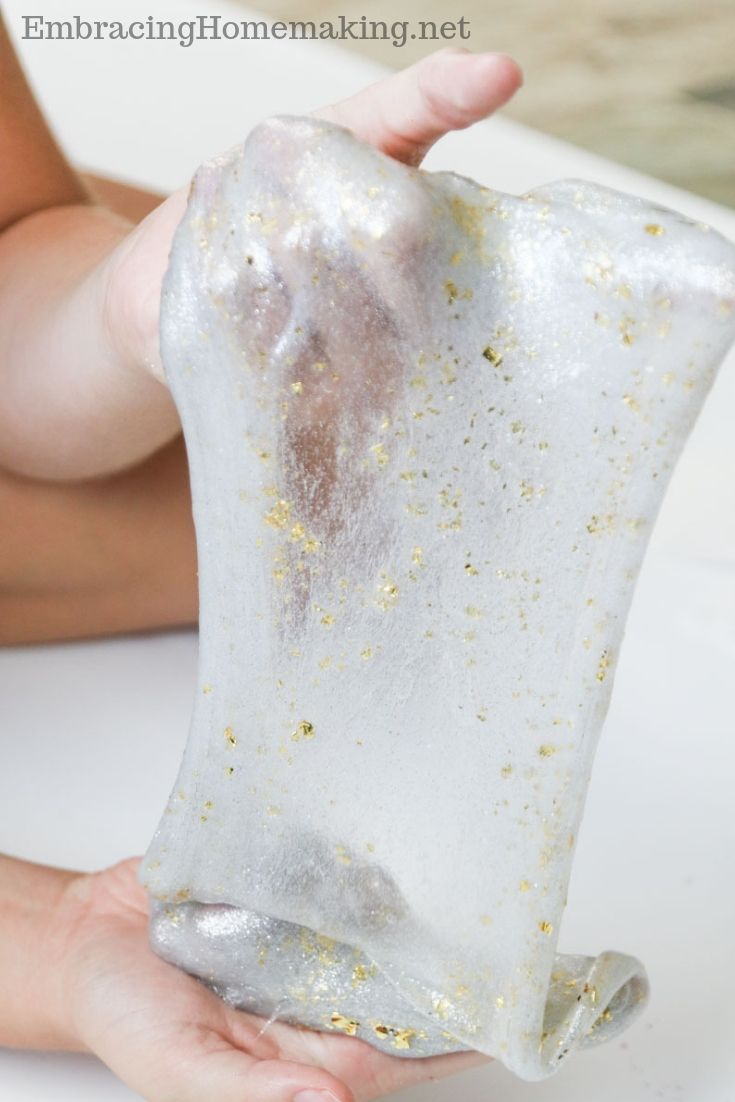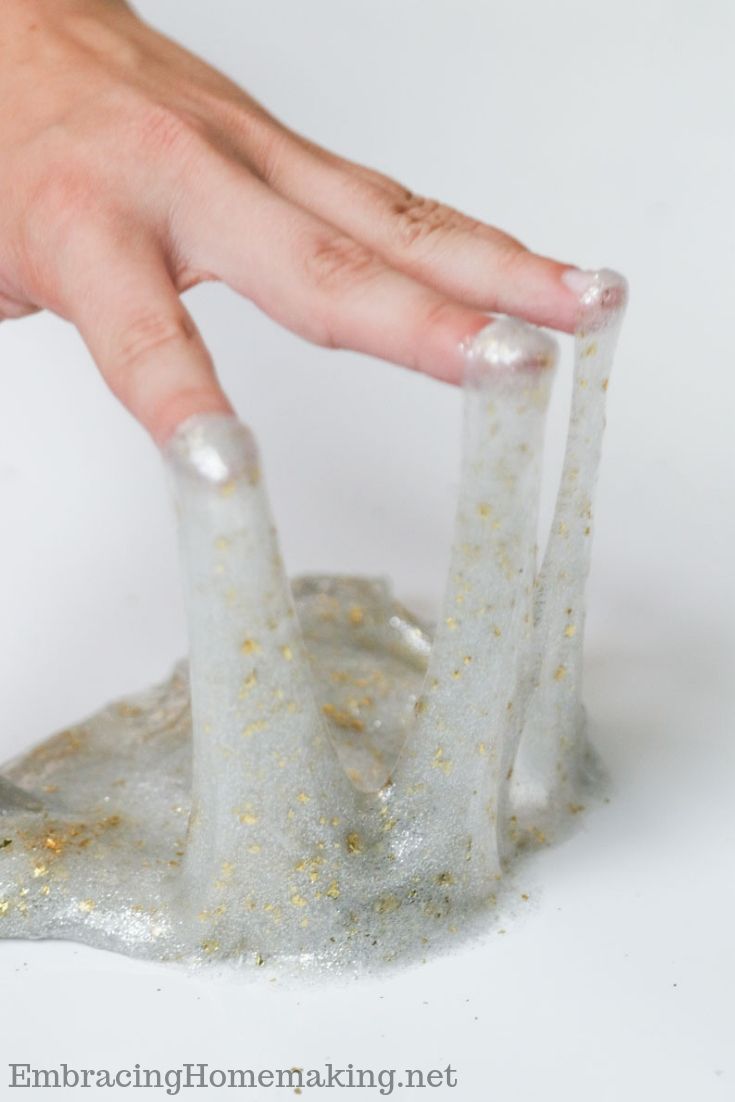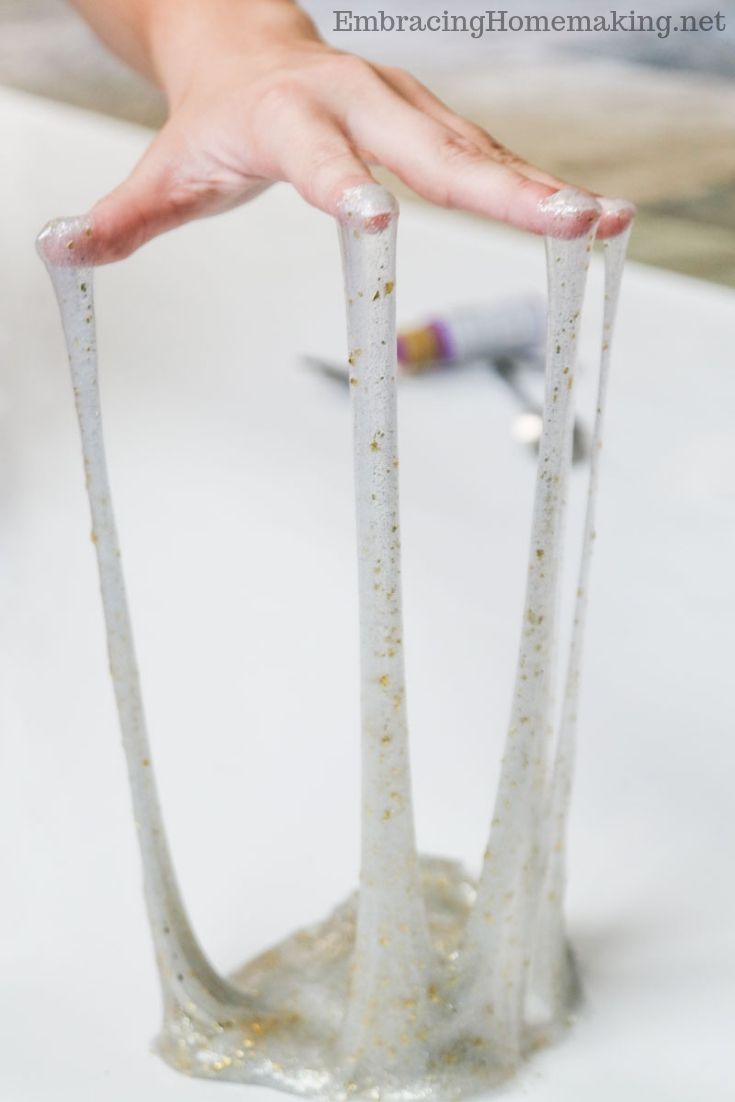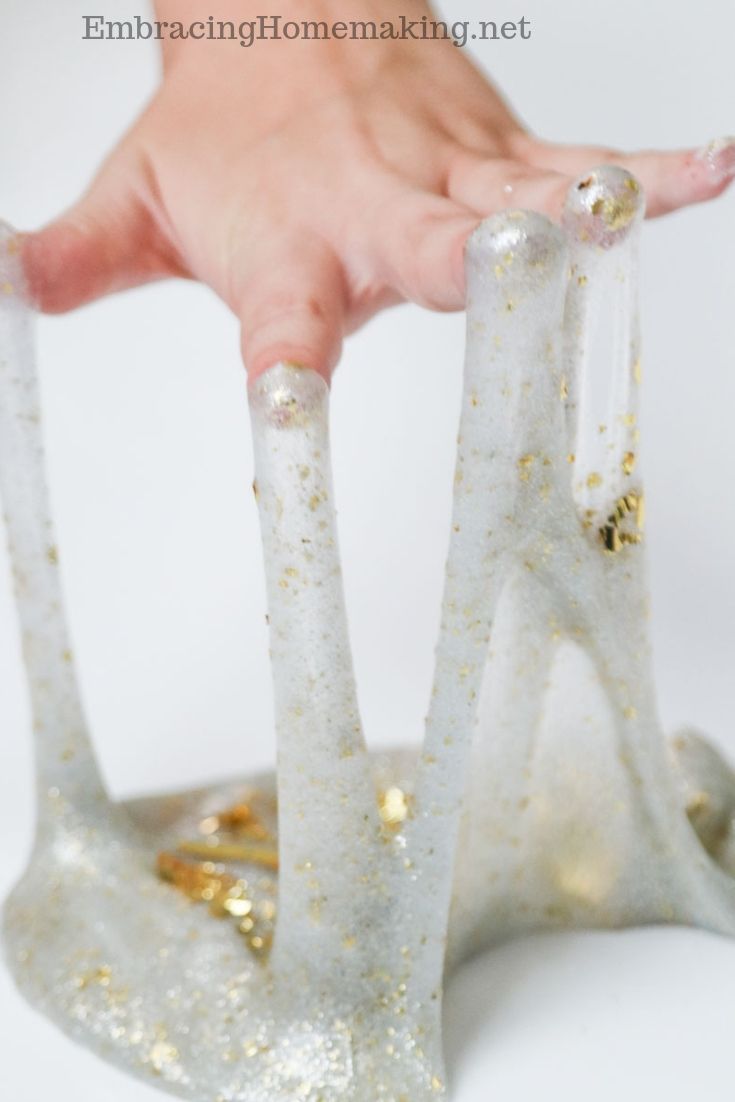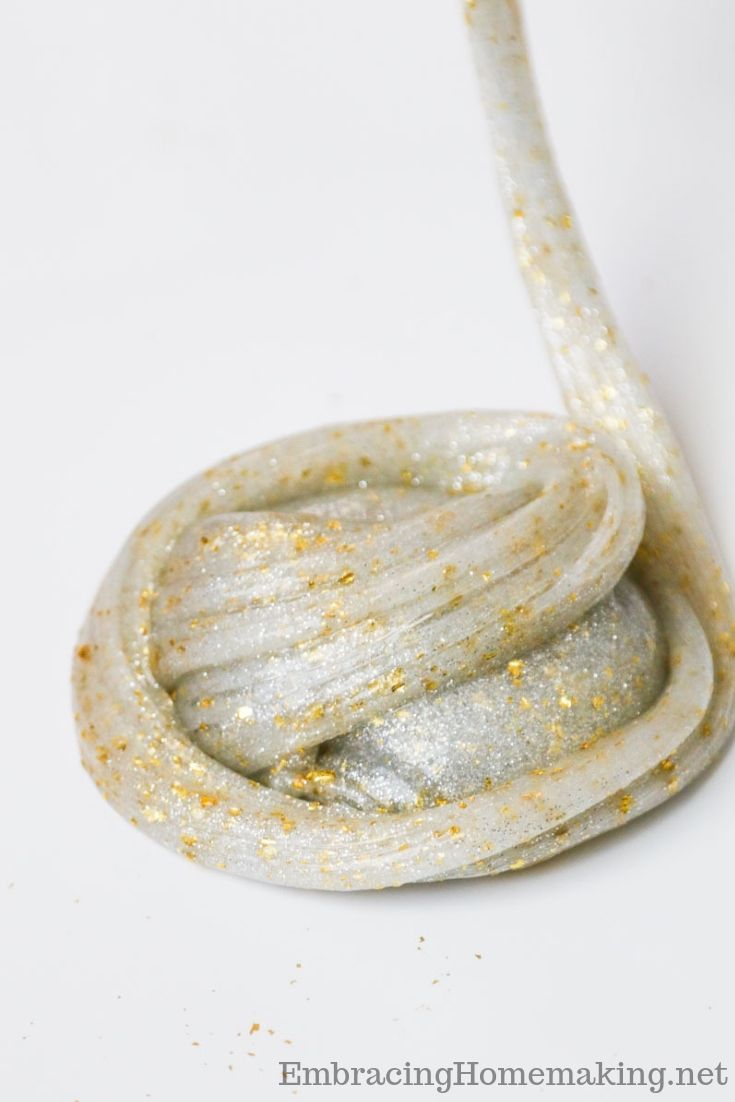 Isn't it beautiful?  I just adore it!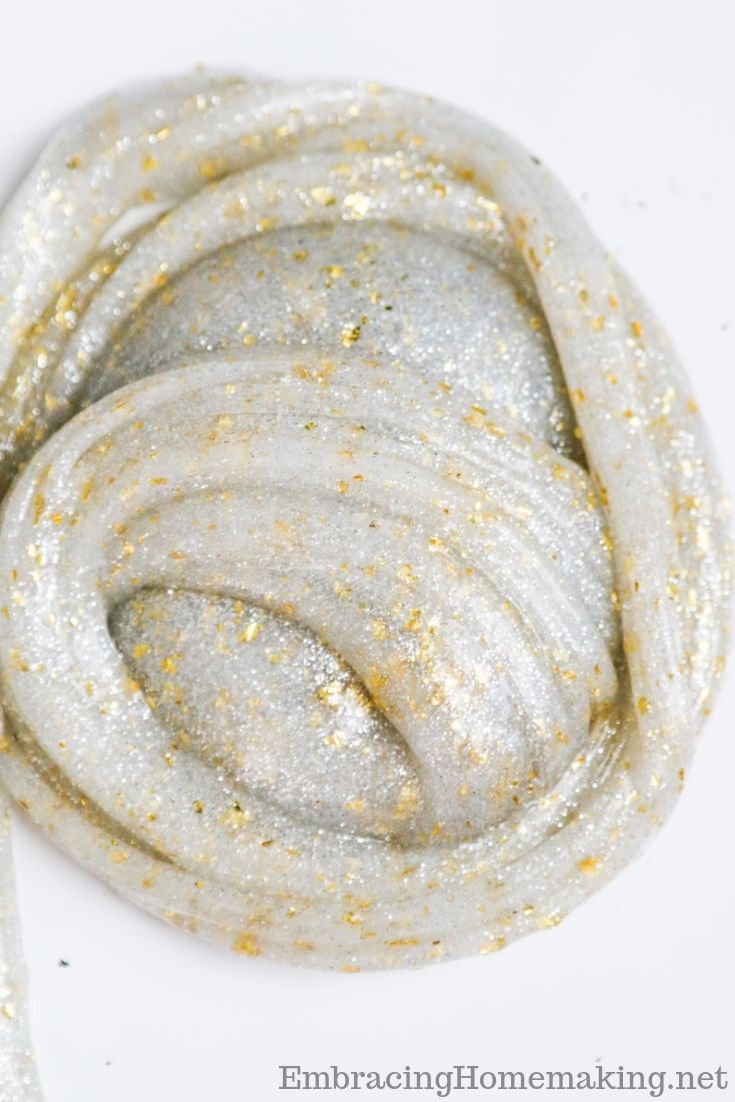 I hope you and your kids can give our silver and gold glitter slime a try for yourself.  It truly is the prettiest slime I've ever made to date.  It rivals any of the expensive store bought putties and with slime you can create it to be the exact texture you want.  I love it!