This post contains affiliate links.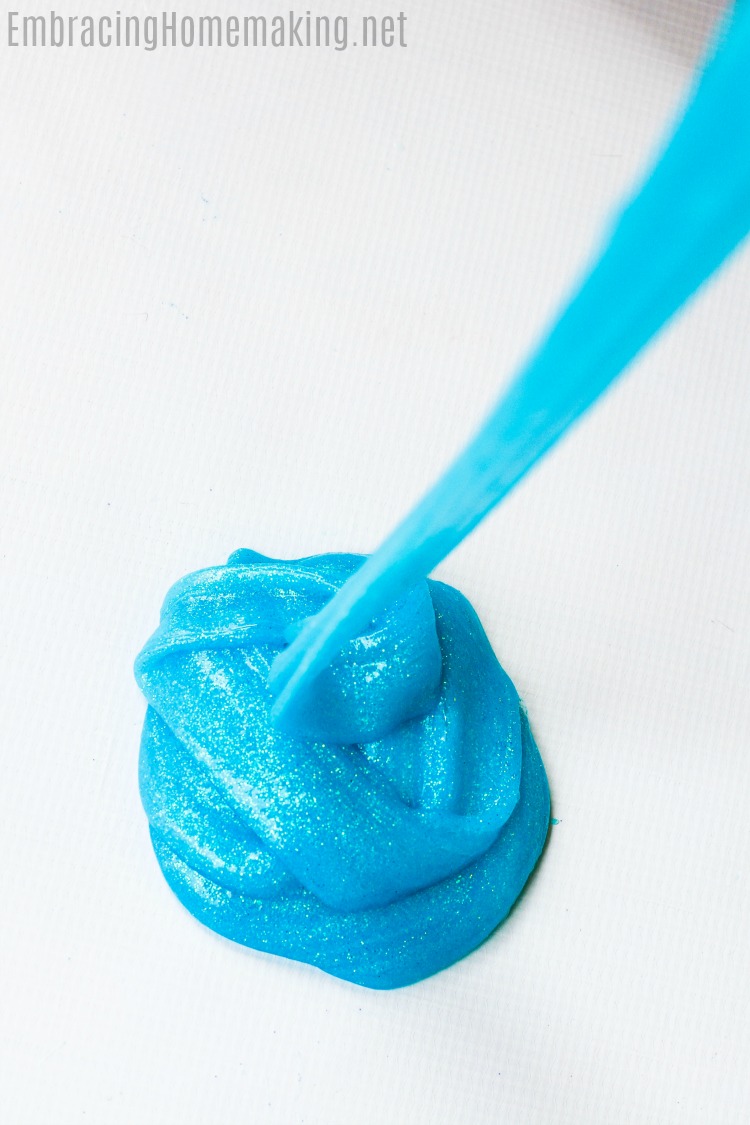 This ocean slime is a perfect way to cute your kid's boredom this summer.  I've made slime for years!  We love it in our household.  My son needs the sensory exposure and my daughter just thinks it's fun to play with and to create new concoctions.
I shared a picture of this slime recently on my personal facebook page and I had so many moms message me how I did it that I decided to write a blog post about it.  I love slime and I love precise recipes but slime isn't an exact science.  (Well, it is science and that's a whole fun science lesson in and of itself!)  Because it's not an exact formula I can share I've hesitated to share my slime creations.  I'm afraid someone's won't turn out and I'll feel awful.  If it doesn't turn out please message me and we'll work through what went wrong and help you fix it.  Just don't leave a nasty comment please. 🙂
How to make ocean slime:
Basically, start slow, mix in the starch, add a little more, mix again, and keep doing that till it's no longer sticky.  Toward the end of mixing you may have to knead it with your hands instead of a spoon.  There we go, now that my disclaimer is out of the way, let's begin!
This ocean slime needs a few specific ingredients, so let's talk about that first.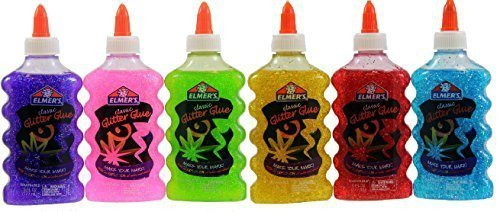 In fact, here's a bundle pack of Elmer's Glitter Glue to save you money and allow you to make a rainbow of slime options.
I'm a liquid starch slime fan but usually more glitter will show through when you use a contact lens solution plus baking soda instead.  This is because contact lens solution is clear and liquid starch has a kind of white-ish blue tinge.  However, because this glue was already blue I felt it was okay to use starch.  Both of these options will make a great activator.
This one is a glitter glue so be prepared for it takes way more starch than a white glue would.  We used around 3/4ths of a cup but always add 1/4 a cup at a time and mix it in well.  When you get a consistency that no longer sticks to you and feels like you want it too you're done.  Again, it's not an exact science.
Let's begin!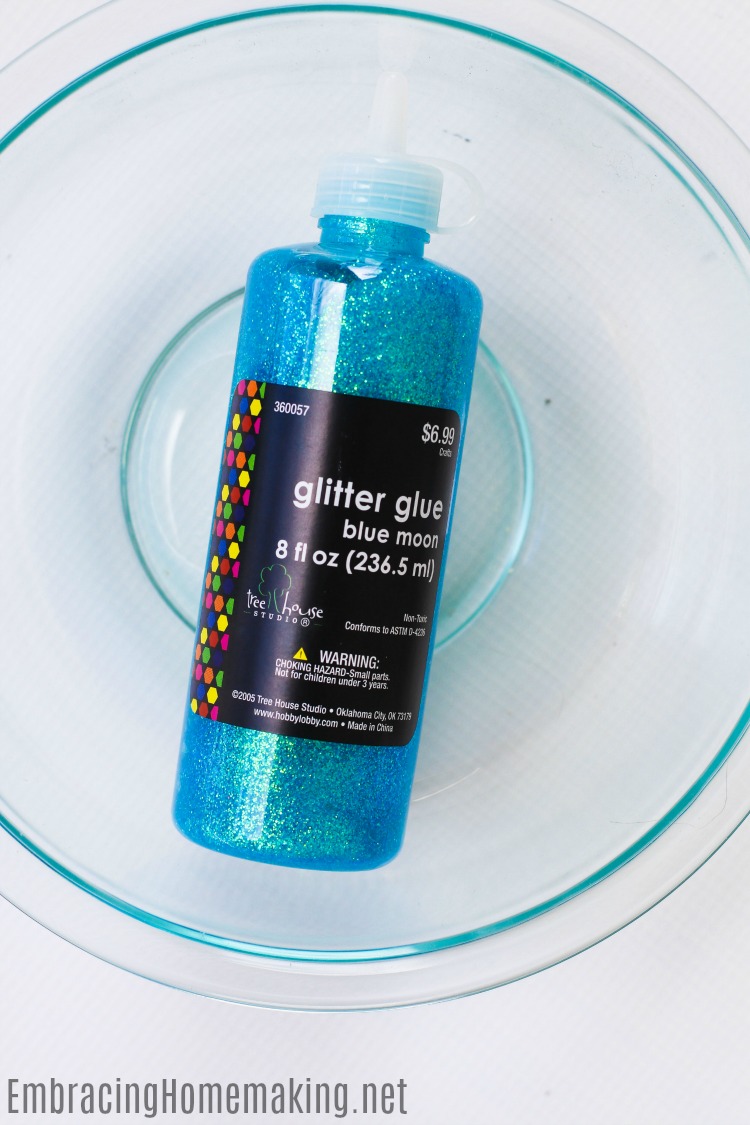 Here's the glue.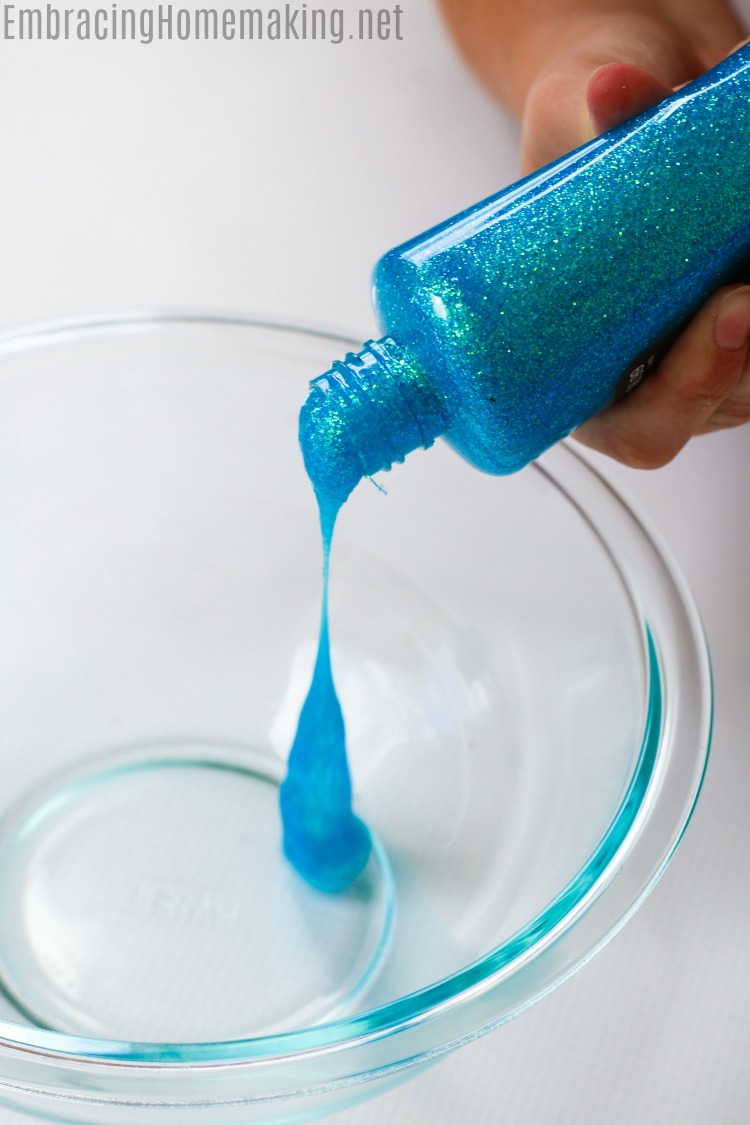 Squeeze it all out into your bowl or cup.  I prefer bowls but I have friends that love red solo cups.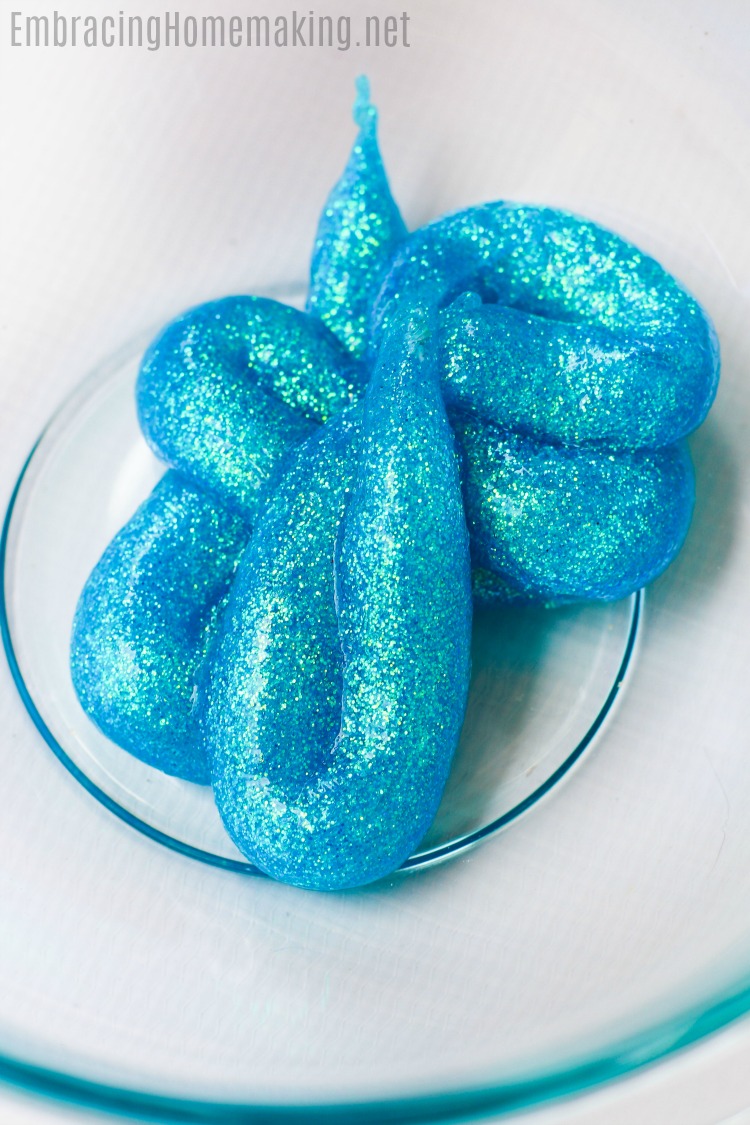 Isn't it pretty?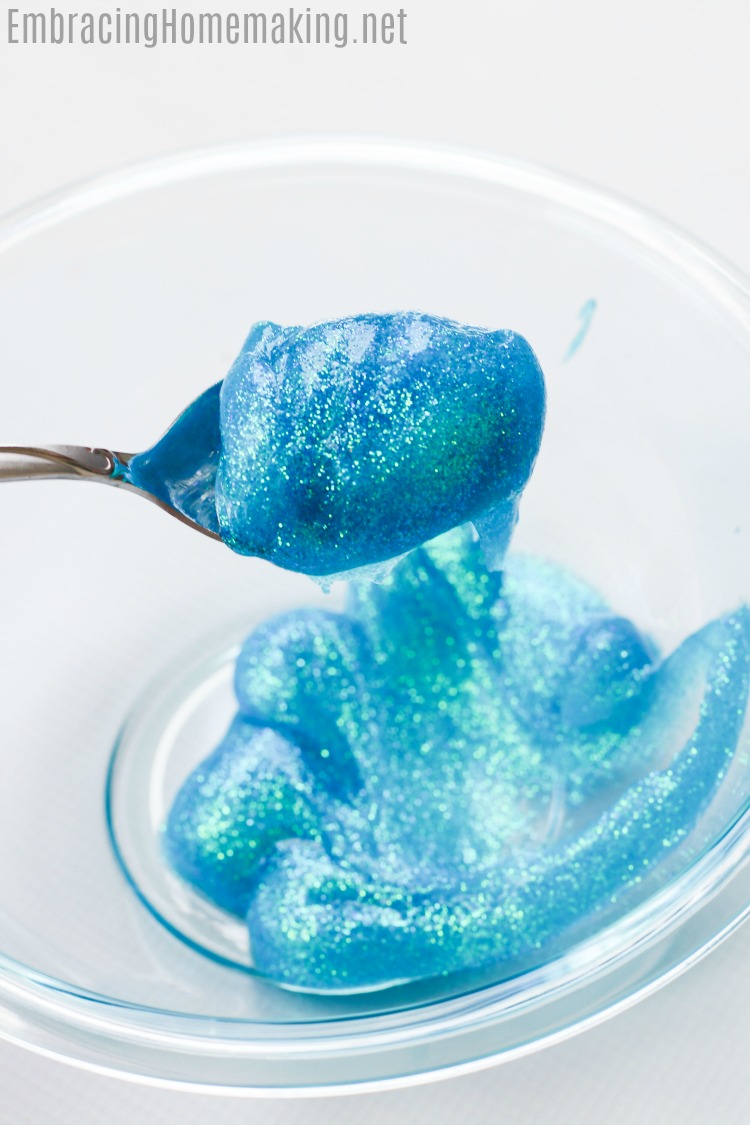 It looks almost good enough to eat, doesn't it?  But don't!  This isn't an edible slime.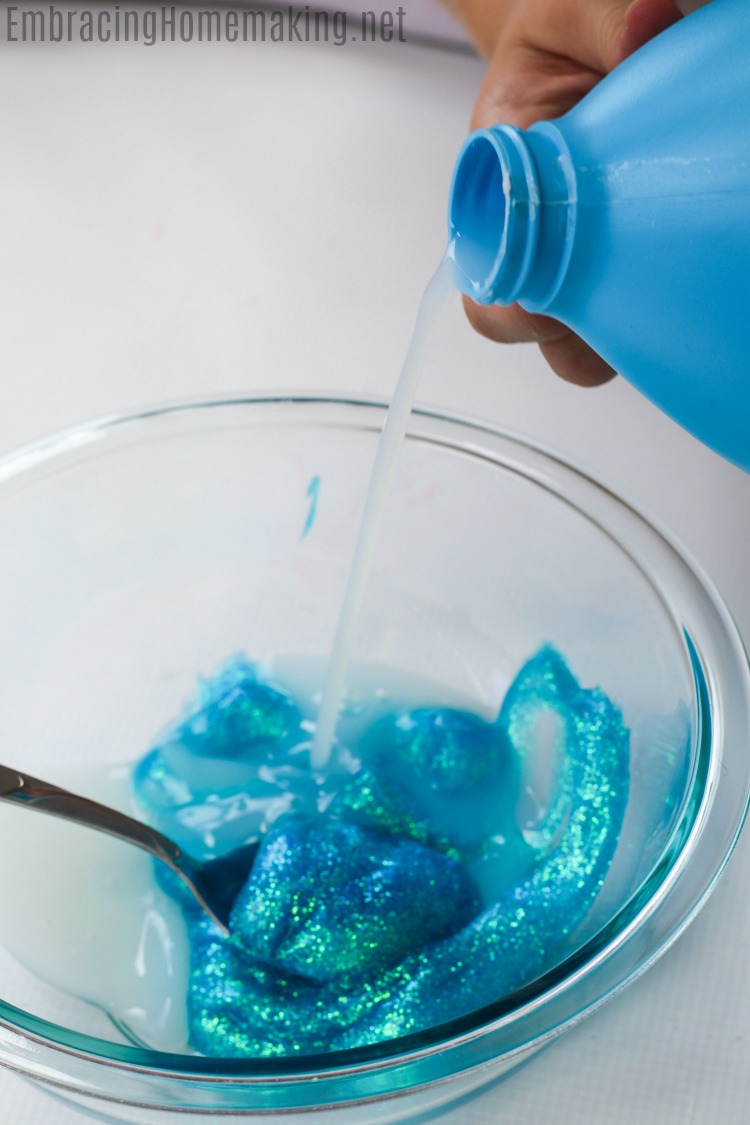 Next add roughly 1/4 cup of liquid starch and stir.  Repeat a time or two based on the consistency.  If it's still sticky, keep adding and mixing.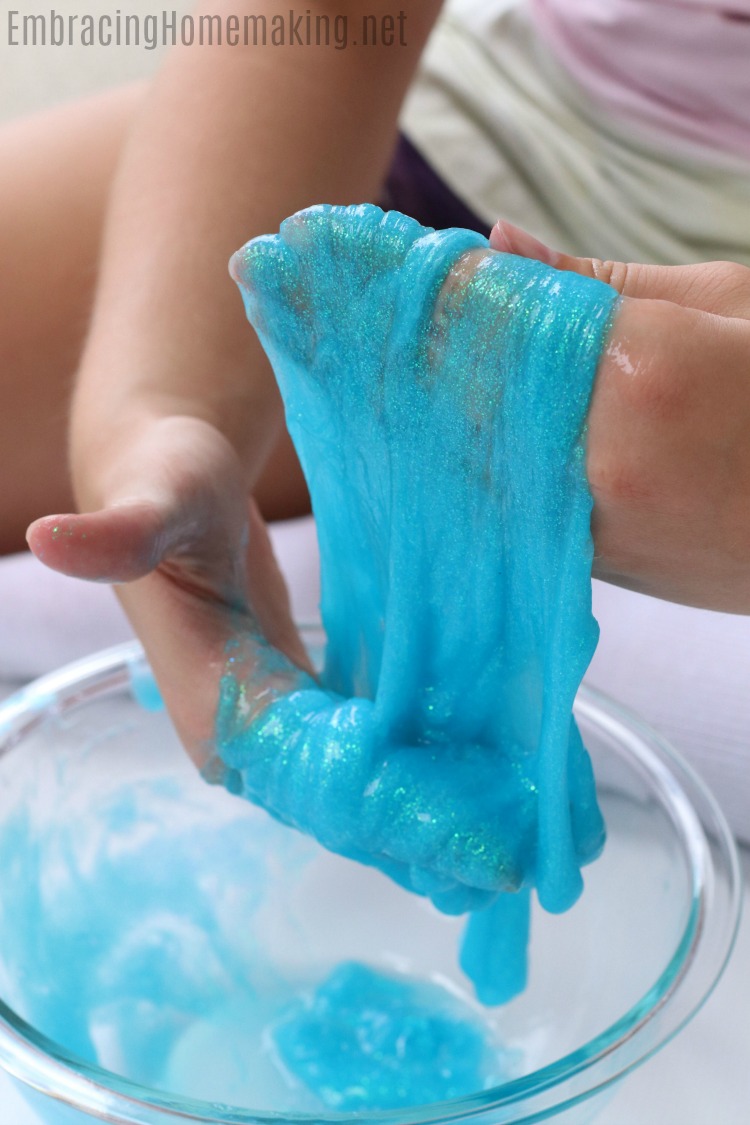 When it gets close to the consistency you want you have to knead it and play with it by hand.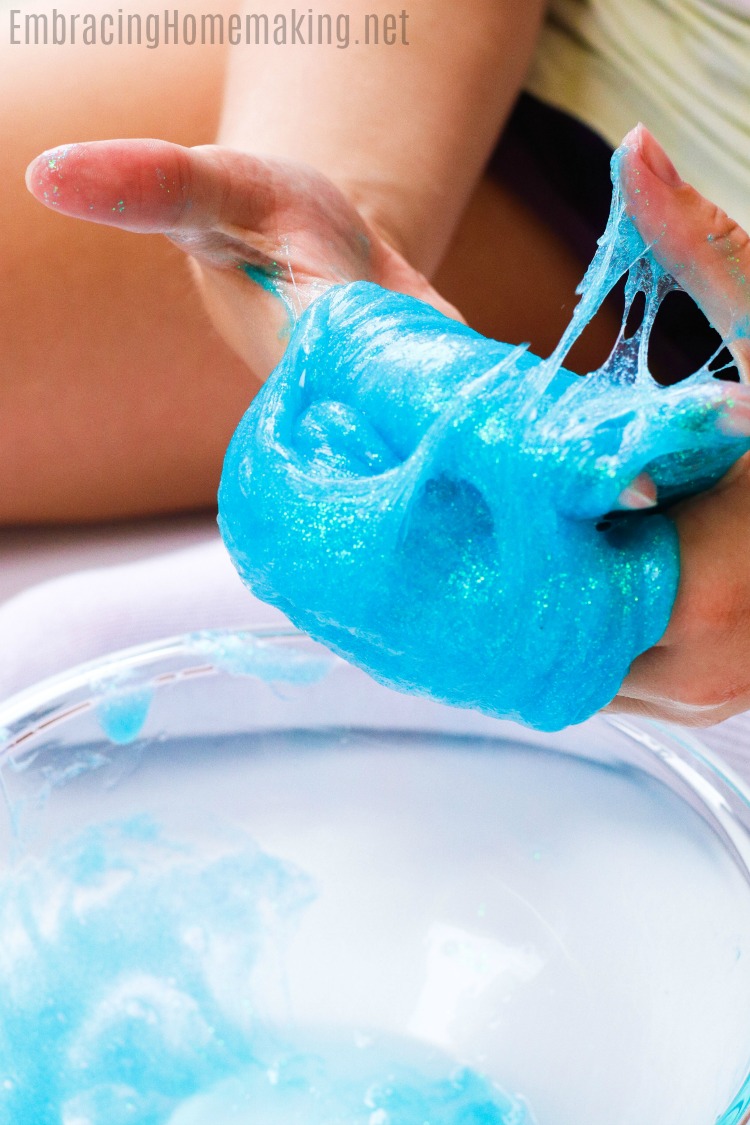 If it's still stick pour some liquid starch into the bowl and dip the slime into the starch and knead it some more until it's not. (*insert it's snot joke here*….or at least my husband would lol)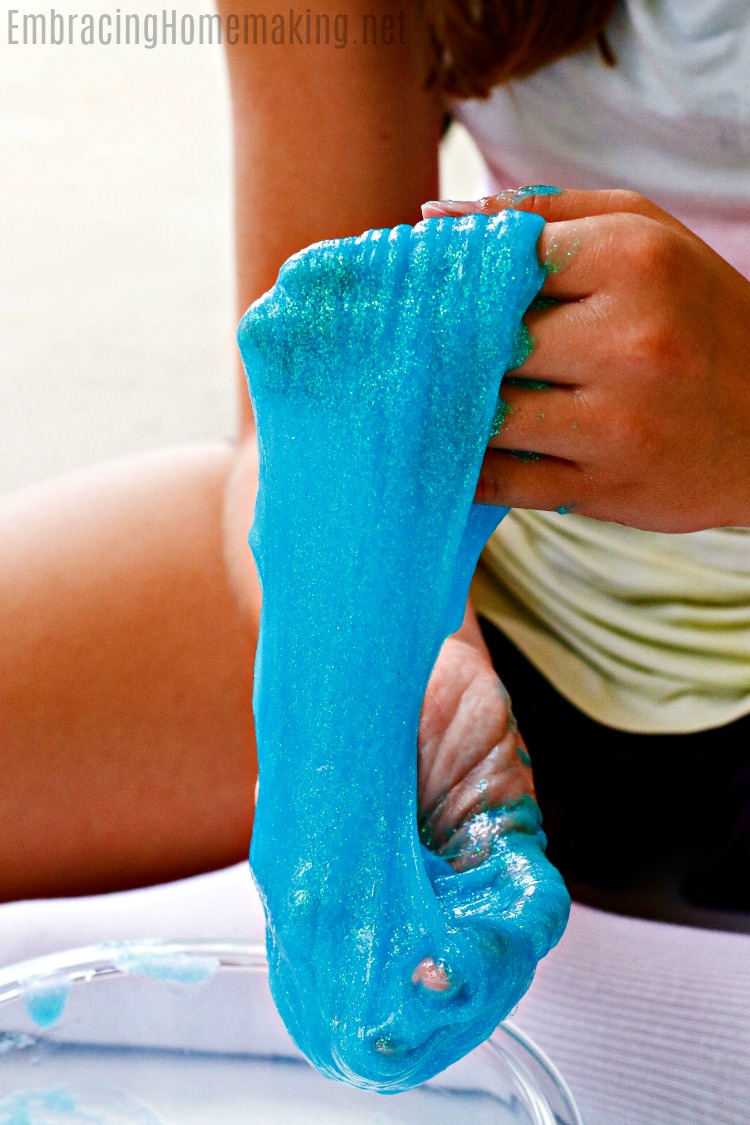 When you get the consistency you want you'll know it!  It will be fun, slimy, and not sticking to your hands and everything in an annoying way. 🙂  You like how technical I am?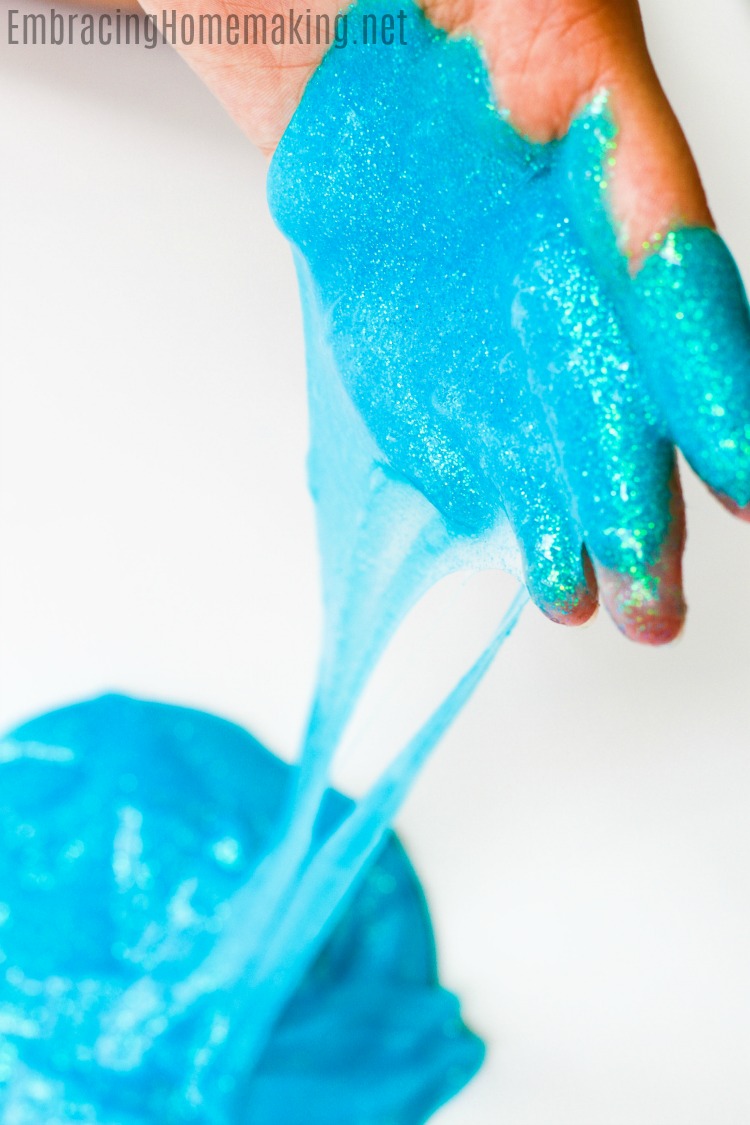 A good consistency will be smooth and stretchy.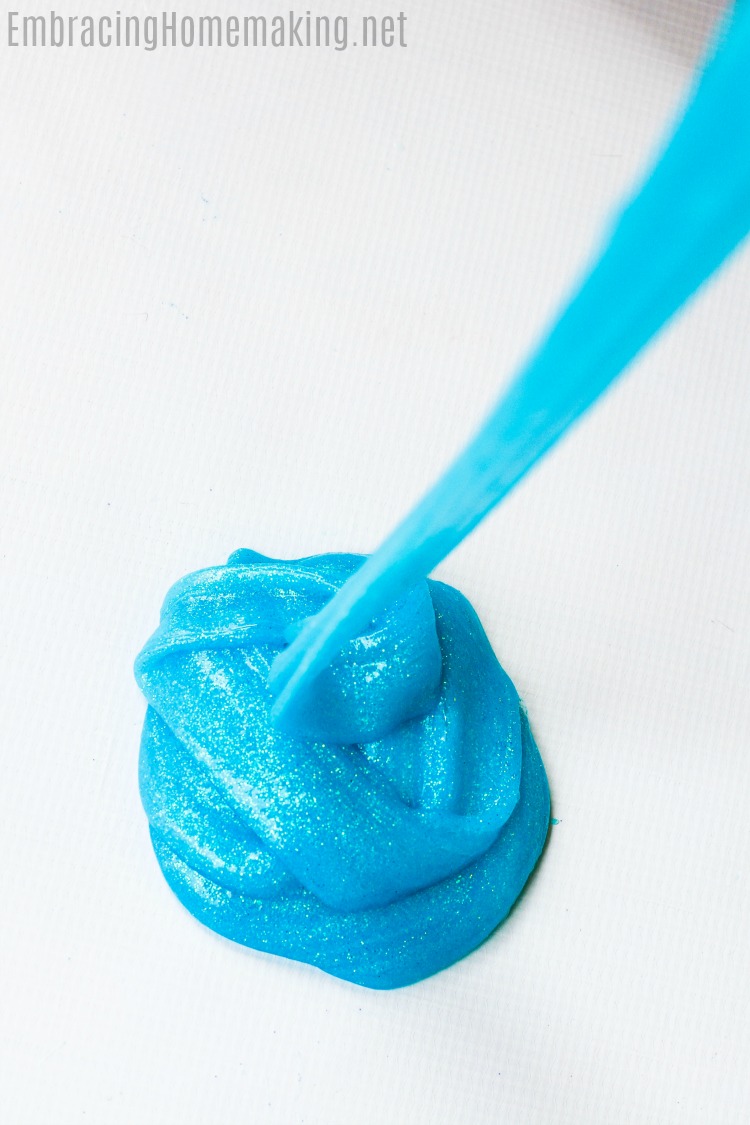 Isn't it so pretty!?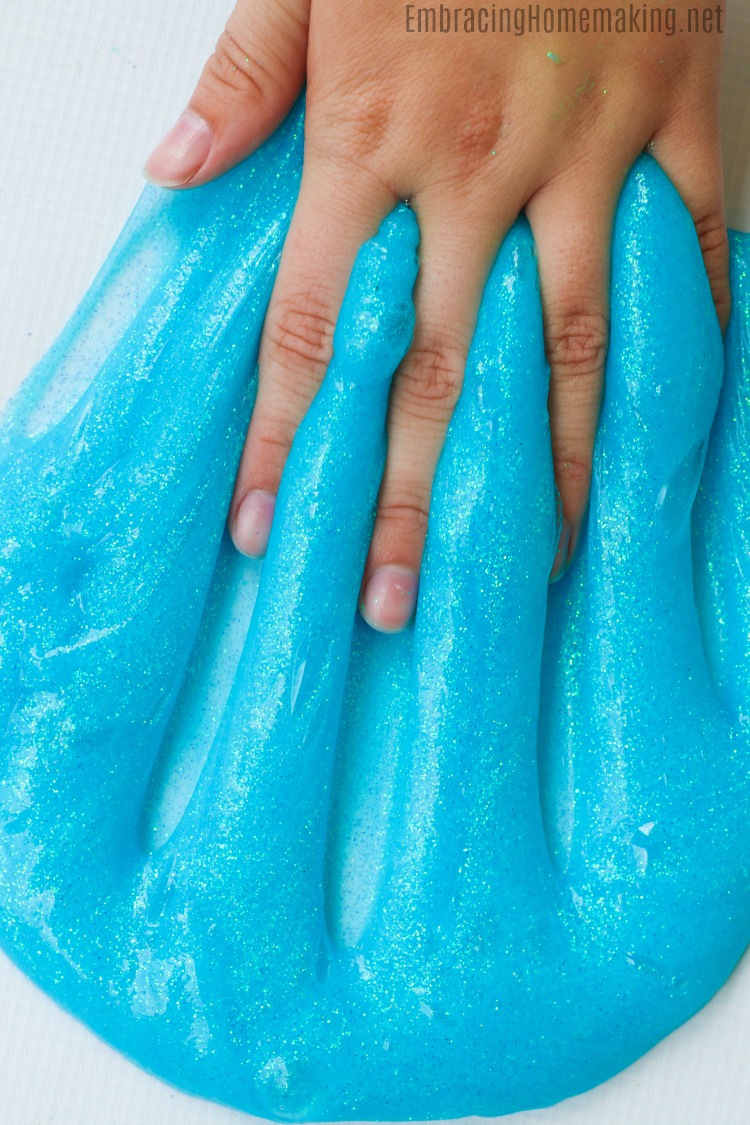 Ocean waves!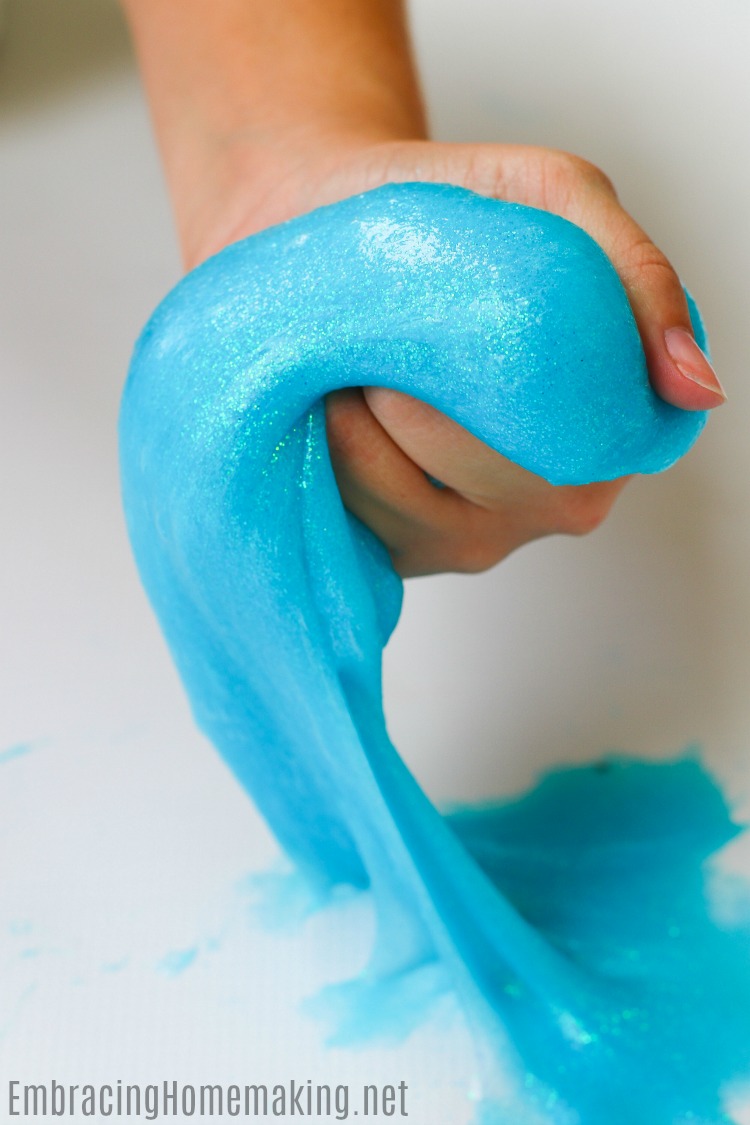 A big ocean wave!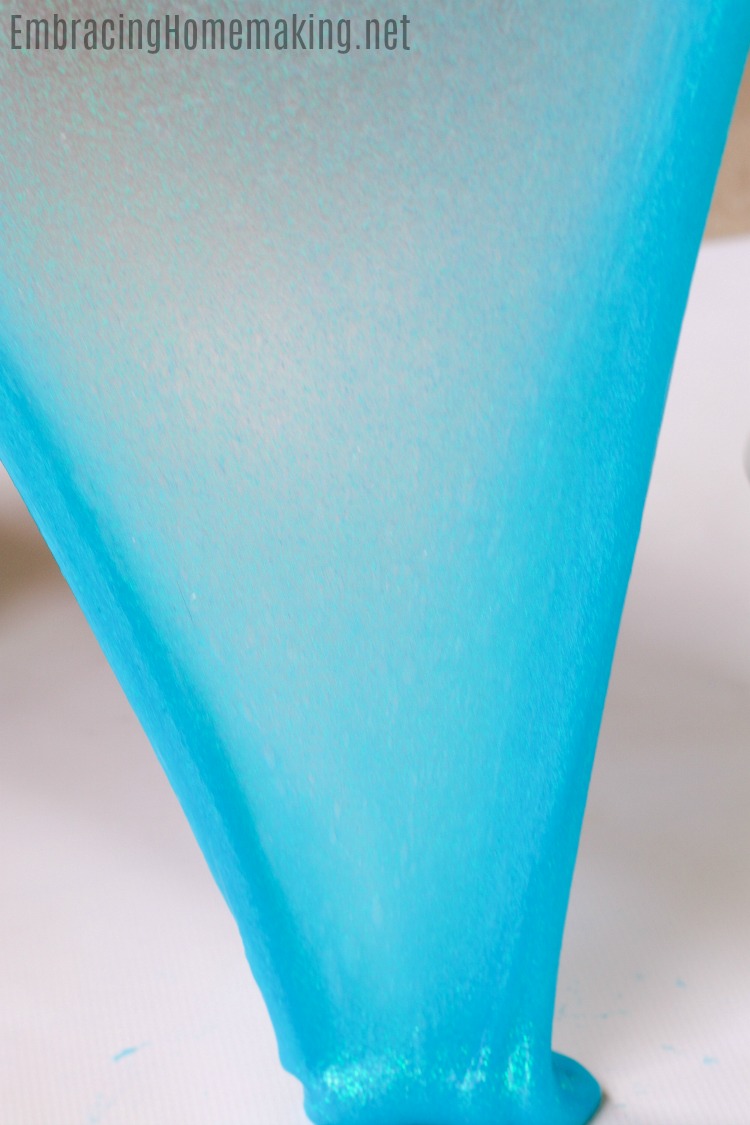 There you have it folks!  Pretty easy, right?  Well, remember if you have any problems feel free to message me and together we can work through your slime troubles.  Have fun with your kiddos!