Your living room should be your sanctuary – a place away from your bedroom where you can relax at any time. This is why some individuals find it rather difficult to decide how to decorate their living room, as it is generally the first room to make an impression on guests. People also want to make sure that the space is comfortable to relax in, and that it will suit all emotions and occasions.
There are many different features to ponder over when renovating your living room. Keep reading to find out three of the most important features of any living space.
Flooring
One of the first aspects of your living room that makes a lasting impression is the flooring. Long gone are the days of colorful and funky carpets – family homes across the globe have opted to use different types of flooring. Some flooring types include wood flooring, laminate and engineered wood, and they all offer their own benefits to homeowners. Check out this wood flooring supplier for more information.
The options of flooring seem endless, so when making your choice on what to go for, it's useful to consider the demand you will place on them. For example, for your living room, it might be a great idea to go for a slightly more expensive flooring type than your bathroom or kitchen. This is because different flooring types are made to endure different conditions. With that being said, do some research and take time to decide which floor is best for your living area.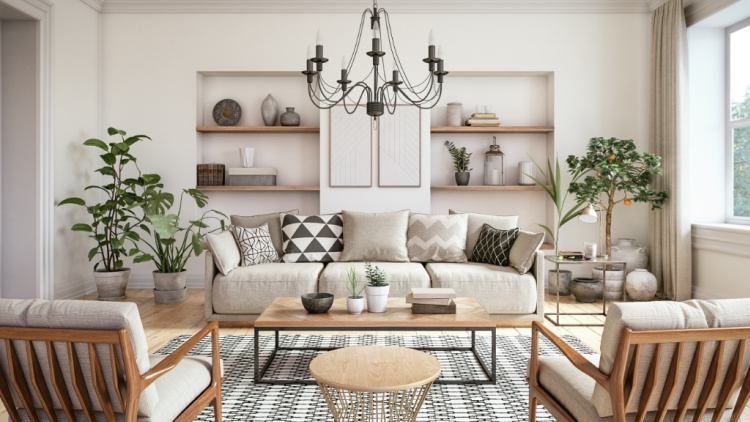 Color Scheme
Another thing that your guests will notice immediately as they enter your living room is that of the color scheme. It can truly make a huge difference to the feel of the room and set the tone for the conversation.
The shades you choose can also build character and even create a clean appearance for the whole room. If you don't get much natural light, interior experts recommend that you opt for lighter colors to brighten up the place. If you do get natural light, you can afford some darker colors. However, it is important to remember that your furniture is less likely to be consistently changed compared to decor. Therefore, you should consider keeping furniture natural and adding new colors and tones as you go.
Wall Decor
On the topic of room decor, another important feature that truly makes a difference is that of wall decoration. This can be in the form of wallpaper, art features and wall furniture. For instance, family photos and family artwork make all the difference to the feeling of the room and can be a great feature for family spaces. Interior designers also love the idea of feature walls as this can be regularly changed to suit your furniture.
Make a lasting impression for your guests and family by considering these important features for your living space.