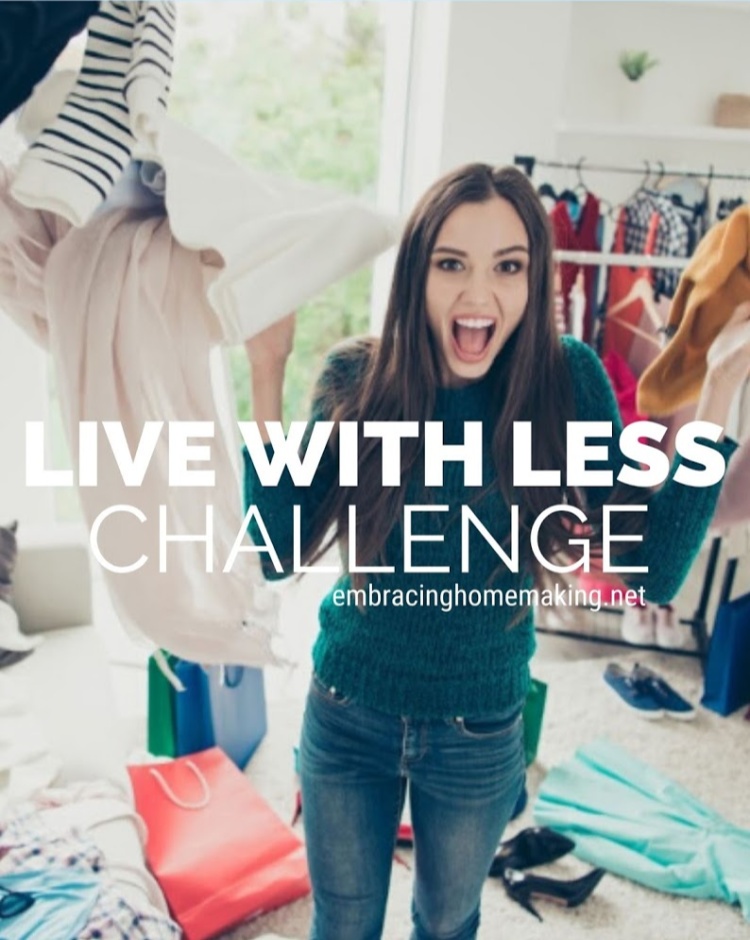 Are you feeling overwhelmed with stuff?  It seems that no matter how much I donate and purge beforehand, my home feels overstuffed after each Christmas.  I need this challenge for myself as much as I want to help encourage others!
Here are the Live With Less Challenge details:
Our first Live With Less Challenge of 2020 is going to be a fun one!  Each day you remove the number of items that corresponds with the date.  1st day, you remove one item, 2nd day, you remove two items, and so on and so forth.  By the end of the month you'll have removed almost 500 items from your home!! 496 to be exact…if I did my math right. 🙂  Some days will be easier than other but as those of you who have participated in past challenges can attest, it's surprising how much stuff we have that we don't really need.  This is a great way to start a new year and I hope you'll join us in our Live With Less Facebook group to share pictures of your progress and/or the items you're getting rid of.  Click here to join.
In years past we've had a cash giveaway and I've kept up with everyone's pictures but with our group now pushing 7,000 members it's just not feasible anymore.  Even without the cash prize, I still hope you'll join in the decluttering and in sharing your photos to help motivate others.  I can't tell you how the pictures shared have motivated me.  Knowing you're not alone swimming in clutter, seeing the progress others have made, hearing ideas for organizing, finding places to donate to, and so much more.  Truly, that group is an amazing group of people and I'm thankful to be apart of it.
FAQ
Q: Do I have to throw the things away.
A: Absolutely not!  You can gift, donate, recycle, repurpose, or throw away.  Try to let throwing away be your last option if possible.  Be careful not to get stuck on wanting to repurpose or repair things though.  It's easy to save things for "one day" and that day never comes.
Q: Are you sure there won't be a cash prize this year?
A: Yes, there won't be this year but maybe I'll giveaway a smaller gift card to an active participant in our Facebook group.
Q: Is it okay if I post in the group daily?
A: Absolutely!  To keep your progress organized you can post all of your pictures in the comments of your first post….or not.  It could be fun to see all of the progress you've made this month in one place but you're not obligated to.  Just share away.
Q: Do you have a list of easy things to start with?
A: As it turns out, we do!  Here's our list of 200 Things to Let Go Of.
If you have any other questions please feel free to comment below and ask.  I hope you'll join us and invite a friend to join you too!
If you're looking for some more Live With Less encouragement check out these resources (and don't forget our Facebook group). 🙂