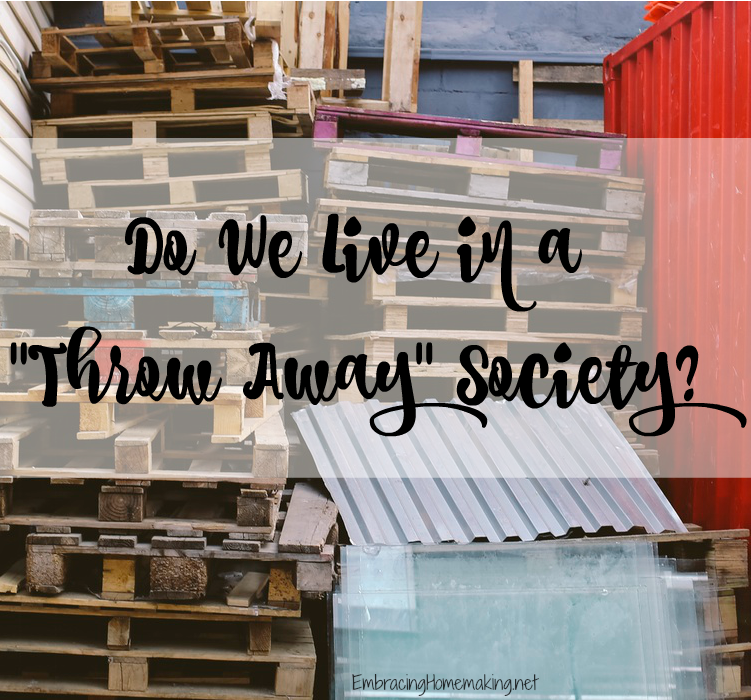 Do we live in a "throw away" society?  Since my post, 200 Things to Throw Away went viral, I've been accused numerous times in comments (and much nastier emails) that I'm promoting a "throw away" mentality.  I don't think that's true and here's a little bit of my reasoning.
1.)  People are hoarding.  It's true.  I am, you probably are.  As a society we have a whole lotta stuff.  I'm not encouraging people to buy new winter coats every year and throw them out when spring comes.  If you read my list and are thinking that I'm being frivolous with money by throwing out something I'll later have to buy again please know that's not my intention.  That list was meant to encourage people to think about what they have surrounding them that they don't use, won't use, and are keeping for decades just in case they will one day use it.  It's okay to donate that coat that's been in your closet for years and has gone untouched.  Let go and let someone else get joy from it!
2.)  The bigger problem.  Americans (and other countries I'm learning from the wide variety of readers in our Live With Less Facebook group) have a problem.  A big problem.  We want too much.  We buy too much.  We live in excess.  Should we sell all of our belongings and give the money to the poor then live as meagerly as possible?  While noble, I'm not necessarily encouraging that.  I do, however, think it's beneficial for people to step outside of their lives and look in at how much stuff they have.  I believe that our buying habits is the bigger problem and until we see that we won't make the progress we desire.  Just as spooning water out of a sinking boat does nothing if the giant leak isn't repaired.  I think we need to evaluate our spending habits and not just give away things.
What do I propose we do about it?  I'm glad you asked! 🙂  These are at least the things, a few of the things, that I'm trying to do in my life.  I realize all families are different and what works for some won't work for others.  Visit my post here, entitled 5 Ways to Buy Quality Merchandise.
What do you think?  Maybe I'm wrong, it sure wouldn't be the first time.  Do you think we live in a "throw away society?"