Traveling can do great things for the soul, reset your mind, and provide great opportunities for bonding with your family.  However, sometimes traveling can leave you wanting.  Be prepared for small set backs or emergencies with a first aid kid.  This post on how to pack a travel first aid kit is brought to you by KingGM.com.
(Related: See our Family Car Games post)
To begin building a first-aid kit for travel I recommend buying a pre-packed kit from the Red Cross.  They sell Car Survival Kits for $41 and Be Red Cross Ready First Aid Kit for $21. Both of these options will give you a great deal of products for cheaper than you could buy individually.  Plus, they come with a handy carrying case.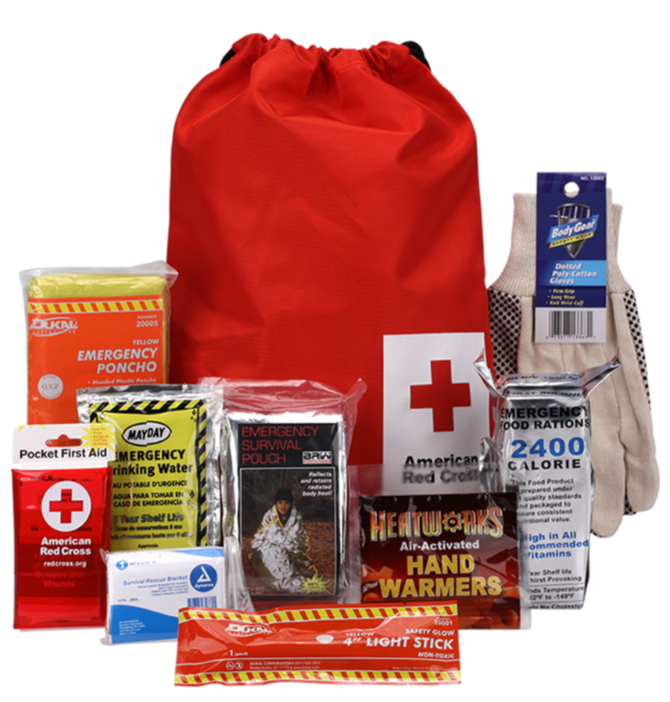 The Car Survival Kit includes:
-1 Durable Nylon String Back Pack
-1 Emergency Food Bar 6ct
-1 Dotted Poly-Cotton Gloves
-1 Emergency Hand Warmer 2-pack
-1 Emergency Blanket Bulk 52″ x 84″
-1 Emergency Mylar Sleeping Bag
-1 Rain Poncho
-1 12-Hour Emergency Light Stick.
-1 Emergency Water Pack 4oz
-1 Mini First Aid Kit with:

-5 Adhesive Plastic Bandages, 3/4″ x 3″
-3 Adhesive Fabric Bandages, 3/4″ x 3″
-5 Junior Adhesive Plastic Bandages, 3/8″ x 1-1/2″
-1 Fingertip Fabric Bandage
-1 Knuckle Fabric Bandage
-2 Antiseptic Cleansing Wipes (sting free)
-1 Triple Antibiotic Ointment Packet, 0.5g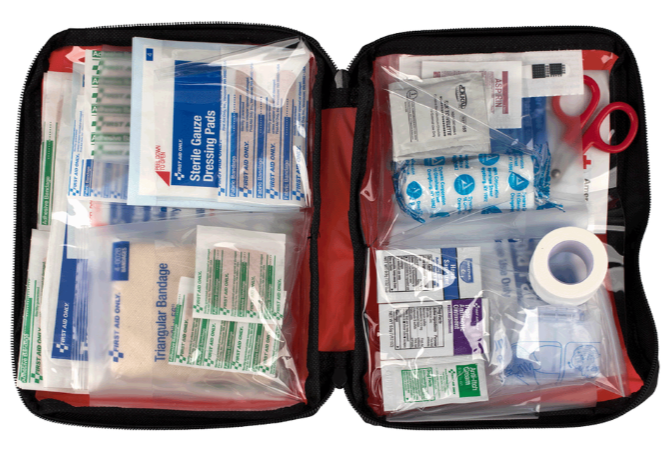 The Be Red Cross Ready Kit includes:
-3 Triple antibiotic ointment packs, 0.5g each
-4 Antiseptic cleansing wipes (sting free)
-1 Hydrocortisone pack, 0.9g
-2 Hand sanitizer packs, 0.9g each
-2 chewable aspirin tablets, 81 mg each
-20 Plastic adhesive bandages, 3/4″ x 3″
-10 Plastic adhesive bandages,1″ x 3″
-2 Elbow and knee plastic bandages, 2″ x 4″
-5 Junior plastic bandages, 3/8″ x 1-1/2″
-1 Knuckle fabric bandage
-1 Fingertip fabric bandage
-3 Patch bandages, 1-1/2″ x 1-1/2″
-1 Instant cold compress
-1 Triangular sling/bandage
-1 Trauma pad, 5″ x 9″
-4 Gauze dressing pads, 3″ x 3″
-2 Gauze dressing pads, 4″ x 4″
-1 First aid tape roll, 3/4″ x 5 yds
-1 Gauze roll bandage, 3″
-1 CPR one-way valve face shield, latex-free
-1 Thermometer, one time use
-2 Latex-free exam-quality vinyl gloves
-Scissors, 1 pair
-Plastic tweezers, 1 pair
-1 American Red Cross Emergency First Aid Guide
-1 Zippered clear-pocket soft pack
I Recommend Adding:
1. Your health insurance cards.  We had to use ours on a trip last year and boy, was I thankful we had them.  In an emergency, you'll want them handy.
2. Enough of your Rx medications and vitamins to last you the length of your trip—and a few days more juuuuust in case.  I guess these would really be packed in your suitcase instead of the first aid kit but I can't make myself leave them off.  My Rx medication keeps me going and I can't go anywhere without it.
3. Antidiarrheal medication (Imodium or generic) and antacids.  I can't tell you how many bottles of antacids I've bought on trips because I never think to pack them.  Well, actually, I can.  Four. I have four nearly full containers of antacids because I rarely have an upset stomach at home.  I guess it's the travel that gets to me!
4. An antihistamine for an unexpected allergy attack.  Claritin or a generic for seasonal allergies and Benadryl or similar for an allergic reaction to food or another reason.
5. A pain reliever such as Tylenol, Advil, Excedrin, or Aleve.
6. Sunscreen, aloe gel, hydrocortisone cream.  To protect from the environments and sooth sore skin.
7. Insect repellent.
8. Antiseptic wipes/hand sanitizer are listed in the Red Cross kits but I like to have a lot of this extra and on hand while we're out on the road.
10. A thermometer.  It may be overkill but it would come in handy if you needed it.
There you have it folks, my recommendations on how to pack a travel first aid kit!