This guest post comes from my friend Kim who knows her stuff when it comes to hot tubs.  Don't overpay on the wrong cover, check out her tips.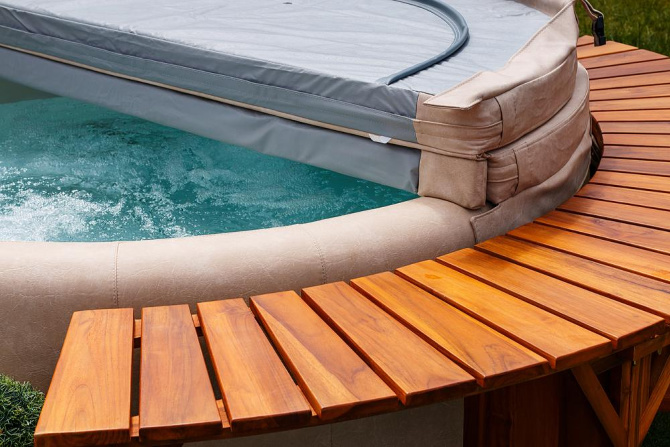 Hot tub cover damage isn't uncommon. When repairs are no longer an option, it is time to start looking for a replacement hot tub cover. Finding a hot tub replacement cover can be a challenging task, because you need a cover that is the perfect fit for your hot tub, and there are thousands of different makes and models of hot tubs around. I recommend you take a look at SpaMate.com. (Update: Unfortunately, they've gone out of business)  They have been making custom fit hot tub covers for more than four decades and have made covers for every hot tub model ever produced.
If you are in the market for a replacement hot tub cover, you probably want to consider the things that you didn't like about your old cover. Maybe your old cover wore out really quickly, or it didn't keep your hot tub as warm as you'd like; this is the perfect time to get a hot tub cover that meets all of your needs. Here are four things that you should consider when getting a hot tub cover replacement.
Things to Consider Before Purchasing A Replacement Hot Tub Cover?
1.  Durability
You don't want to be replacing your hot tub cover every couple of years. Instead, you will want a cover that will last you a long time. To find a durable spa cover, you should first start by looking for a cover that has internal supports made of a strong metal like steel. These supports provide your spa cover with the strength to keep it sturdy under the weight of any debris that may fall on top of it in your yard.
In addition to the internal supports, your hot tub cover should have strong hinges made out a rust-resistant material. A continuous heat seal at the hinges could also help with keeping the heat inside your hot tub while it is covered. Over time, this will save you a lot of money on heating bills.
Wind straps should also come with your hot tub cover to keep the cover secured to your spa during inclement weather and high-wind conditions. Properly securing your cover to your hot tub could prevent it from getting damaged.
2.  Insulation
The foam insulation inside your hot tub cover keeps the heat in the spa when it isn't in use. Even when it is bitterly cold outside, the insulation should keep your spa's water toasty and warm. There are a few different factors that affect how well your cover keeps in heat. First is the thickness of the foam.
Thin foam won't be able to keep the water in your hot tub warm when the temperatures dip to extreme lows. Typically, a quality hot tub cover will contain foam insulation that is between four and six inches thick.
The second consideration you should make when it comes to insulation is the climate in which you live. If you live in an area that gets really cold, you will want to go with the thickest insulation available to keep your hot tub water nice and warm. In warmer climates, you will need less insulation so that you can go with a thinner foam insulation option. Regardless of the climate, a replacement spa cover should contain at least three inches of foam insulation.

3.  Fit
For a spa cover to properly insulate hot tub, you need to make sure that it is a perfect fit. It isn't always easy to get a hot tub cover that is the perfect fit, so you might want to look for a company that can take the make and model of your spa and create the perfect hot tub cover. If that isn't an option, you can measure your spa to come up with perfect measurements. It may be very difficult to get precise measurements, so you should talk to the spa cover manufacturer about how to get the best measurements.
4.  Material
Spa covers need to be made out of a material that can stand up to constant contact with water, the elements, and sun exposure. For these reasons, marine vinyl is the best option when it comes to a spa cover material because it is resistant to fading, discoloration, and UV damage. Marine vinyl also contains mildew inhibitors that prevent the growth of mildew and mold on the cover to prevent illnesses to those who use the hot tub. Mildew inhibitors also very bad odors in the cover.
Purchasing a replacement spa cover is no easy task. If you have been burned by a spa cover in the past, you are probably hesitant to pull the trigger on a new purchase. However, with these tips, you can go out and pick a new spa cover with confidence.