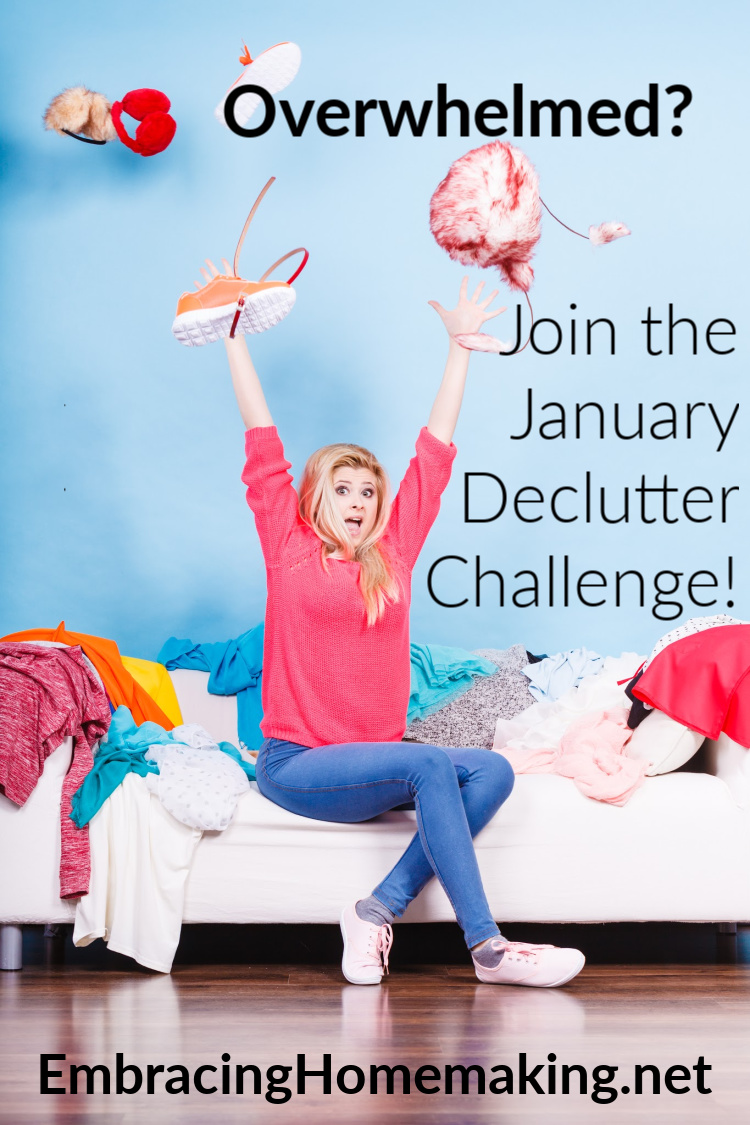 It's easy to collect things through the year.  Things we don't need.  Things others could use.  Things we can sell.  Things we need to find and just put to use.  At least my family does this.  If you have too much stuff and your house could use a decluttering jump start then this challenge is for you.  This January Decluttering Challenge is a daily checklist for you to easily remove things from your home that you no longer need.  Feel free to donate, gift, recycle, or use up these items before opting to throw them away.
We have an active and encouraging Live With Less Facebook group that I would love to have you join.  You can share before and after photos, ask for advice, and share encouraging photos of things you're letting go of.  You can join by clicking here.
Day 1- 1 Sentimental thing
Day 2- 2 Red things
Day 3- 3 Unwanted gifts
Day 4- 4 Magazines/catalogs
Day 5- Old coupons
Day 6- Things you can give to someone
Day 7- Glass items (old mugs, dishes with chips, unloved vases, etc)
Day 8- Stationary items (broken pens, extra anything you won't use)
Day 9- Unfinished project pieces (finish the project this week or consider throwing it out)
Day 10- Old cotton (old t-shirts, cleaning rags, socks, anything cotton you no longer have a use for)
Day 11- Christmas cards
Day 12- Disposable plates, cups, or cutlery (use them up!)
Day 13- 13 items of clothes or shoes (a pair of shoes counts as 1)
Day 14- Duplicates (anything you have two of that you don't need, two bottles of red nail polish, tweezers, nail clippers, hammers, etc.)
Day 15- Unused old bottles (any empty jars or bottles that you don't have a use for)
Day 16- Tech (Movies, CDs, video games, random telephone cords, cords you don't know what they go to but have had 5+ years, etc.)
Day 17- Let go of 1 thing & write a letter/email to someone you've lost touch with (no need to provide a picture of the correspondence)
Day 18- Out grown/unloved items (nearly full old perfume bottles, toys, jewelry, etc.)
Day 19- Use something you've been saving (decorative soap, fancy dishes for a special occasion, a bottle of sparkling apple cider, whatever you may have that you're waiting to use "some day" Let today be that day!)
Day 20- 5 Things you can fit in your hand
Day 21- Organize an area that you dread to organize and toss items as you go (before and after pictures are always fun but the items you're letting go of is okay too if you forget to snap a before pic)
Day 22- Write a list of 22 things that you're thankful for that money can't buy
Day 23- Let go of 2 things and make a recipe from an unused cook book (if you can't bring yourself to do it, let go of the cookbook too)
Day 24- Mend, fix, or glue 3 broken items or toss them (maybe you don't keep broken things but we always have a few broken things at our house)
Day 25- 5 things from 5 different rooms
Day 26- Move/toss/do 6 things that make you feel guilty (maybe it's a book that sits on your nightstand and has been laying there unread for months making you feel guilty when you look at it, maybe it's the dirty windows that irritate you, etc.)
Day 27- Do something you've been procrastinating (returning unloved purchases and going through old moving boxes are at the top of my list)
Day 28- Take your donations to a charity 

Day 29- Repurpose/display a sentimental item you've decided to keep
Day 30- Find a "home" for lost items that are around your house….as many as you have time for
Day 31- Let go of 12 pieces of paper
Happy New Year!  I hope you'll join our Live With Less Facebook group so we can connect and chat!
You might also like our 200 Things to Throw Away post.