This post contains affiliate links.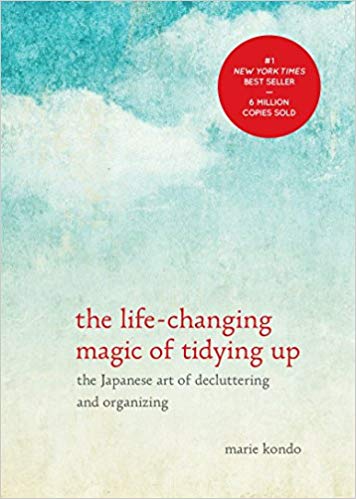 Like many of you, I read the Life Changing Magic of Tidying Up four years ago and was pleasantly startled by her fresh perspective of decluttering.  She attacked categories at a time and not locations.
My favorite quote from the book, "People cannot change their habits without first changing their thinking."
It forever changed the way I thought of things.  Now I try to keep and buy only things that spark joy.  I've recommended it to friends and readers for years.  Recently, in our Live With Less Facebook group someone mentioned a Netflix original called Tidying Up With Marie Kondo.  What?  Perfect timing!  People are now feeling uncomfortable with the amount of extra stuff from Christmas and are making New Year's resolutions to live with less.  Well timed, Netflix, well timed!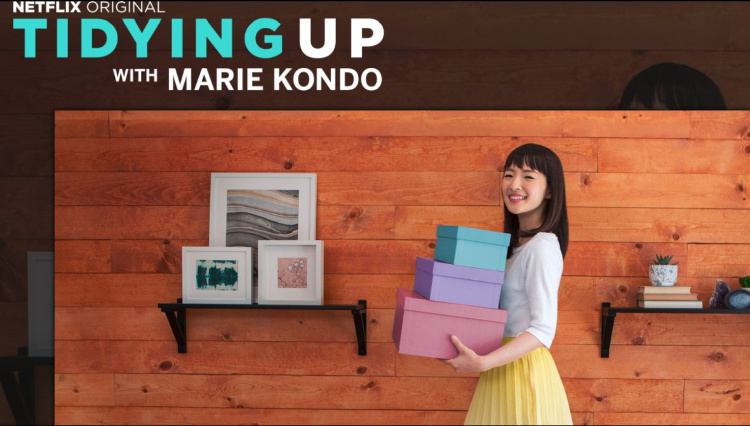 When we turned on Netflix tonight we saw an ad for the show and not having any series that we're currently binge watching, we decided to give it a try.  Our thoughts: it sparked joy. 🙂  See what we did there?  We only watched the first episode but it really hit home.  It was nearly identical to my family's situation.  My husband is naturally more organized than me, I can get so overwhelmed with daily activities that decluttering seems challenging at best, I dislike laundry,  and we have two small kids like they did.  It was a good show and I'm glad we watched it.  I'm still not a fan of talking to inanimate objects but looking past that I loved it!
I'm excited to watching the rest of them with my husband. To give you a little background, my husband never, and I mean never, watches decorating or yardsale/purging shows and he enjoyed it enough to want watch another one tomorrow. We both have a desire to live with less and watching someone declutter their home and deal with the emotions of it all was incredibly motivating.
So far, I'm loving the series. It's inspiring me, it's challenging me, and it makes me want to pause the TV and go fill a box of my unwanted belongings before watching more.  If you've seen it, I'd love to hear your thoughts on it!
If you're looking for more decluttering motivation feel free to join our Live With Less Facebook group and say hi!