This Holiday Packing List for Babies post is brought to you by BodwellChryslerJeepDodge.com and may contain affiliate links.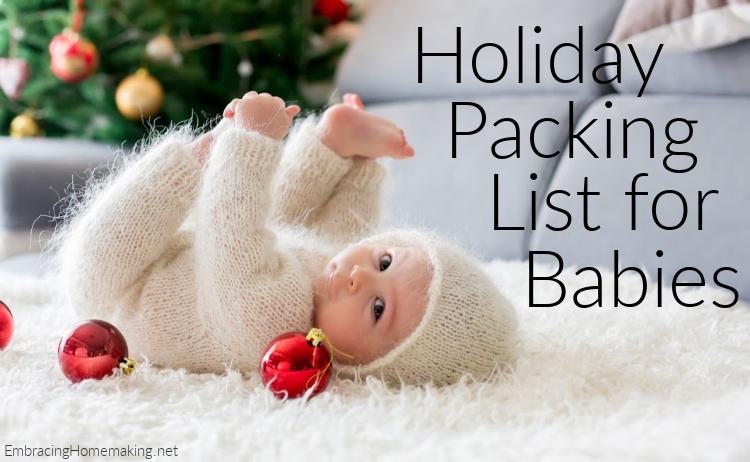 Holiday travel is intense, is it not?  Packing to see the in-laws, packing presents, and packing the other 101 things to keep your baby dry, fed, and content on a several hour trip is a lot to plan for.  I'm here to help!  You won't need everything on this list so pick and choose what will work for you but hopefully I won't have left anything off the list that you'll find yourself needing.  So here goes, my holiday packing list for babies!
Entertainment
I'm mostly thinking toys for the car because once you arrive at your destination family will take over and you'll only see your baby again when it's time to be changed or fed. Ha. I'm only kind of kidding.
-1 soft book (The Rainbow Fish bath book was a favorite in our house!)
-1 squishy/rattly toy of your choice
-1 big mounted mirror so they can look at themselves
-1 Justin Robert's Lullaby Cd.  Seriously!  I've given a dozen of these away as gifts.  They're delightful for adults to listen to and soothing for the baby at the same time.  Plus, each CD purchase helps to support an artist.  Win, win, win!
Baby on Board (baby specific items)
-Diapers (I like to bring a sleeve or two and buy more if needed)/swim diapers
-Diaper cream
-Toothbrush/toothpaste (Or save the packing space and opt to use a clean wash cloth if they're small enough)
-Breast pump/nursing pads/cover up
-Formula/warmer/bottle/bottle brush
-Bibs
-Baby food/cereal/bowl/spoon
-Sippy cup
-Pacifier
-Changing pad
-Baby wipes (I would bring a pack and buy the rest)
-Travel crib/cot/sheets for it
-Humidifier (If you're going to a place with really dry heat like we do when traveling in winter. Baby nosebleeds aren't fun)
-Baby carrier/sling
-Burp cloths
-Sleep sack
-Baby blanket (a thin one or two that could double as a nursing cover, stroller cover, baby blanket, or swaddle if needed)
-Swimsuits/sunhat/sunscreen (see my full beach packing list for baby here)
-Sweater(s)
-Socks/shoes
-Shirts/shorts/pants/onesies
-Hair brush/hair bows
-Shampoo/lotion (if you use a particular brand)
-Night light/sound machine/any other transportable sleeping item babies are used to
-Insect repellent
-Stroller
-Car seat
-Portable high chair
-Place mat (We loved our rollable silicone ones and the plastic disposable ones)
-Baby thermometer/baby Tylenol (This might be helpful for some who suspect a cold coming on or for those who like to plan ahead…but I'm one that would just run out to Walgreens and buy them new)
-Gas drops (I would pack these just in case!)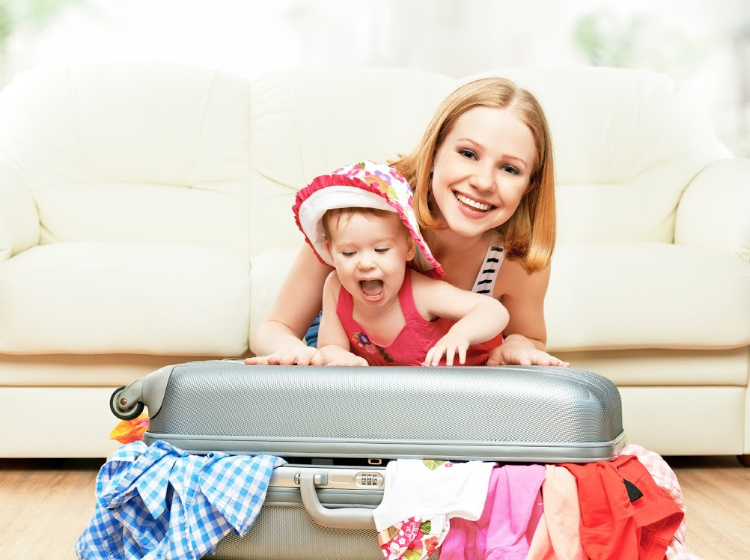 Health Care
Band-aids
Antibiotic ointment (We prefer Polysporin over Neosporin in our house)
Rx meds anyone in the home takes (We bring just enough for the trip plus one day in case we're delayed)
A few pills of pain medication (well labeled and away from kids) just in case
Allergy meds or any other OTC medicine the family takes
Feminine hygiene products
Vitamins
Miscellaneous
Phone/ipad/laptop
Chargers for all the above
Possible portable charger for on the go use especially if you're one who takes pictures all day (I do too on vacations. Solidarity!)
Camera/charger/case
Books (for you)/notepad and pen for doodling your thoughts (I tend to have all of these thoughts on vacations, usually it involves how to pack better for next time but sometimes I have deep thoughts too) 🙂
Assorted sizes of plastic bags (I honestly can't tell you why but I've found uses for them on many many occasions I just can't think of a single example as I type this tonight)
Small amount of dish soap/laundry detergent/disinfecting wipes
Cash to tip with
I hope my Holiday Packing List for Babies was helpful to you.  If I left off something that you can't travel without please let me know in the comments below.  Happy holidays and safe travels!