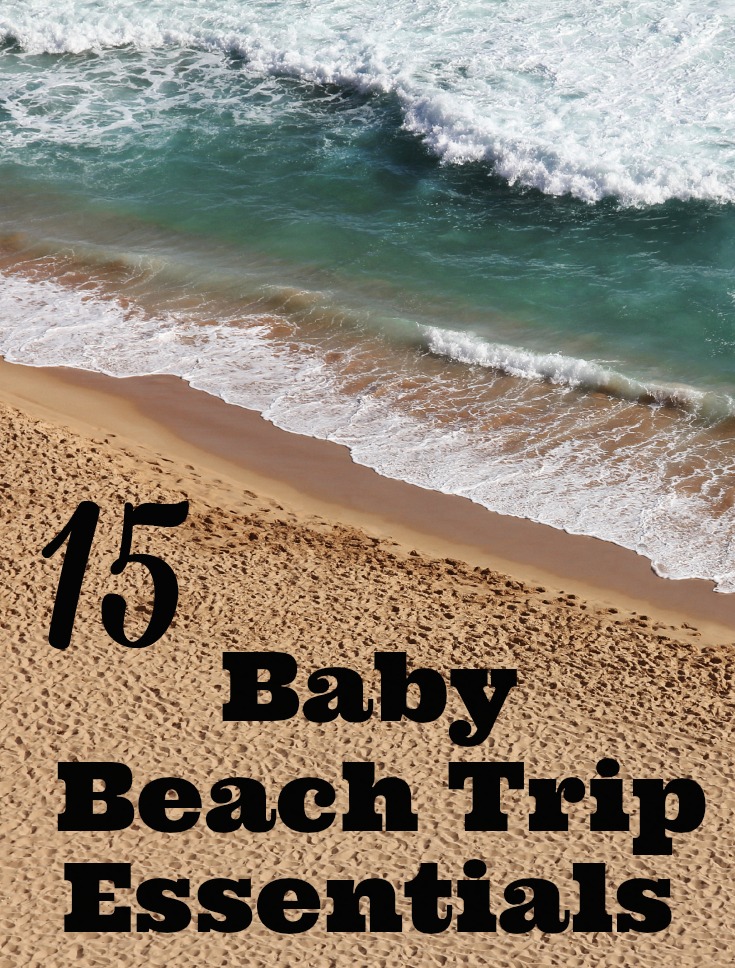 Summer is coming soon and before I know it will be time to head to the beach. When our family went to the beach the year before last, I scoured the internet for a list of helpful things to bring to the beach when you have small kids. The results I found were a little underwhelming. I turned to my friends who have been there and done that with youngins and they gave me a ton of great tips. Tips that I think the world should know! Tips that will save you from reading 1,001 Amazon beach blanket reviews and 500 beach-packing lists reminding you to pack sunscreen. Before I share my must-have list with you I want you to know that affiliate links are included this post and as always that doesn't sway my opinion in the least.  Without further ado, my fellow beach-loving friend, I want to present you with the top fifteen things that I will always find room in my suitcase for.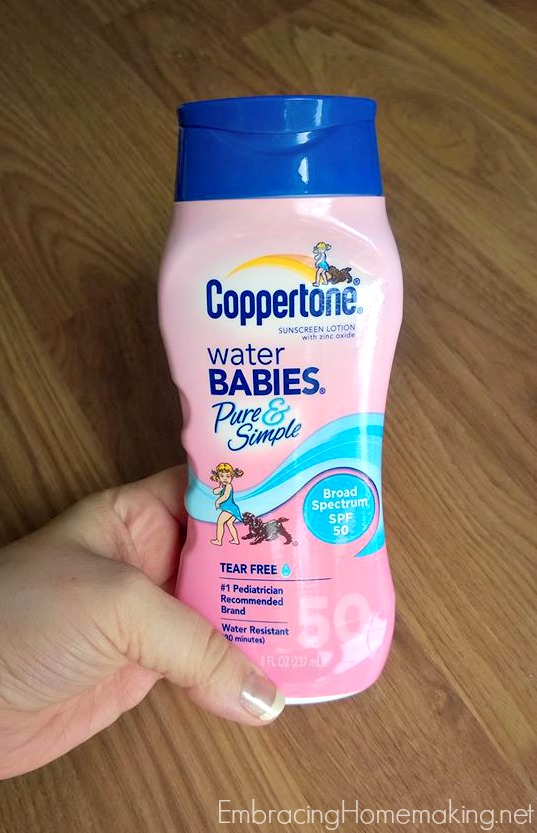 1. Sunscreen – Okay, I know I told you that I hated seeing sunscreen on a beach trip packing list but let me just get it out of the way and say it, bring sunscreen. Bring baby sunscreen for babies and adult sunscreen for adults…unless they want to use the baby sunscreen too which is probably okay. Last summer, I used my off brand anti-aging sunscreen on my little one to save time. Big no-no. She broke out in a horrible rash and I felt awful about it. From now on I'm sticking with Coppertone Water Babies for both of my little ones. If you use a spray sunscreen don't forget to have your kids hold their breath while you apply and make sure to read the can and rub it in if the directions tell you too. A friend of mine applied it on her husband without reading it and rubbing it in and he left the beach looking like a lobster. Just a reminder. 🙂  Update: Lately, I've been using one of these three sunscreens for my sweet sensitive kiddos. BabyGanics, Badger, and California Baby. (Click here for the 2018 EWG Sunscreen recommendations.)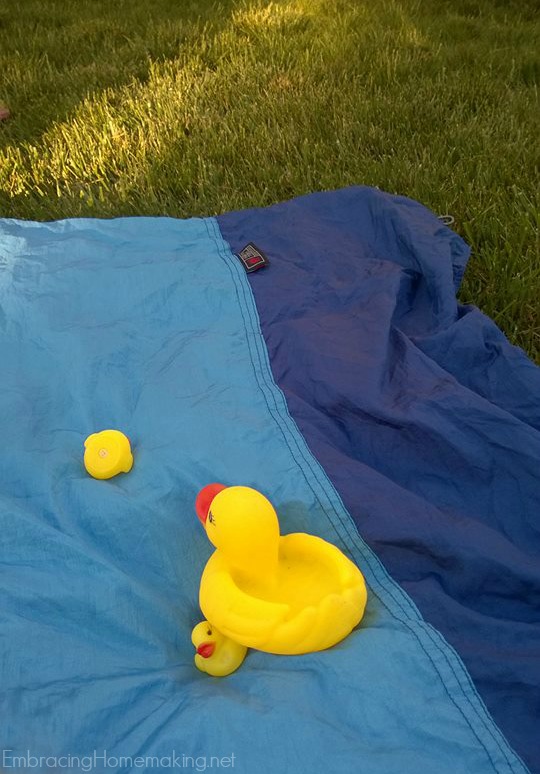 2. Beach blanket – This is one that I have researched thoroughly. You're welcome. 🙂 This blanket from Amazon is incredible. I use it for every picnic I go to and I used it just last night when playing with my son in the yard while my daughter and husband played ball. It's incredibly light weight, think very thin parachute material. Because it's so thin it stays cool, dries quickly, folds compactly, and it doesn't hold ANY sand. It had loops on the four corners to nail a stake if you want AND it has pouches if you'd rather fill each corner with sand to hold it in place. We chose to fill a few corners with sand and lay our belongings on the others and it worked fine. I LOVE this blanket! If you have kids and spend time outdoors on the ground, you should get one.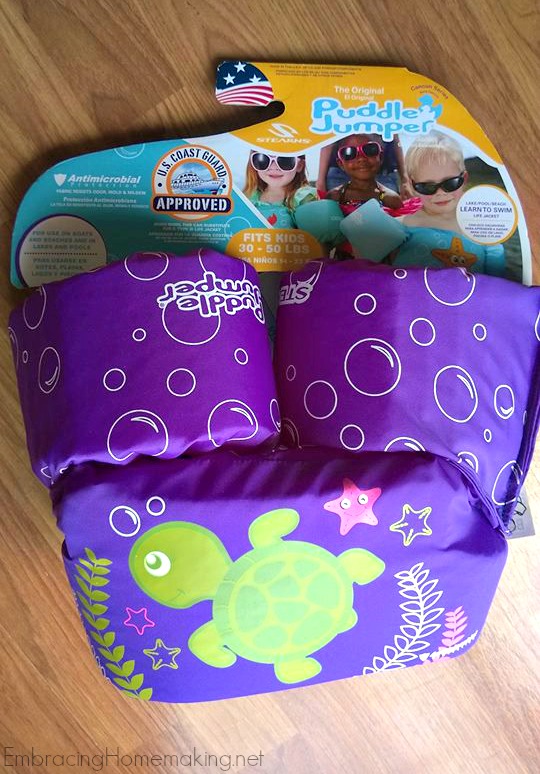 3. Puddle Jumper – The Puddle Jumper is a Coast Guard approved flotation device for kids. Unlike the scratchy inflatable wings or a regular bulky life jacket the Puddle Jumper allows kids to move about freely while swimming. I'm so thankful that a friend recommended this to me.  The year before last, I just borrowed one for our trip but this year I've bought our own.  The Puddle Jumper is fabulous because it doesn't require time to blow it up and it gives me peace of mind as my little darling is learning to navigate her way through the water. Not to mention, the designs they have are stinking cute! I haven't met a mom yet who doesn't love these!
4 . Sand mitt – This little product is genius, ya'll! It's a terrycloth mitt that has powder inside. You pat it and brush it on your legs and arms to remove any pesky sand. It works so well! I bought mine on Amazon for around $10 and the reviews say it will only last one summer. It's cheap enough and handy enough that I don't mind buying a new one every year but I have enough powder in mine for another beach trip or two! A bottle of baby powder and a sand free towel would probably work well too but I'm a little too paranoid about kids inhaling the powder to give it a try.
5 – Sun hat with strap – Great for kiddos and adults too. Three of my favorite brands (same company) Crazy 8, Gymboree, and Janie & Jack have adorable hats that match their swimming suits and trunks. They even have cute swimming caps too! Oh, and I pack two swimsuits per child so one can dry off while the other one is being worn. No one likes to put on a damp suit.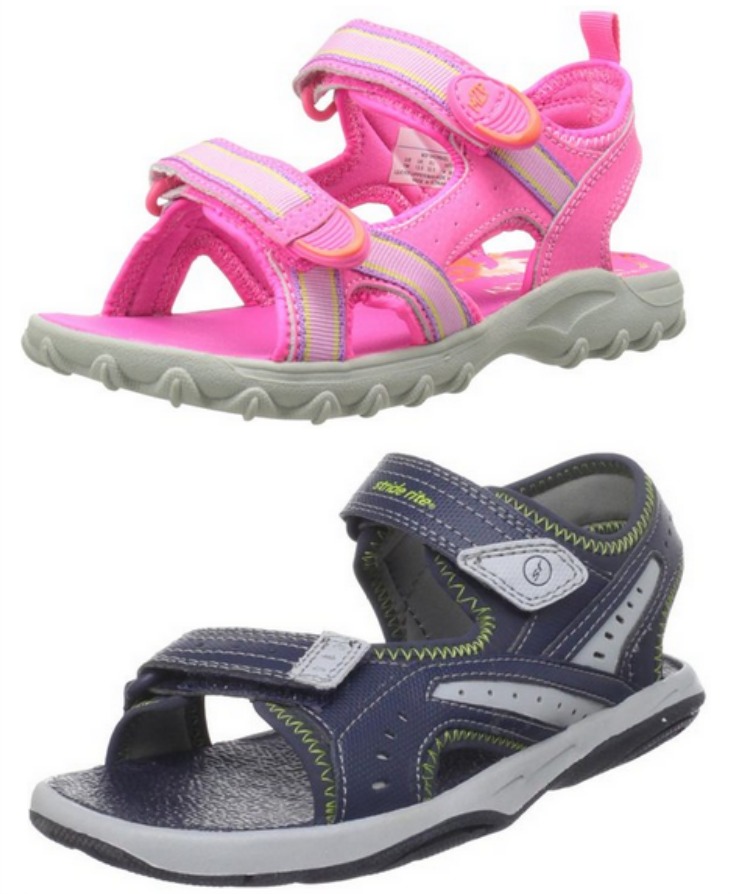 6. Water shoes – I can't praise these Stride Rite shoes enough. (Link to pink ones, link to blue ones pictured above) They are expensive but awesome! They're great all summer long and make fabulous water shoes. I just gave my sister-in-law my old pair and plan on purchasing a new set for each of my kiddos. You can get these shoes wet, even wear them in the kiddy pool and they'll still be comfortable to wear day after day.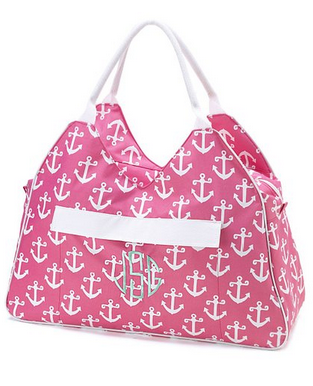 7 . Good beach bag – With all this loot you'll be carrying to the beach, pool, and back it's important to have a bag with many compartments and ideally have a shoulder strap. I'm still on the look out for a really good one so if you know of one you'll have to let me know.  I have my eye on this one on Amazon that's less than $22 shipped but I'd love one with a shoulder strap.
8. Waterproof camera/filter – A waterproof camera is on my wish list for the beach this year. Before I had to take pictures from far away with my dslr because I was afraid to get water on it. I did find the addition of a camera lens filter to be handy for keeping possible sand off of the lens of my camera. It gave me peace of mind if nothing else. Lenses are expensive and the filter I bought was less than $10 dollars on Amazon.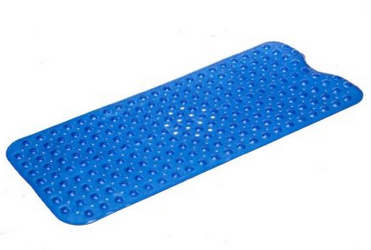 9. Cheap bath mat – My sister-in-law taught me this trick and I am very grateful. Some people have the mindset that germs are good for kids and they'll often say, "It'll build their immune system" and "What doesn't kill them will make them stronger." I'm not one of those people. I hate germs and I figure they'll get enough on their own anyway. I'd hate for my kids to have gotten sick when I could have prevented it, especially at the beach! I digress. I bring a cheap bath mat to use in the hotel's tub and a few disinfectant wipes for good measure.
10. Sunglasses – This is an easy one to forget but so important for little eyes. I had good luck finding cute ones that stay on at Target, Gymboree, and The Children's Place before. The ones with the head strap are genius for the ity bity kiddos. (These from Amazon look super cute, like regular sunglasses but with a head strap! Plus, they have matching ones for the parents. You can't beat that kind of cute, you just can't!)
11. Umbrella/Sunshade/Money to rent an umbrella – This is a self explanatory one really. Sun=bad, shade=good. Before we knew that my daughter would be petrified of the ocean we planned on renting an umbrella instead of dealing with the hassle of toting it down to the beach and storing it all year long in our home. I'm glad we opted for that since we would have never been able to use it. If you go often though it may be worth your time to search Amazon for a good one.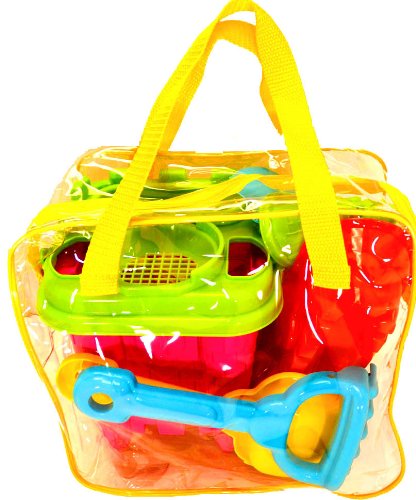 12. Beach toys – These can be brought from home or if you buy new ones try to find toys that you can use later at home as well. Little People's Cinderella and Prince would make a great addition to any sand castle. Plus, if you happen to have a kid like mine who is scared of the ocean these also make great play toys in the pool, bath tub, and hotel room. A small shovel, watering pail (or a reusable food container with holes?), a few molds (or an old butter and sour cream container?) is plenty. Here is the fancier set that I bought and never had a chance to use at the beach. I loved it though because it had it's own carrying case.
13.Hair ties – Most importantly hair ties that stay in place. There's nothing quite like redoing a pony tail of wet hair. It might be a good idea to bring a small pair of scissors just in case the hair tie is difficult to remove. My daughter's hair is thicker now so I have to find a different type of hair tie but for our last trip those small hair rubber bands worked well. You know the ones? They have hundreds in a package.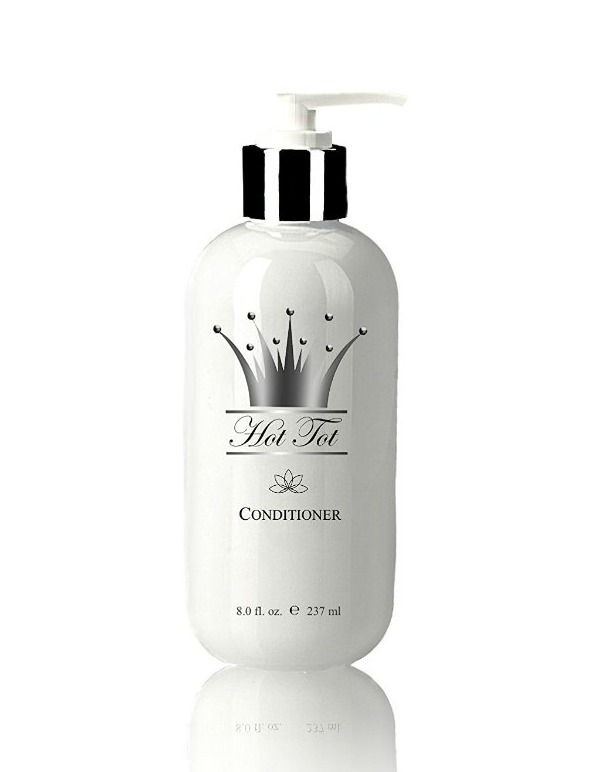 14.Spray conditioner – All moms of little girls know that tangles are a nightmare. A good leave-in conditioner is a wonderful thing. My favorite is a natural one from a mom-owned company called Hot Tot. I was proud when I saw them air on Shark Tank a while back as they've been a favorite in my home for years. The Wet Brush may also be helpful.
15. Ice – Don't pack this one in your suit case but we've found it incredibly helpful to buy a bag of ice right when we get to the beach. Pack a sippy cup of ice in your bag and your little one's water won't be boiling when they're ready for a drink. (Speaking of sippy cups, my FAVORITE straw cups are on sale on Amazon now for under $3 shipped! I've told everyone I know with little girls to buy them.)
Now that you have my list, what are the things you can't go to the beach without?