This post on why you shouldn't top off your gas tank is brought to you by Fred Martin Superstore.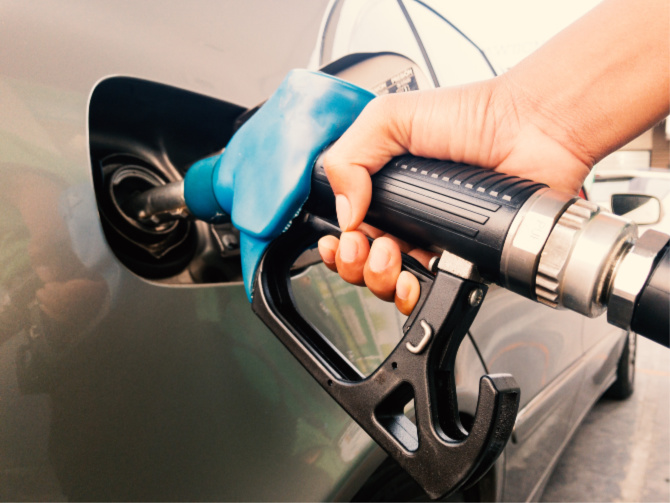 I just heard that you shouldn't top off your gas tank.  Did you know that?  I've never heard of that before so I did some digging on the internet and it turns out they were right!  To think that I was the one who converted my husband into my topping off the gas tank ways.  Oops!  I just love seeing $40.00 even or $23.45.  It always gave me a little high to hit the number right on the mark.  Well, it turns our that it's not only bad for your wallet and your vehicle but also for the environment!  Oh boy!
It's Bad for Your Wallet
BP's website says, "Gas nozzles automatically click off when your gas tank is full, so topping off the gas tank can cause you to pay for gasoline that's fed back into the station's tanks. In some areas, gas station pumps are required to recover gas vapors to prevent them from contributing to air pollution. In these cases, any additional gas you try to pump after the first click may be drawn into the vapor recovery line. Source: www.epa.gov."
It's Bad for Your Vehicle
Freep.com says, "Joel Carruso, owner of Caruso's Auto Repair in Schenectady, N.Y., adds that these systems manage fuel vapor.
Overfilling the gas tank can cause liquid gas to enter the charcoal canister, or carbon filter, which is designed only for vapor. Gas in the system can affect your car's performance by causing it to run poorly, and damage the engine, he says.
"When we overfill the tank, it sends all of the excessive fuel to the evaporation/charcoal canister and kills the life of that canister," Carruso says.
Huddleston adds replacing a charcoal canister can cost anywhere from $200 up to $1,500."
It's Bad for the Environment
EPA.Ohio.gov says, "Gasoline that spills, as well as fumes that escape, react with nitrogen oxides and sunlight and create smog."
DriveCleanTexas.org says, "This will help keep fumes from escaping and absorbing into the air. Tighten your vehicle's gas cap all the way to prevent gasoline and pollutants from evaporating and damaging the air."
Yosimite.epa.gov has an article (you can find it by clicking here) that was written by Catherine Magliocchetti, who at the time the article was published, was a chemical engineer of the federal agency.  She says, "Topping off is a loser three ways.
First, you lose money when you top off because you pay for gasoline that you don't get. When the gas pump automatically shuts off, a vapor lock blocks more gas from entering your car. After the tank is full, the gas you pump gets sucked back through an outer "vapor-return" hose into the station's underground storage tank. The meter may be running, but your not getting the gas.
Secondly, you personally pollute the air because topping off clogs the vapor-return hose with liquid gasoline, so it can no longer return excess vapors. It works on the same principle as the water-filled trap on your kitchen sink, except at the pump, you want gasoline vapors to float back down the hose, not get stopped by a liquid-filled trap that you created by topping off.
Even worse, once you plug up the vapor-return hose, it stays plugged up until someone clears it by lifting it overhead to drain all the liquid back into the underground storage tank.
And thirdly, a gasoline-filled vapor-return pretty much guarantees that you and everyone after you will be breathing in a cloud of volatile gasoline molecules — invisible but harmful — while you pump gas. Excess molecules under pressure can't float back down the return hose, so they get forced out around the nozzle and into the air. That's when you smell gas."
Yikes!  Know better, do better, right?  It looks like some good reasons not to top off your gas but even if it's wrong, I'd rather err on the side of caution.  I guess from now on I'll try and resist the urge to get an even dollar amount!  In the past, did you top off your gas tank?