This post is brought to you by Bob Fisher Chevrolet.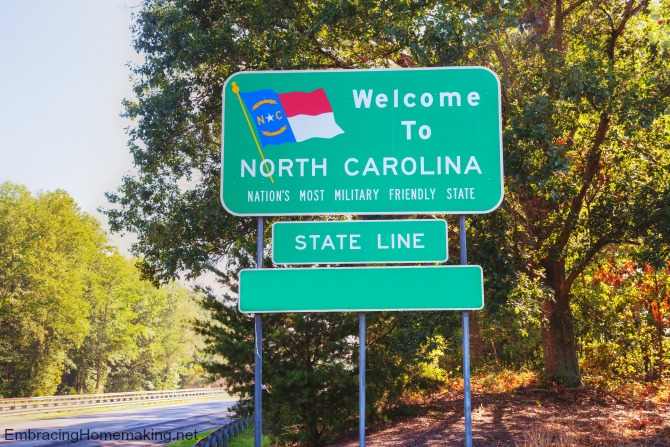 While I'm native to West Virginia, I now reside in North Carolina.  Not only is it a special place to me because I've raised my family here but also because of the beautiful scenery that surrounds it and the distinct culture that is North Carolina.  There are things that distinguish North Carolina from the rest of the country, brands that make it stand out.  I've curated a list of the best products made in North Carolina that I'm sure you'll love.
–  Krispy Kreme Doughnuts: Krispy Kreme was founded in 1937 by Vernon Rudolph who bought a recipe from a French chef and had intended to only sell to the local grocery stores but through constant public demand to buy the sweet smelling pastries he relented and started selling right from the bakery as well. The first bakery was opened in Winston-Salem, North Carolina.
–  Crab Pot Trees:  Crab Pot Trees began when Harvey and Sons in Davis, NC experimented with their colored crab traps (locally termed "crab pots") and the Core Sound Christmas tree was born.  The unique artificial tree was an immediate hit with friends and neighbors, who loved seeing the traditional material put to a new use.  Crab Pot Trees are now sold across the US.
–  Le Bleu: Le Blue is bottled water, bottled under a patent pending purification process and nationally sold. They also bottle sport drinks, coffee and flavored drinks. This product hails from Advance, North Carolina.
–  Simplicity Sofas: Sold through the Simplicity Sofa website only, this unique furniture store creates unique, one of a kind furniture that is multi-functional and assembled by the consumer. They offer one of kind designs that are all hand-made and customized by only one of 30 frame options. These 30 frame are able to create hundreds of sofa's, sofa sleepers and sectionals.
–  Cheesecakes By Alex: Alex baked his first cheesecake at the request of his mother-in-law.  Unhappy with the way it turned out he baked and baked until he had the perfect recipe.  Not long after his friends and family agreed he had the best cheesecakes around, Cheesecakes By Alex was born.
–  Lenovo: Based out of Whitsett, North Carolina Lenovo is the world's second largest manufacturer of PC's. Responsible for hand-held electronics like the ThinkPad and the ThinkPad Helix. The opening of this facility is the beginning of American made products relinquishing the reliance on overseas manufacturers and created hundreds of jobs.
–  R.J. Reynolds tobacco company: Based out of Winston-Salem, North Carolina and the manufacturer of Winston cigarettes, which used to be the top selling brand in the 60's and 70's. R.J. Reynolds is now conducting studies and testing to come up with or even transform the use of tobacco.
–  Pepsi: Originally "the Brad drink", developed by Caleb Bradham in New Bern, North Carolina in 1893.  Pepsi is now one of the world's top competing soft drinks.
–  The Universal Bar Code: Developed by George Lauer in collaboration with IBM in 1969 and implemented in 1972. The Universal Bar Code was intended to make a supermarket scanner code for inventory purposes.
–  Goody's Headache powder: Developed in Winston-Salem, North Carolina by a pharmacist by the name of Martin Goodman in 1932. Goody's Headache powder can now be found in grocery stores and convenience stores nationwide.
Mt. Olive Pickles: The largest independent pickle company in the United States, made by Shickrey Baddour in the mid 20's in Mt. Olive, North Carolina. Mt. Olive Pickles are now sold nationally in most food chains.
Texas Pete, Hanes, Cheerwine, Vick's Vapor Rub and Sara Lee also found their start in North Carolina!
Do you have a favorite Made in North Carolina product?