Sleep is crucial, right?  Everyone agrees to that.  That's why the mattress industry is as large as it is…and why we have four mattress stores in our town that are within sight distance of each other.  The industry is huge!  Have you heard of the new craze in mattresses?  Online mattress ordering, delivered right to your door with a money-back guarantee.  We tried this process recently and we loved it.
Let me back up a little bit, since January we've been working on fixing up the downstairs of our house.  If you're a regular follower of my blog you know that we bought this house almost two years ago and it was decorated in the best 70's decor possible.  We've since gutted and redone most of the upstairs but the downstairs has been untouched.  We've tackled the homeschool room and now we're on to the guest bedroom downstairs.  The room is a good space but it lacked a bed, decor, and it boasted of two different colors of paneling. 🙂  We've added window treatments, a rug, and we're working on the decor.  Nectar helped us with the most important aspect of a guest bedroom, the bed.  They gave us a mattress to review and we couldn't be happier with it.
I'll tell you every step of the unpacking process so you won't have to wonder at all about it.  If you're still hesitant know that they offer free shipping and free returns.  They have a marvelous 365 night home trial!  Wondering about their warranty?  They have what they call a "forever warranty."  It doesn't get any better than that!
The mattress arrived quickly after we had ordered it.  The mailman delivered it to my door just like this.  It is very heavy but being in a bag it was easy to pull it/roll it to where I wanted it till my husband came home.  He wanted to open it with me and we opened it as soon as he came home in the evening so please forgive my dark pictures.  (Notice, the two kinds of paneling?  We'll paint them soon!)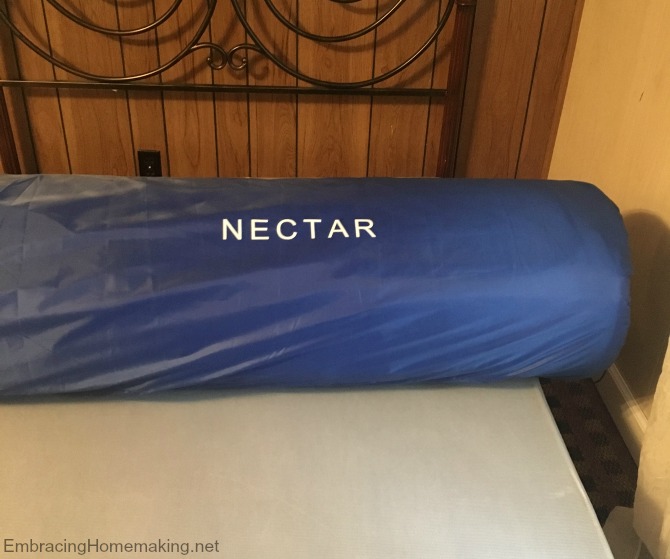 After we untied the drawstring on the blue bag and slid it out we found a large duffel bag covering the mattress.  I think we'll keep the blue drawstring bag to store my kid's ball pit balls.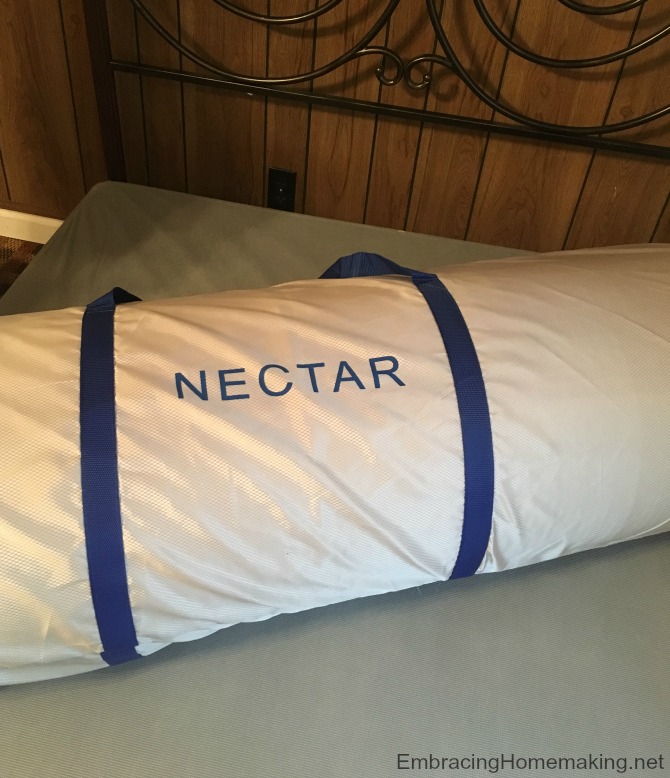 After we unzipped the duffel bag we uncovered the tightly wrapped mattress.  Here comes the fun part!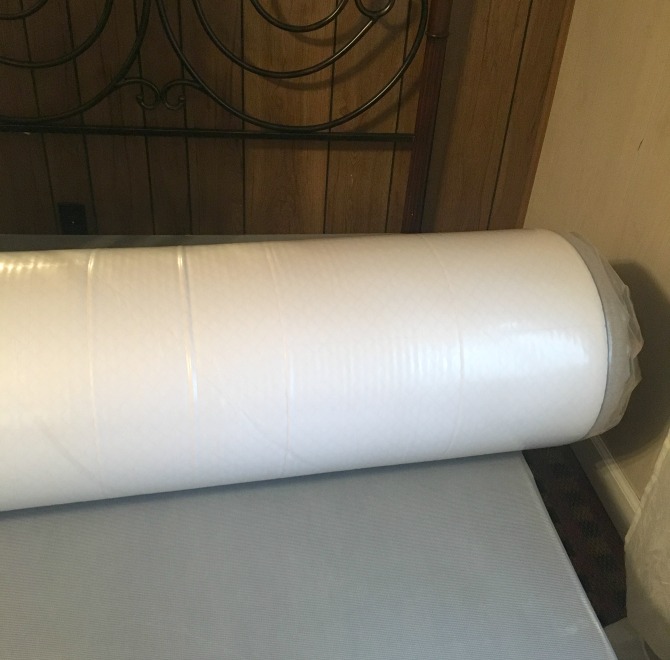 Can you see how thick the plastic is?  It's thick!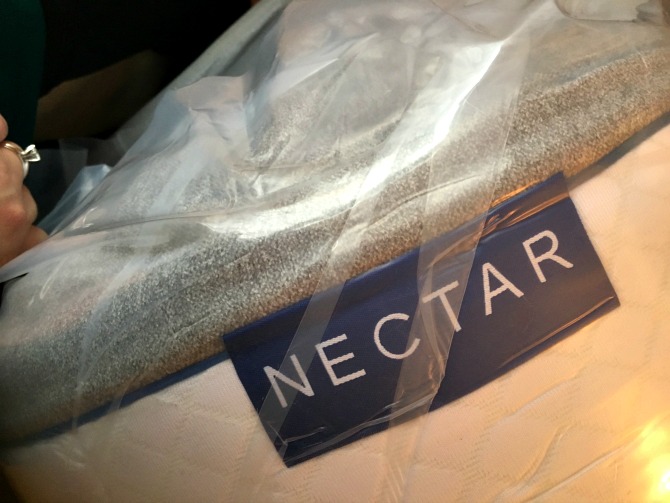 After we carefully cut that thick layer open with scissors, we unrolled the mattress and found a Nectar envelope opener.  This made removing the last layer of plastic a breeze.  We wouldn't have wanted to cut the mattress by accident.  I thought this was a great idea and was pleasantly surprised to see it included.  How thoughtful!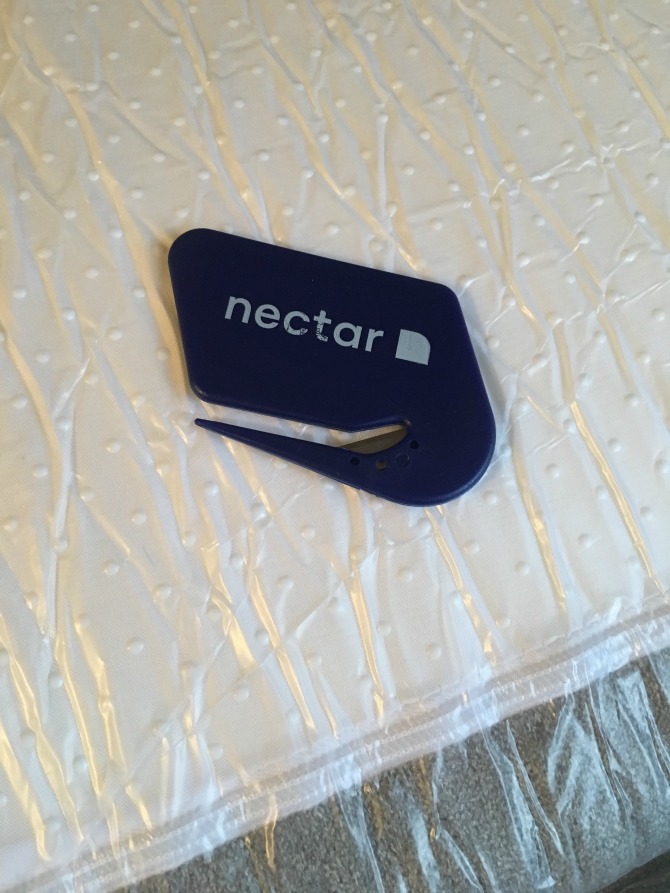 See how vacuum packed it is?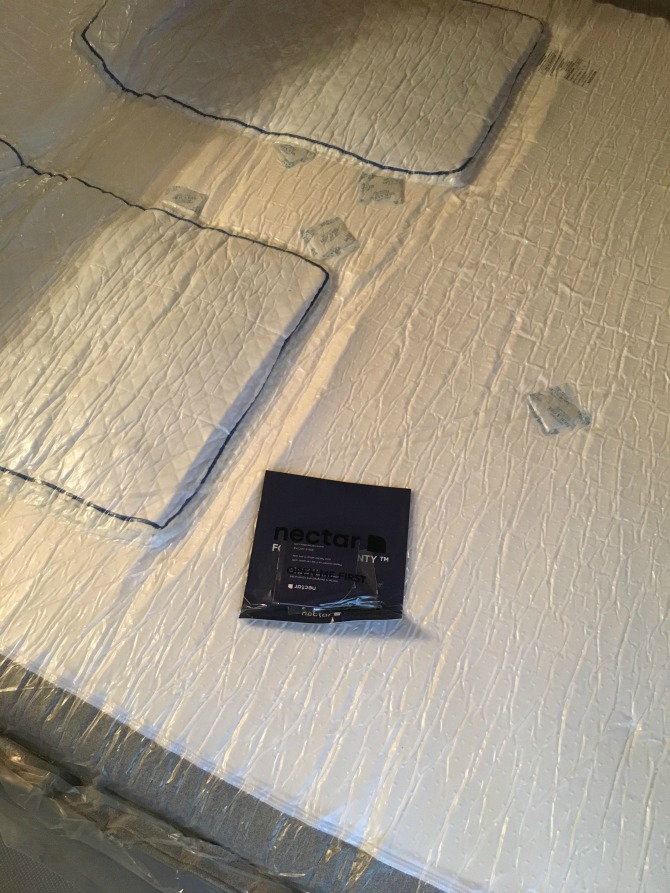 Here are the pillows beginning to inflate along with the mattress.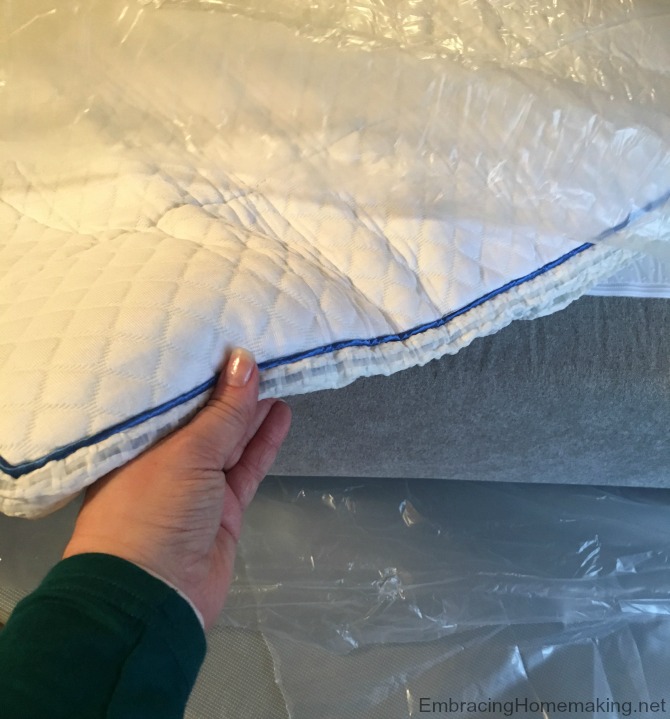 We let the mattress air out a full day before laying on it even though they assured us that the fumes the mattress put off were safe.  Look how plush it is.  It really is the right amount of support.  It's not too hard or too soft.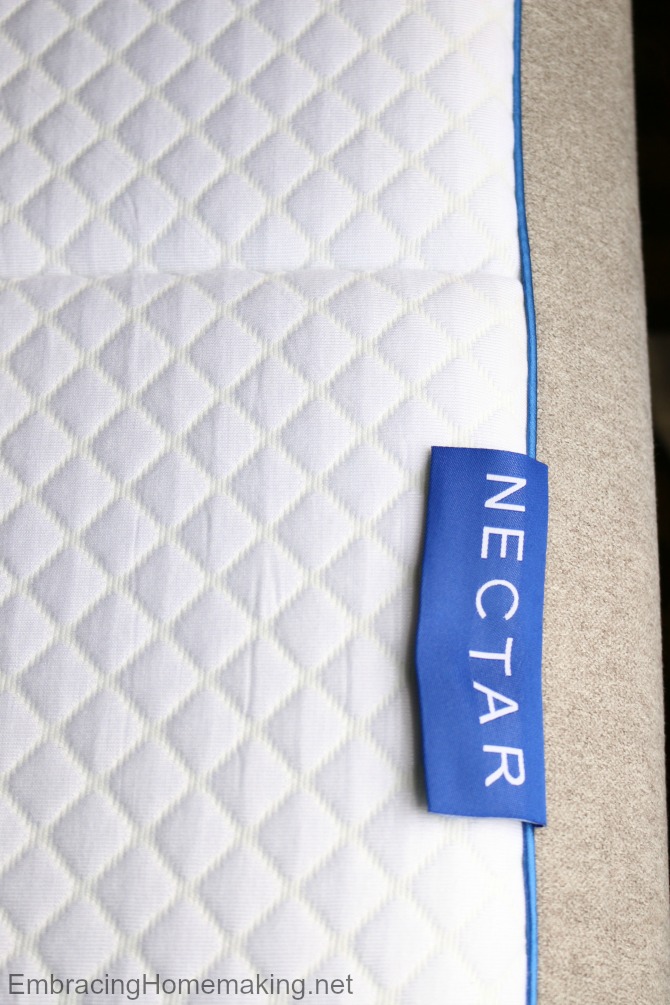 The pillows are amazing!  I was needing a new pillow so I think I'm going to steal one off of our guest bed.  My daughter is trying to take claim of the other one although I'm not sure my husband is going to let her. 🙂  My husband loves the bed and is wanting to stay in the guest room to sleep.  I think we might have to replace our bed too!  Which, now that I think about it, my daughter would like because that would mean two more pillows.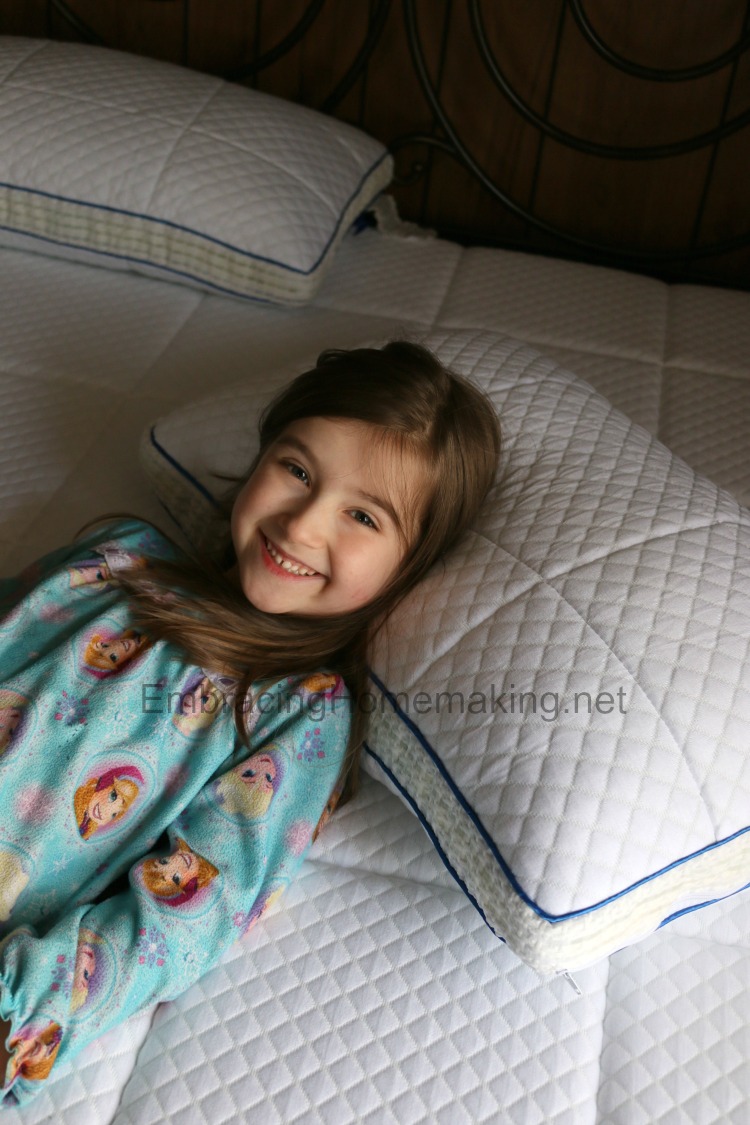 My kids have loved hanging out on the mattress, even before the sheets were on.  It is the comfiest place in the house!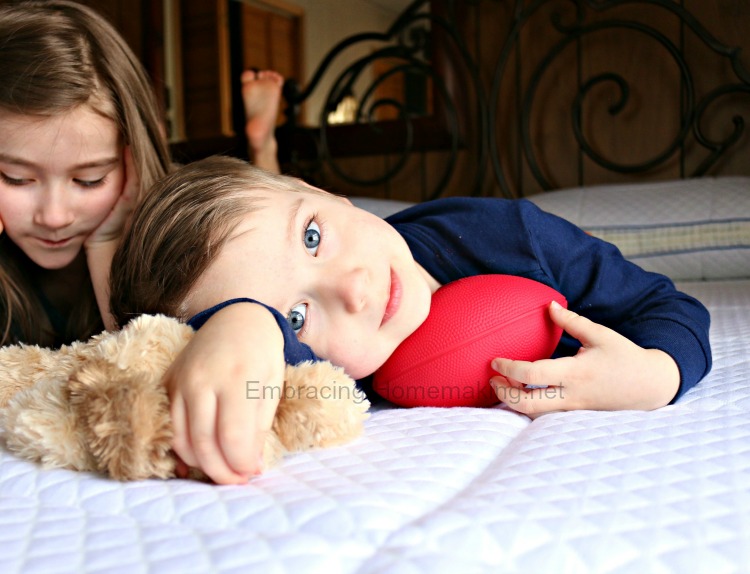 It is a great place for day dreaming.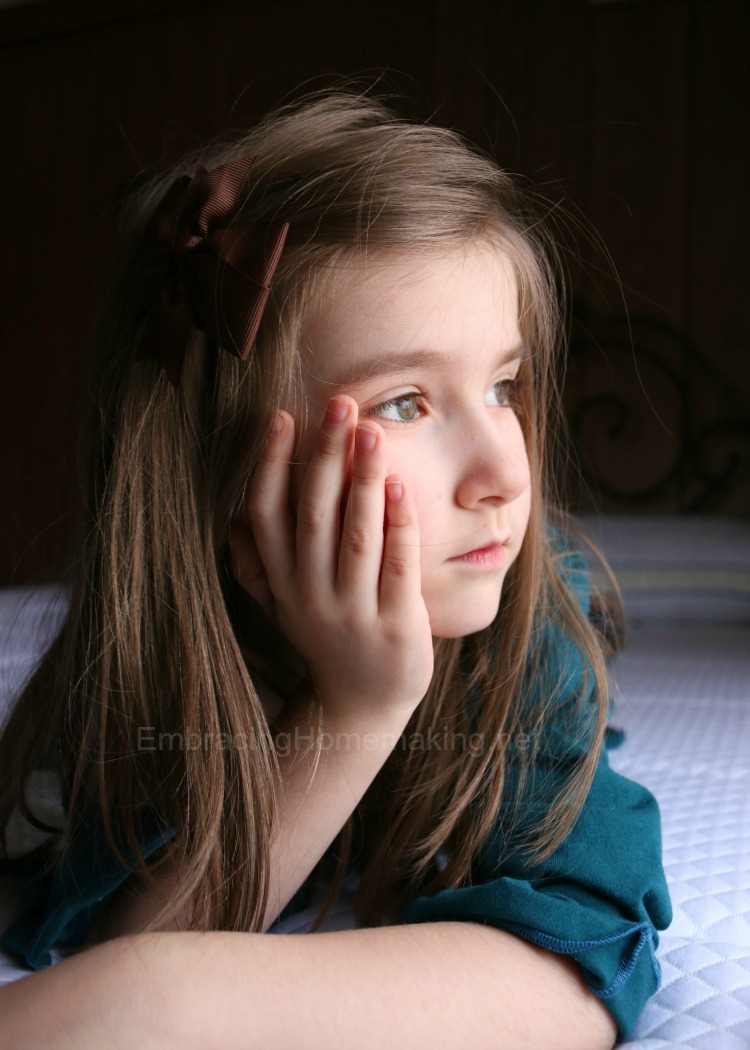 It's the perfect height for us and it goes with so many bed frames.  Adjustable, platform, floor, box spring, traditional, divan, you name it!  Because we didn't have a mattress in here previously we had to go shopping for a box spring and it was not a fun experience.  The prices varied so much and driving somewhere, borrowing a trailer, and hauling it home wasn't very fun.  If I could do it over again I would have ordered a box spring online somewhere.  That experience made me so thankful for the ability to order a mattress online.  Going from store to store, matching prices, dealing with less than friendly/knowledgeable employees, and laying on mattresses in public that who knows how many peole have laid on before you.  Yes, I think ordering mattresses online is the way to go.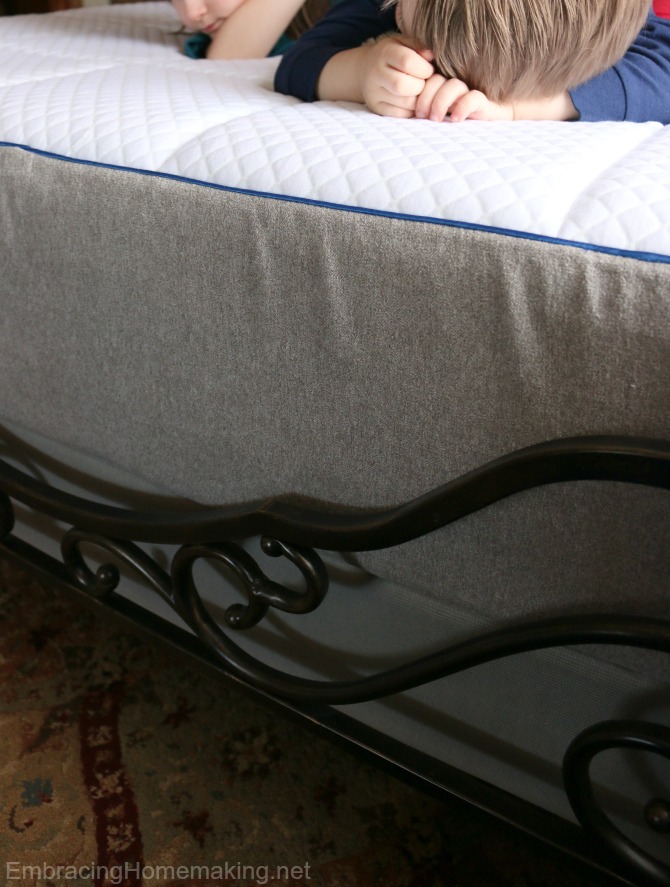 If you're in the market for a new mattress, don't lose sleep over trying to pick a brand, try out the Nectar brand!  With free shipping, free returns, and a 365 night trial, there's nothing to lose!