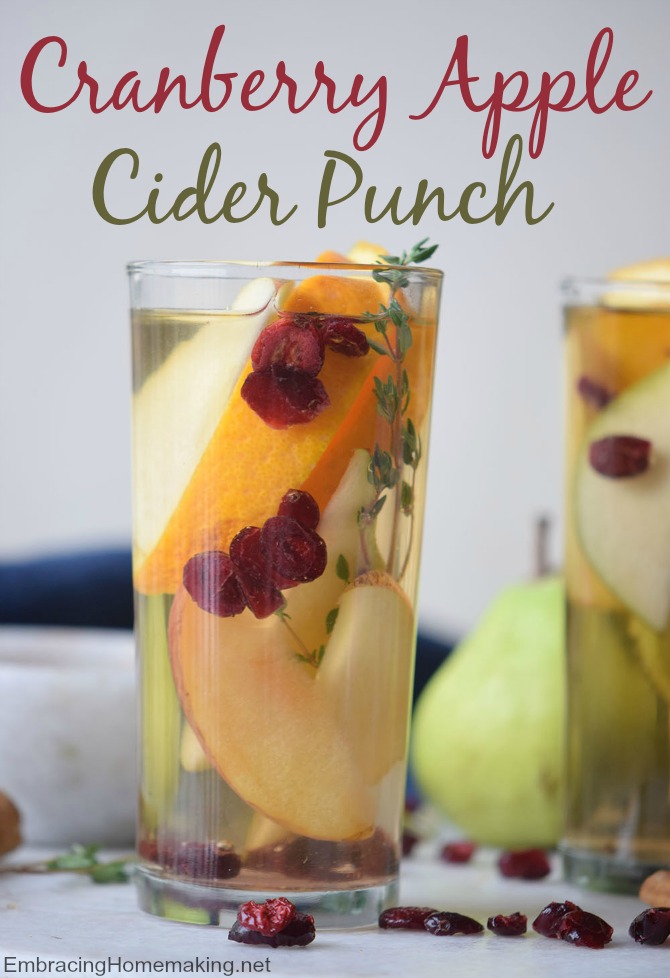 Cranberry Apple Cider Punch
Cranberry Apple Cider Punch is the perfect drink for the season and all the parties that come with it!
To say that I'm excited for all the holidays that are around the corner is an undertenant I just can't wait for them to roll out! There's something about fall and early winter that calls for parties and gatherings and get-togethers with friends and family + we also get some major holidays like Thanksgiving where good food and drinks are a must.
Every time that I host a party at my home during these months, even if it's just a meeting with a book club, I make sure that there's enough Cranberry Apple Cider Punch for everyone, this drink is a total crowd favorite and it's so delicious I just can't stop making it.
In case you are wondering, yes, this is also alcohol-free which makes it the perfect drink for the whole family.
I also love that this recipe features all the flavors that are famous during this season, think apples and cranberries and a good amount of spices (can we just agree that cinnamon just makes everything taste like a happy holiday?).
I believe that the reason why this is so flavorful and delicious is that we are making it from scratch. That's right, we are making homemade apple cider! But worry no! This is incredibly easy and there aren't any complicated steps or difficult to find ingredients at all!
And while it definitely takes a bit more time than using the bottled version, most of it is hands-off time which is great. That and the fact that the flavor is mind blowing good + how your home smells while this is being cooked are the things that for me, make cooking it from scratch totally worth it!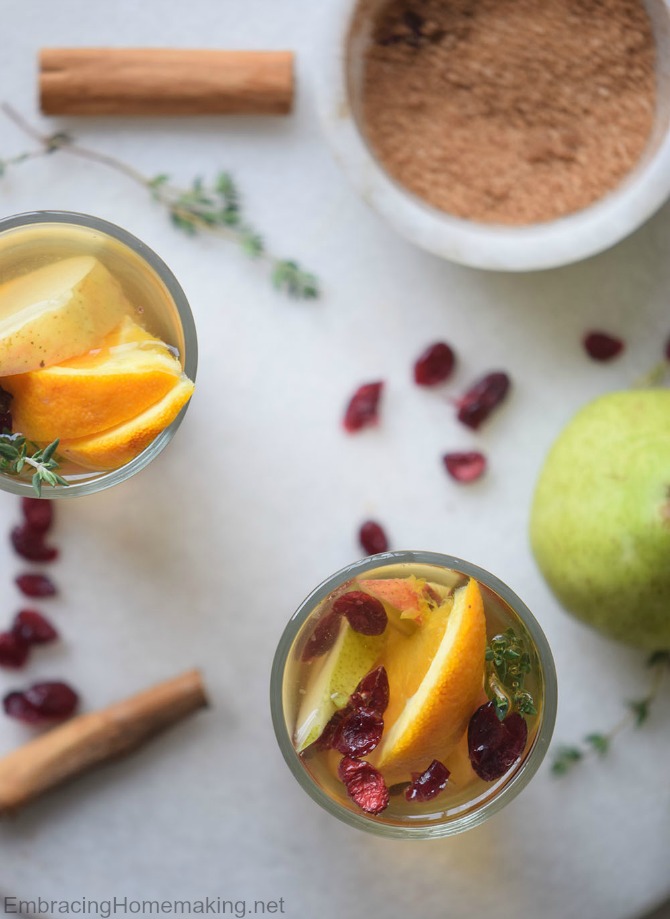 Ingredients
-4 Cups red apples, chopped
-2 Cups sun-dried cranberries
-6 Cups water
-1 Cup brown sugar
-3 Cinnamon sticks
-1 Tbsp cloves
-3 Tsps ground nutmeg
-Thyme sprigs for garnish
-Sliced apples, orange, and pears for garnish
Directions
-In a pot over medium-low heat add the water, apples, 1 cup of cranberries, brown sugar, cinnamon sticks, cloves, and nutmeg.
-Cover and cook for 1 hour.
-Remove the cinnamon sticks and cloves.
-Pour the content of the pot into a blender and blend until smooth.
-Transfer to the pot and let it simmer over medium heat for 1 hour.
-Using a cheesecloth (or a strainer) strain the apple cider into a large pitcher.
-Add the apple slices, orange slices, pear slices, cranberries, and thyme sprigs to the glasses. Pour the apple cider into the glasses.
-Serve and enjoy.