This post is brought to you by Kim's Chrysler Dodge Jeep.  If you're looking for a new car to keep your family safe take a look at what they have to offer.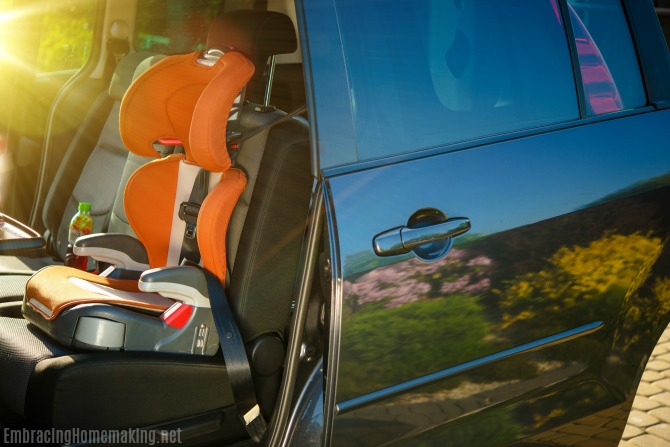 If you're like most parents of young kids you probably have an expired car seat hanging around somewhere.  It may be gathering dust bunnies in the attic or collecting cobwebs in the garage.  Either way, I'm sure you want to find a responsible way to get rid of it.
It's easy to overlook an expiration date on a milk jug but a car seat expiration date is one that shouldn't be ignored.  There are many reasons for this but the one that stands out to be is that they are made from plastic.  Overtime that plastic tends to break down and get brittle – not what you want in case you're in an accident!
Since we can't re-sell or donate an old car seat, what are we supposed to do with it?  I recently came into this position and I'm happy to share with you the options I've learned.
Look for Trade-In Events
Last year around Earth Day Target teamed up with TerraCycle for a two week event where customers could bring in old car seats to receive a 20% discount on a new car seat.  What mom doesn't love a Target discount? …and you get to do something good to the planet to boot.
Babies "R" Us locations often host car seat safety days where they'll check your car seat to make sure they still fit your child and are installed correctly.  This is what we did recently and not only did they give me 20% off any car seat I bought (including ones that were on sale!) but they also installed it for me.  It was wonderful!  I think I heard angels singing.
BabyEarthRENEW
BabyEarthRENEW will disassemble your car seat and they'll send some of the materials to developing countries, who can use the straps, buckles, and fabric for different purposes.  What they can't use will be sent to accredited recycling centers.  You do have to pay to ship the car seat to them but they'll make sure the most possible good can come from your car seat!  Plus, they'll give you a $5 gift certificate to spend with them.
Recycle
Call up your local children's thrift stores.  Some will accept at certain times a year and charge you a small fee to dispose of them properly.  Most recycling centers will also take expired car seats but they may have requirements about how the car seat should arrive and may charge a small fee for the service.
Donate
I've heard that police departments and fire departments may take donations of used car seats if they're needing some to use for training.  Before tossing one, it would be worth a few phone calls to see if they could use your expired seat.
Throw it Away
When all else fails, you may have to just throw it away but before you do please take some precautions to keep other families from using what looks like a perfectly functioning car seat.  Cut the straps on the seat or remove them all together to ensure that nobody will snag it for their youngster.