This helpful post is sponsored by Hiley Volkswagon of Arlington.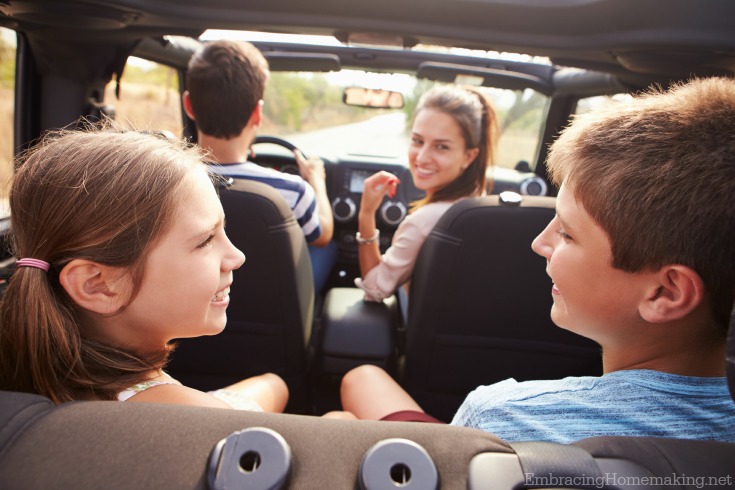 There is nothing that spoils a road trip like an unhappy child – cooped up, cranky, bored and the kid's aren't too happy either. If you are going over 50 miles with kids under 12 you are going to want to have a game plan and load the car with plenty of kid friendly gear, food bribes, and fun activities. These tips are sure fire tools for success.
–  Comfort. At this point in parenthood you probably don't need to be told to make sure the kids empty their bladder before leaving but just in case you need the reminder this is #1. If they say they don't need to go, don't trust them…MAKE THEM GO! After that is out of the way, be sure and dress them comfortably and cut out some of the complaining by putting them in loose, comfy clothes. Avoid tight waist bands, collared and buttoned up shirts, and anything that doesn't support total comfort.
–  Snacks. Next you are going to want to pack snacks – Preferably items that won't completely destroy your vehicles interior. Nothing sticky, oozing, or hard to clean.  Dried fruit, fruit snacks, pretzels, goldfish, and  juice boxes. Wet wipes and hand sanitizer are also must have items. Let them pack some items they want to have along for the ride-grab a small backpack or basket that will fit in the backseat and let them choose items like crayons and paper, their favorite book, doll, or handheld game (don't forget the headphones). Dollar store cookie sheets make great activity trays for the road, throw on some magnets and you have a busy board that will keep kids from toddlers to tweens busy.
–  Music and Movies. Let them have a turn choosing music and the movies if you have portable dvd players in the car.  Keep in mind that it is their trip too and allowing them to have some say so will lead to increased cooperation (just choose movies ahead of time that you can tolerate, if not enjoy).
– Play games WITH them.  Punch Buggy, License Plate Bingo, anything to pass time and keep their minds occupied.  Who can spot the most pickups in 20 minutes?  How many yellow cars are in the state of North Carolina? Make them up as you go, be a part of the fun and you might find the trip goes faster for you too.
– Sing songs together.  Justin Robert's music is our all time favorite.  If you have kids and HATE "kid's music" you have to check this out!  Fun music that will have you reminiscing of your own childhood and singing the songs to yourself when you're not even around your kids.
–  Stop occasionally. Kids are meant to move, it is cruel and unusual to strap them in and expect them to stay within the confines of a seat belt or car seat for 10 hours. Every once in awhile find a rest stop or even a park, let everyone out to stretch their arms and legs, have a run or quick game of catch if possible to get the blood pumping and burn off some energy (be sure to pack a football, a jump rope, or a Frisbee for stops).  This will make the time in the car a little easier to handle.
If you're a pro traveler with kids I would love to hear what tips and tricks that have worked for you!