This is a sponsored post brought to you by Nature's Harvest®.
If there is one thing my daughter and I like to do together, it's to be creative!  Whether it's making paintings for Daddy to hang up at work, inventing crazy dance moves, storytelling or cooking together, she likes to be original!  This week my daughter and I had a fun time experimenting with different sandwiches and different shapes we could form them into.  Works of art, I tell you!  Does your family like to make creative sandwiches too….or do you think they would?  If so, you should stretch your creative muscle and enter Nature's Harvest® Sandwich Art Facebook Contest!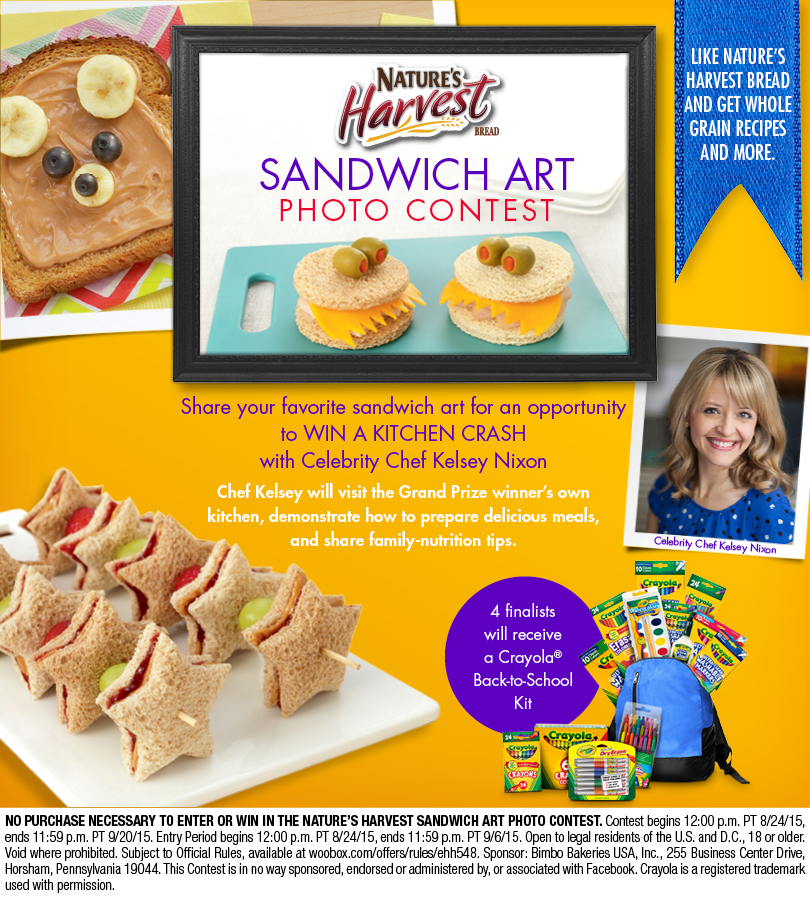 Nature's Harvest® Bread is baked fresh with at least 8 grams of whole grains per serving and it comes in several different family friendly varieties. In a recent survey of moms with children ages four to 13, Nature's Harvest learned that nearly half of moms are concerned about their children's nutrition and that 52% consider whole grains one of the most important nutritional considerations when they purchase food at the grocery store. When looking for a great tasting bread with whole grains, Nature's Harvest is "The easy choice for whole grains." Isn't it great that there are no artificial flavors or colors?  It seems like everything these days has artificial ingredients inside.
I was telling my friend, Danielle from FamilyCentsability.com about our creative lunch endeavor and she loved the idea.  She has two young boys that are similar ages to my children and it was fun to talk about different lunches we could create using things we already have.  We both have noticed one thing – even though it takes a bit more effort to make a creatively displayed sandwich our kids end up eating them better and eating healthier foods than they would have otherwise.  Healthier foods, eating without complaining, children helping with the prep work?  Win, win, win!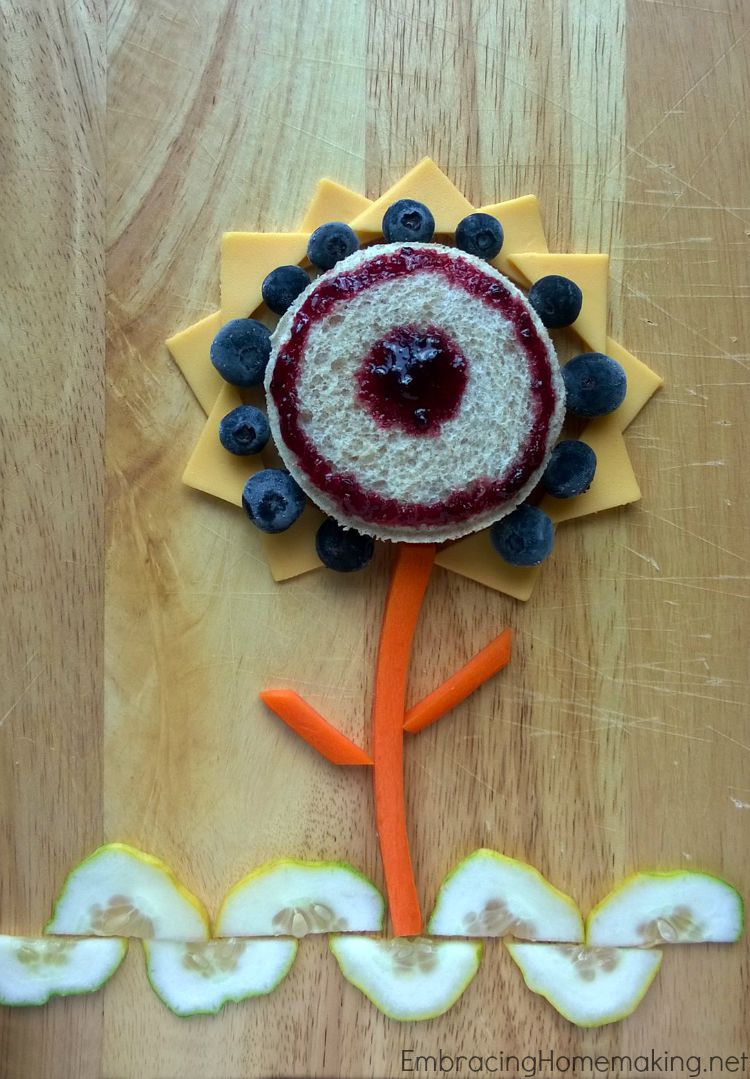 This was my daughter's favorite sandwich of the week!  I would have personally gone with the dinosaur but she's a girly girl and of course she loves the flower the best.  This was very was fun and simple to make.
Here's how we made our flower sandwich:
First we cut circles our of two slices of bread using an upside down cup.
We put peanut butter between them.
Added Smucker's jelly on top with a spoon.
Cut American cheese into triangles with a knife and laid around the flower.
I cut the carrots and cucumber slices.
My daughter arranged the carrots to form the stem and the cucumber slices to represent the ground.
Garnish the flower with frozen blueberries and you're done!
Do you have some sandwich art skills?  If so, make sure you enter the contest!