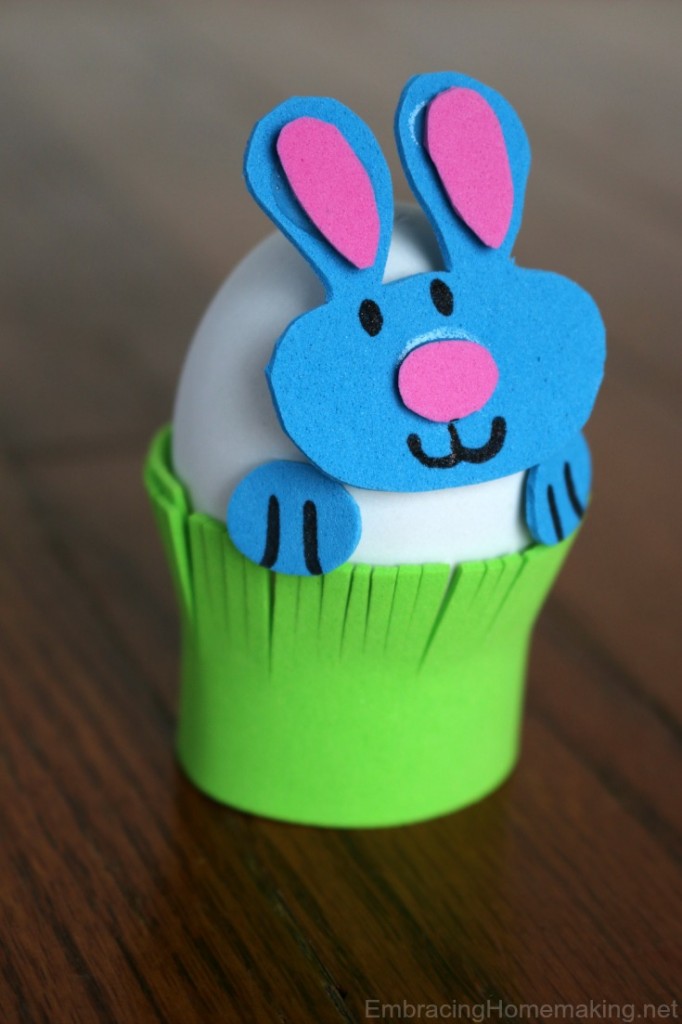 Are you looking for a fun craft idea for Easter?  Try this cute grass stand to hold your Easter eggs and if you want to go the extra mile you can turn your egg into a cute critter.
This is my first Pinterest remake.  I took the idea from this pin and put my own little spin on it!
The idea is very simple!
Materials Needed:
– Colored foam
– Glue
– Fiskars scissors
– Tape or a stapler
Instructions:
1. Cut a strip of green foam to the approximate size of the egg but giving it room to wrap around slightly.  Cut the strip as tall as you want the grass to be.
2. Use fancy scissors to cut the grass strips or do like I did and free hand it.  Then secure the foam around the egg using tape or a stapler.
3. Free hand bunny ears and paws (or a chick's beak and wings, etc.).  Use a Sharpie to add any small details.  Use glue to adhere these to your egg and you're finished!
Remember, it's okay if it's not perfect!  How likely is it that you'll keep it for more than a few weeks?  Not very, right?  So, don't worry about it and just have fun.  It's not like you'll draw lopsided eyes on your bunny and take a picture for all the world to see.  I've already done that so no worries.  ha!
My daughter and I had a lot of fun with this craft.  I did the cutting and drawing myself (with her instructions of course) and let her glue the pieces together.  She loved this craft!  I'm glad we used a paper egg because she has carried that bunny around with her everywhere!  Casserolie as she calls him.  Which is an absolutely hilarious name for a bunny; I love it!
Here are more Pinterest remakes from a few of my favorite bloggers: