This post is brought to you by Kingbgmc.com.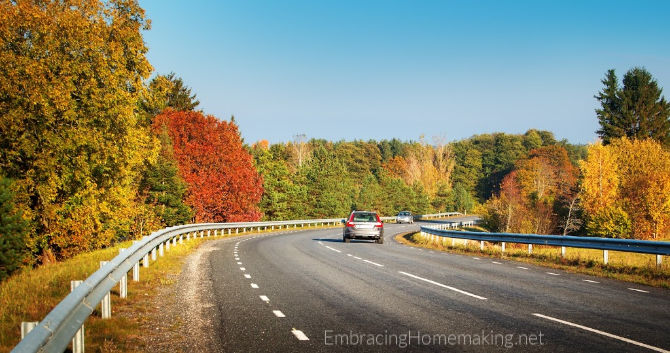 From orange pumpkins and yellow mums at farmers markets to the brightly-colored foliage that graces the woodlands of America, just about any family can appreciate the beauty that fall has to offer through the great outdoors.
Pick a sunny weekend, pack the car, invite the family along, pack a picnic lunch, and bring the camera to ensure that the fall scenes freeze in time to enjoy for years to come.
Here are just a few popular fall foliage sites and destinations across America where families can enjoy nature its fullest this time of year.
State Parks and National Forests
State parks and national forests boast some of the best nature and hiking trails out there, as well as some of the best foliage and family fun.
All across Vermont, one thing is clear this time of year – fall is here. Woodford State Park in Vermont is a 398-acre park that borders Massachusetts and offers several hiking and nature trails to please the nature-lover and foliage enthusiast.
Gifford Pinchot National Forest in Washington State contains a West Coast version of fall's array of color. The park's trails span over 1,200 miles and go through woodland areas with scenic views. The U.S. Forest Service recently reported positive fall color around sites such as the Mount St. Helens and Mount Adams Ranger Districts.
The Minnesota Valley State Park in Jordan, Minn. is a mid-westerner's destination. During fall, there are 41 miles of hiking trail available to adventure-seekers and foliage enthusiasts. Enjoy viewing the reddish-orange-colored Sumac or other plant varieties.
Foliage Routes
Get together with family members to map out an individualized foliage routes or visit state websites that can provide routes for discovering the best places to experience fall's beauty.
The Ozark National Forest in Arkansas has brilliant colors in the fall. Take a look at the state's collection of candy corn-colored Maple and Dogwood trees. To find some of the best foliage, drivers are encouraged to tour throughout the northern part of the state, including Bull Shoals, Yellville and Flippin, along the tree lines of the Ozark Mountains.
Maine is also a state filled with lovely displays of foliage this time of year. To experience fall-tinged Maples and mountains, the Maine Office of Tourism recommends a driving tour through Naples, Sebago Lake State Park, and Grafton Notch State Park, into the White Mountain National Forest, and through Lovell and Fryeburg. Many regions in the state are already experiencing some of their peak times of foliage color.
Scenic Drives
The Natchez Trace, which is a roadway that cuts through the South between Natchez, Miss. and Nashville, Tenn., is one example of an area in the country filled with the colors of nature especially during fall. One portion of the scenic drive takes travelers through the northwest corner of Alabama with 33 miles of fall beauty.
Not far from the Natchez Trace in the northwest part of Alabama, Joe Wheeler State Park in Rogersville, Ala. is a southern sample of the array of foliage to find. Drive along U.S. 72 or meander through the park in Lauderdale County.
Fall in Love with Fall
No matter the time of year, nature across America is abundant with beauty, but especially in fall, the colorful foliage outside is to be appreciated. Take the time to bring the family together outdoors, take a nice drive, and discover all there is to love about nature during fall.