This post contains affiliate links.
Owning a small bathroom when you're raising a family can seem like a never-ending battle of trying to stay organized. You want to maintain enough space so you don't feel crowded while getting ready for your day. Owning a smaller bathroom may have its downsides, there are some perks to your small bathroom. You have less floor space to mop and less room to let unnecessary clutter build up.  When you own a small bathroom, it's best to learn how to maximize the little space you do have.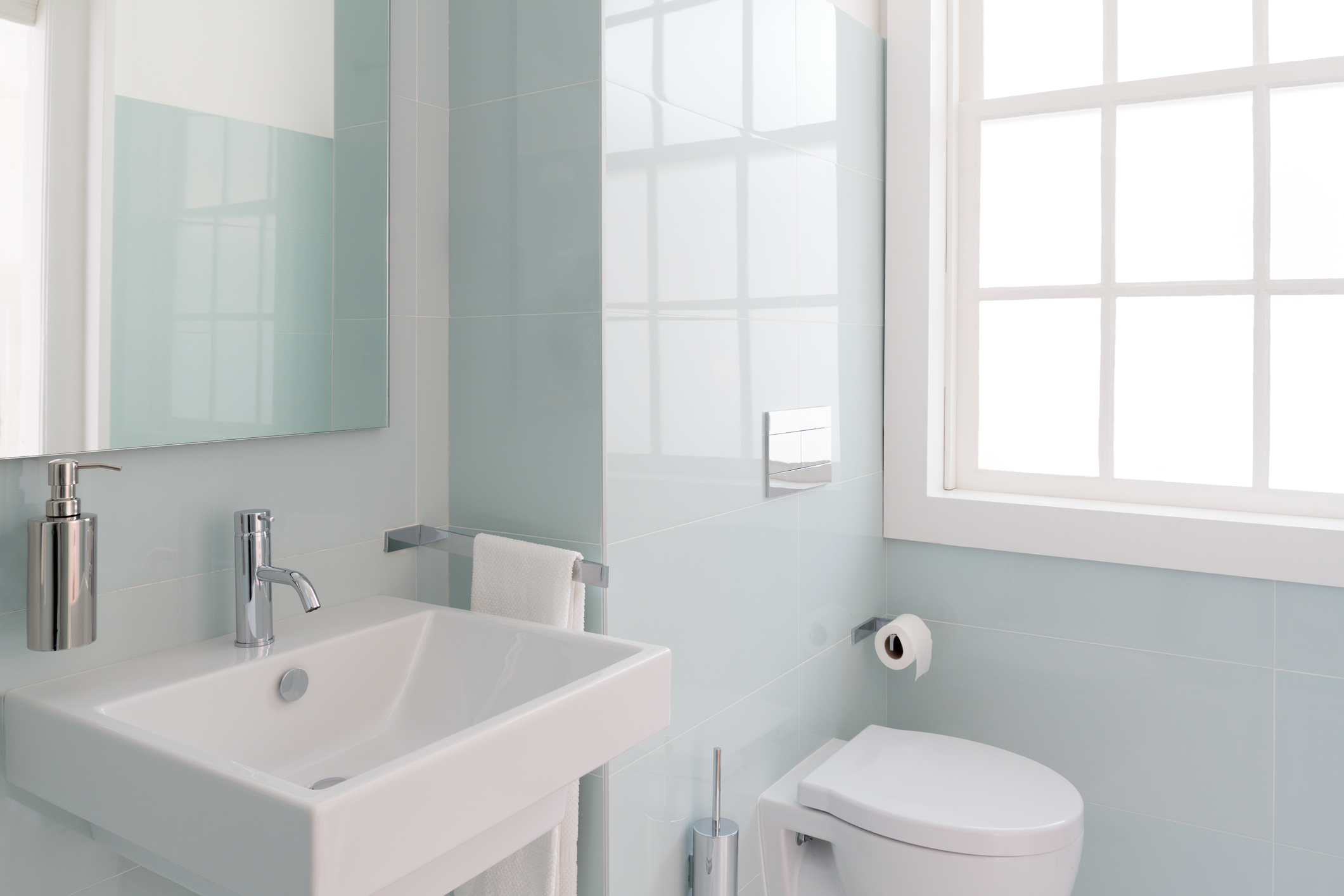 Use Hidden All Hidden Spaces for Storage
The bathroom sinks that storage under them have their own hidden wall space that can easily be utilized to organize smaller items. This never dawned on me till I was at a friend's house helping her pack and saw her awesome under the sink organization system.  Use the inside of your bathroom cabinets to place small containers by adhering them to the inside of the cabinet with a semi-permanent adhesives, strong glue, or tiny screws. Then use these mini storage bins to hold hair things, toothbrushes, and other small items. These can be found at the dollar store.  You can even use more substantial ones for storing such things as a hair dryer or curling wand.  Those can be found here on Amazon.  These keep those items easy to access and out of your eyesight.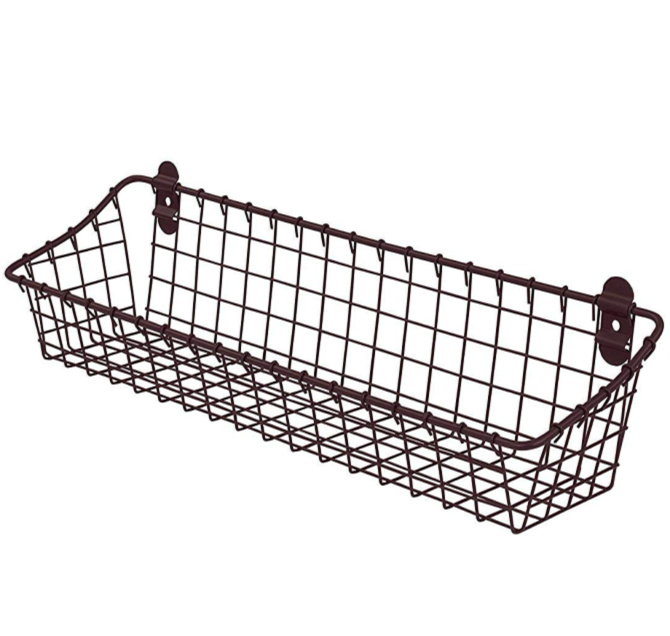 Plastic Tubs for Supplies
Purchase plastic tubs or beautiful baskets to hold your hair supplies in. This could include hair gel, extra shampoo, conditioner, curling irons, flat irons, and hair dryers. This tub can be easily placed on the floor underneath the bathroom counter for ease of daily access. This plastic tub for your everyday hair care supplies will help minimize clutter on the top of your bathroom counter.  I use one to store all my extra make up products in and another one to store all of my skin care products in.  I leave the lids off of mine but this picture on Amazon shows them stacked with the lids on.  It's a good way to make use of all that space.  These totes are inexpensive and can be found here on Amazon.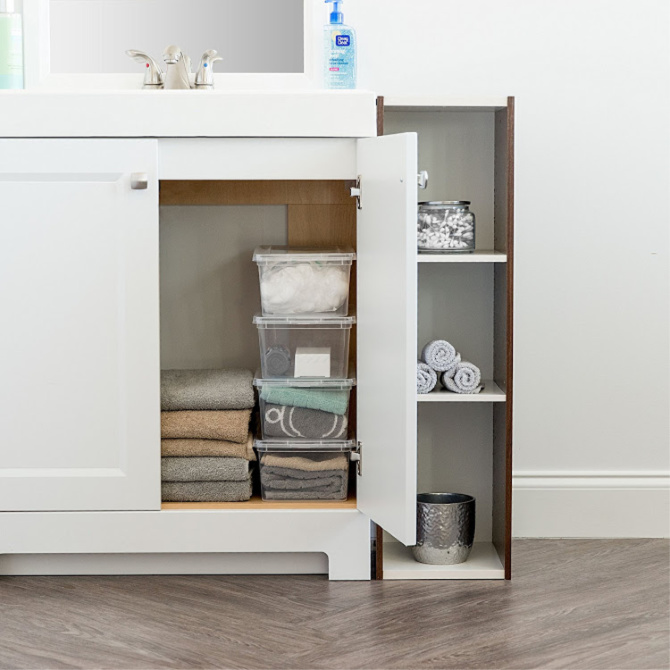 Add Hooks to the Wall
Purchase wall hanging hooks. These hooks can be used to hang the family's bathroom towels on. This will free up storage space in your bathroom closet. Having a place for your family to hang their towel after each shower will encourage a clean looking small bathroom at all times. You'll feel so much better walking into your bathroom when you use hooks to hang family towels.  I can't find one exactly like ours but we bought a coat rack instead of a traditional bathroom towel bar.  It takes up less space for all the towels to hang together and they still air dry just fine.  The one pictured below can be found on Amazon here for around $20.

Baskets for Storage
You can get clever with baskets in your small bathroom by organizing the extra towels and other items by putting square baskets on their side and hanging them from the wall. This may take a few screws to ensure the baskets are hung tightly, but once completed you will have a more rustic look to your bathroom with more space to store towels and other extra supplies without making it look cluttered. There are many online tutorials on how to use baskets for wall storage in a small bathroom.  Click here for the tutorial pictured below.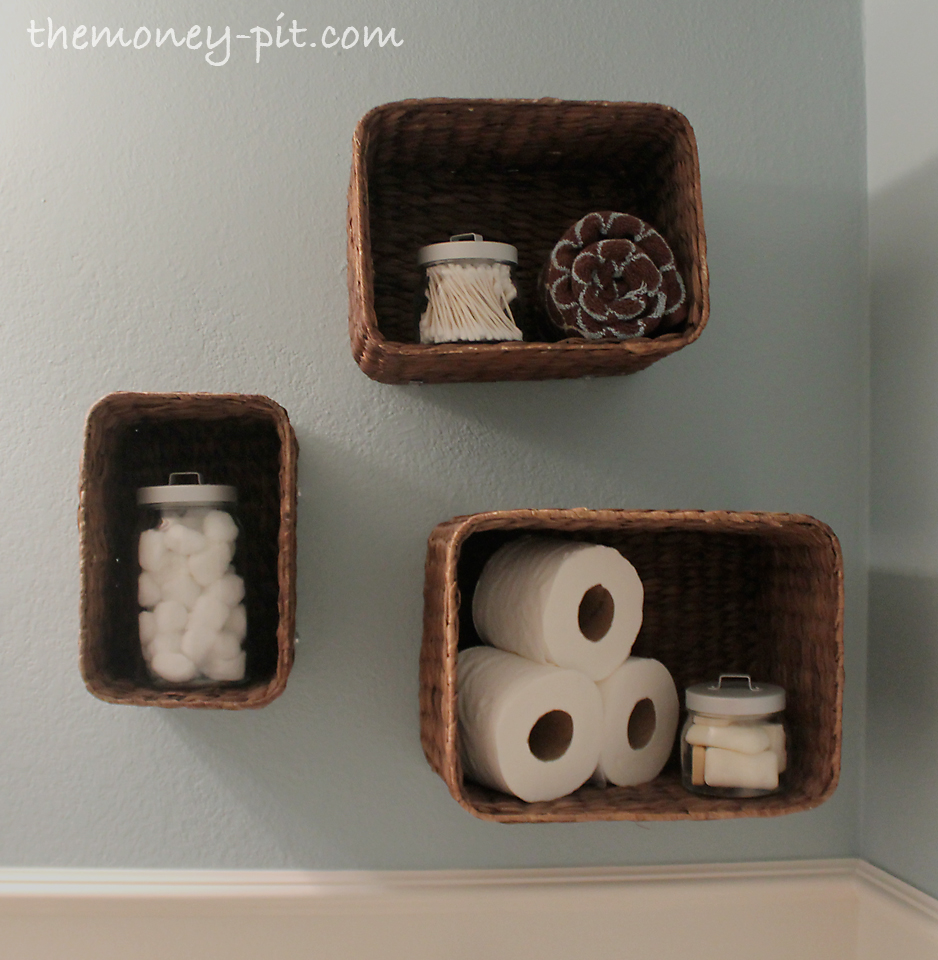 If you're not into DIY this store bought option might be a good fit for you.  You can find it here on Amazon.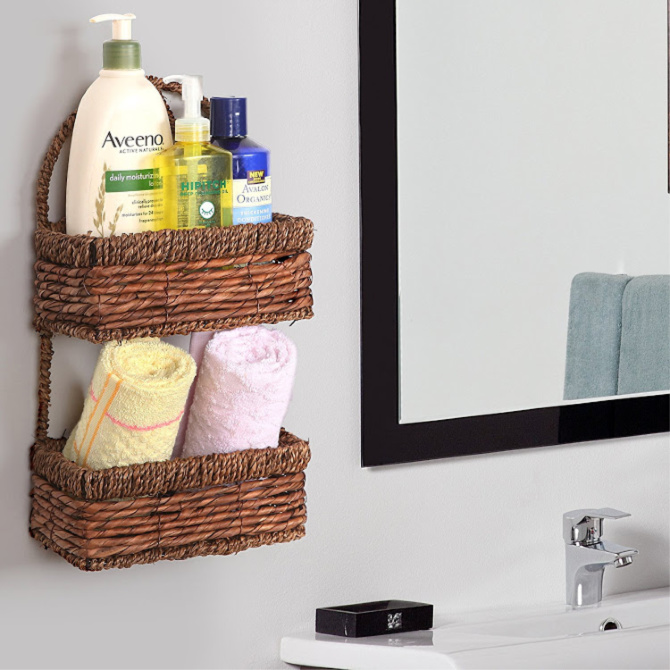 Owning a small bathroom doesn't have to be the end of the world, there are many tips and tricks to ensure your small bathroom can hold as much as a larger bathroom would. It's simply a matter of being creative and using your imagination for ideas to store your everyday essentials and bathroom supplies. I hope these tips will help inspire you to organize your small bathroom in a creative way.  Don't forget though, that sometimes what you need is less stuff and not more organization.  As you organize think about each item you're organizing and if you really need it or not.  Happy organizing!