Sponsored post by Lunchbox.
Bike riding is pretty symbolic of childhood, isn't it?  I remember my first bike and I loved riding it.  When my daughter was two years old we got her a bike and she hated it.  She felt uneasy on it and never wanted anything to do with it.  We put it in the garage.  When she turned three my mom bought her a new bike with training wheels and a basket.  I thought for sure she would love this one and was disappointed when she didn't.  She tried and tried to ride it but was frustrated by it's size and how she couldn't get up on it by herself.  It also sat gathering dust in the garage.  I wanted so much for her to love bike riding as I did as a child!  I wanted her to experience the freedom and confidence that comes from riding a bike.  …and selfishly I wanted to be able to take family bike rides.  When Schwinn contacted me to partner with them for this post they said that they have an infographic called their "Smart Start Guide" that will help me with safety information and tips for my child's first bike ride.  They seemed confident that with their tips I could teach my child to ride a bike.  While I wasn't exactly optimistic I was hopeful.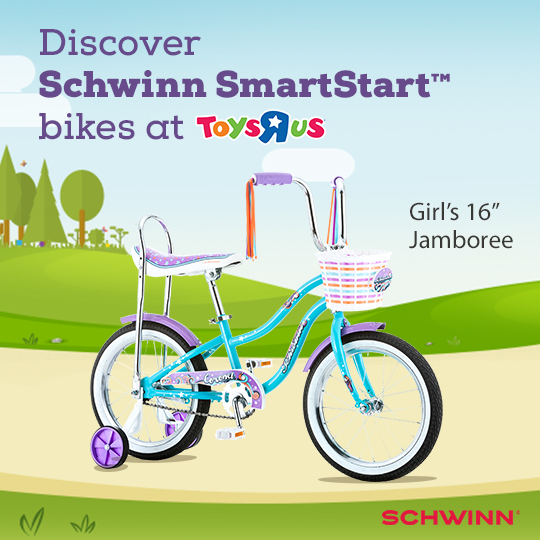 We ordered new SmartStart Jamboree bike from Toys "R" Us and received a Schwinn helmet as well.  The helmet was unlike any I've ever seen.  It was fully adjustable and once you get it set correctly all you have to do is snap it on and off.  My daughter loved it because it has beautiful shades of pink and purple, which are her favorite colors!  My two year old son now wants a helmet to wear too, or as he calls it a hat. 🙂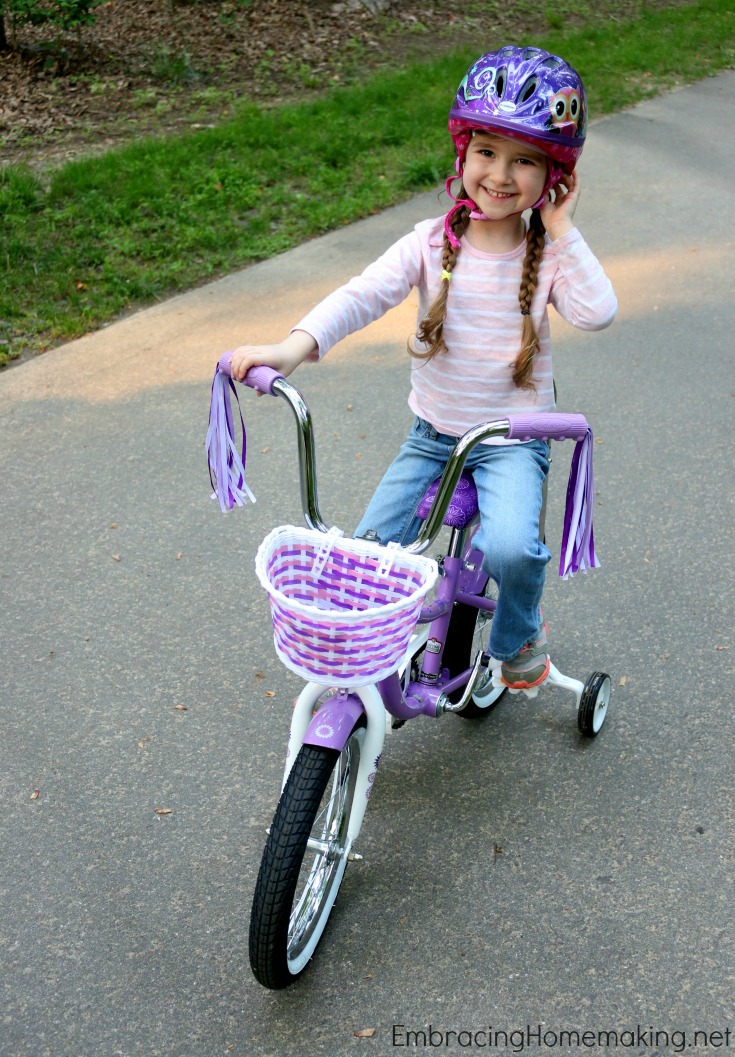 Training wheels were a must for this timid rider and to get my daughter used to the movement of the pedals we let her practice indoors for a few days while we propped the training wheels up on two wooden blocks.  It made the bike stationary and let her practice the circular motion.  She loved being able to admire her bike indoors for a few days.  It truly is a gorgeous bike for a little girl.  The pedals are even flower petals – I LOVE IT!  The steamers have brushed with her hairbrush, the basket has carried every one of her dolls, and the banana seat has been sat upon for hours!  When it was time to go outside I was prepared for her to be quickly discouraged so I tried not to build it up.  We drove our bikes down our hill (we live on a massive hill and have to ride at the bottom) and as soon as she climbed on (by herself) she started peddling!
She started peddling!!  First one foot and then the other.  She was really doing it!  It took her a few days of practice to get the handlebar steering down but she had the peddling!  She's still working on the breaking but she's even getting better at that!  We may get that family bike ride this summer after all.
Check her out riding by herself!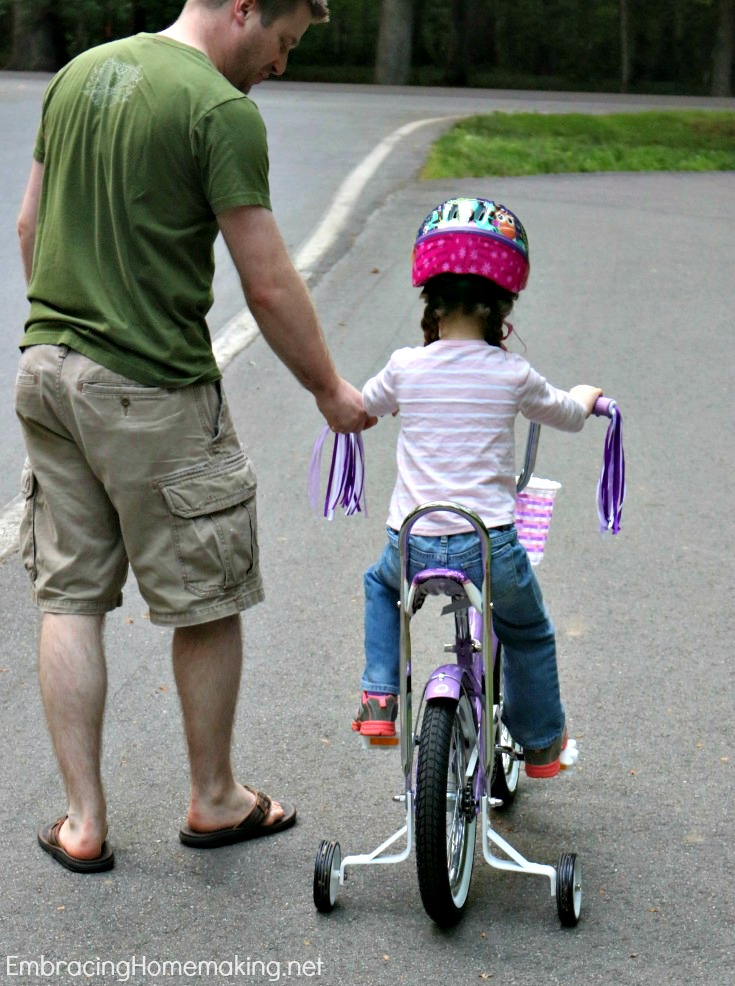 The biggest way that her SmartStart Schwinn bike was different is that it was the perfect size for her.  Unlike her other bike's and other friend's bikes she tried, this fit her.  The seat was big enough to be comfortable.  The handlebars weren't too far away from her and were small and just perfect for her little hands.  If you have a little one who can't seem to get the hang of riding a bike, I highly recommend buying a SmartStart Schwinn bike!  I can't believe a few inches here and there made that big of a difference but it did.  Schwinn has the measurements of a small child down and know what works for them.  Plus, the bike is adjustable so it will grow with your child.
Features of SmartStart Bikes:
– 16" wheel size – classic learn to ride size.

– Easier to learn to ride-better balance

– Safer because less wobble

– Light-weight for stability

– The seat is shaped and sized to fit a child

– When a SmartStart seat is raised to fit a growing child, the distance from the seat to the handle bars increases. This increases the reach distance and will allow the bike to grow with them

– The grips are smaller for smaller hands

– The geometry matches the pedal width to a child's hip width

– Like all Schwinn bikes, SmartStart bikes have a limited lifetime warranty for as long as you own the bike
Here is the infographic Schwinn promised.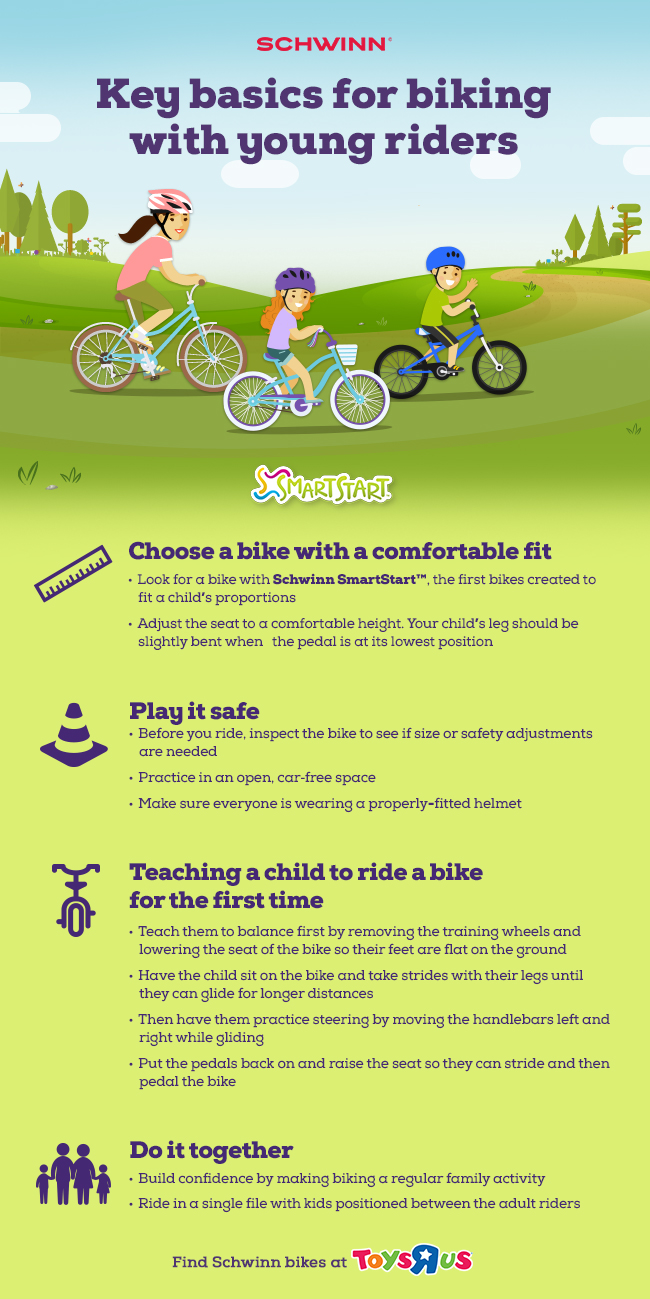 Ready to win?  Here's a chance to enter the Schwinn Sweepstakes!