This is a sponsored post written by me on behalf of Endust for IZEA. All opinions are 100% mine.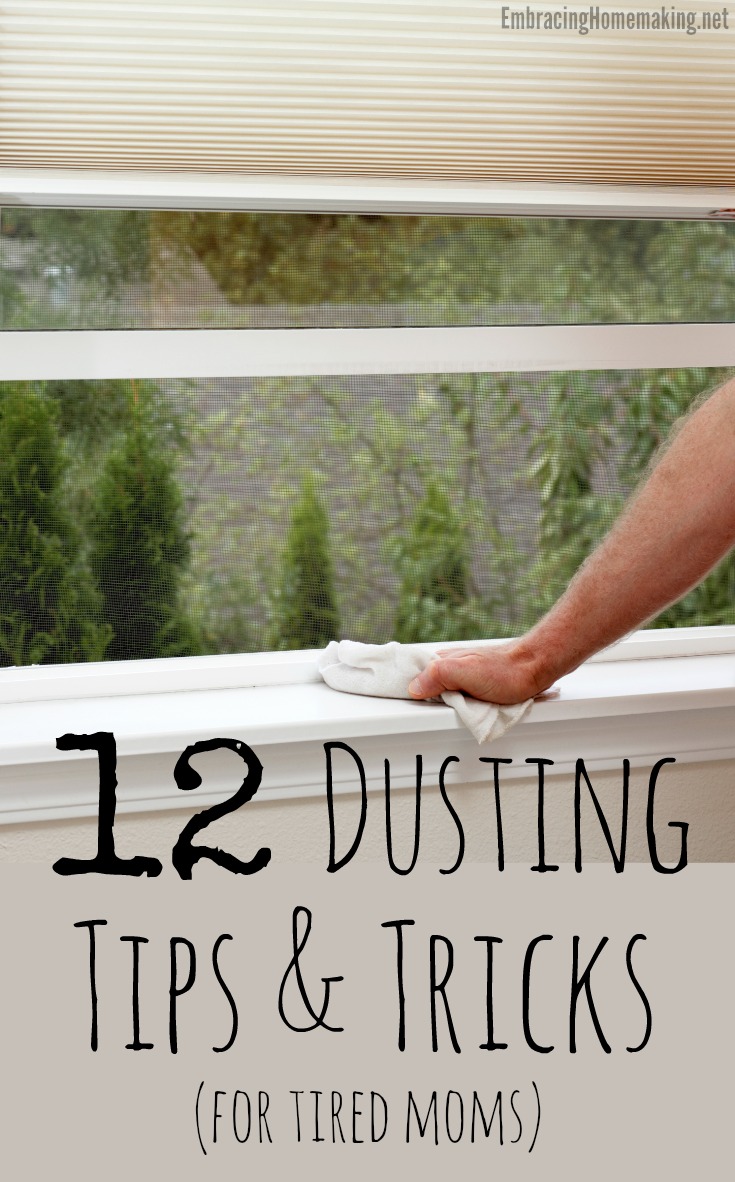 It's that time of year again.  Oh, you know the one.  Eyes are watering, flowers are blooming, and the kids are running around the yard.  Spring has sprung!  For many of us spring is also the beginning of our annual ritual of spring cleaning.
I want to share my top ten tips and tricks for one cleaning chore that will never end….laundry you guess?  Well, not today.  Today we're going to tackle the topic of dusting.  Bunnies in your lawn are cute, dust bunnies hiding behind your couch are not so charming.
*Heads Up: We have a spring cleaning giveaway at the end of this post!*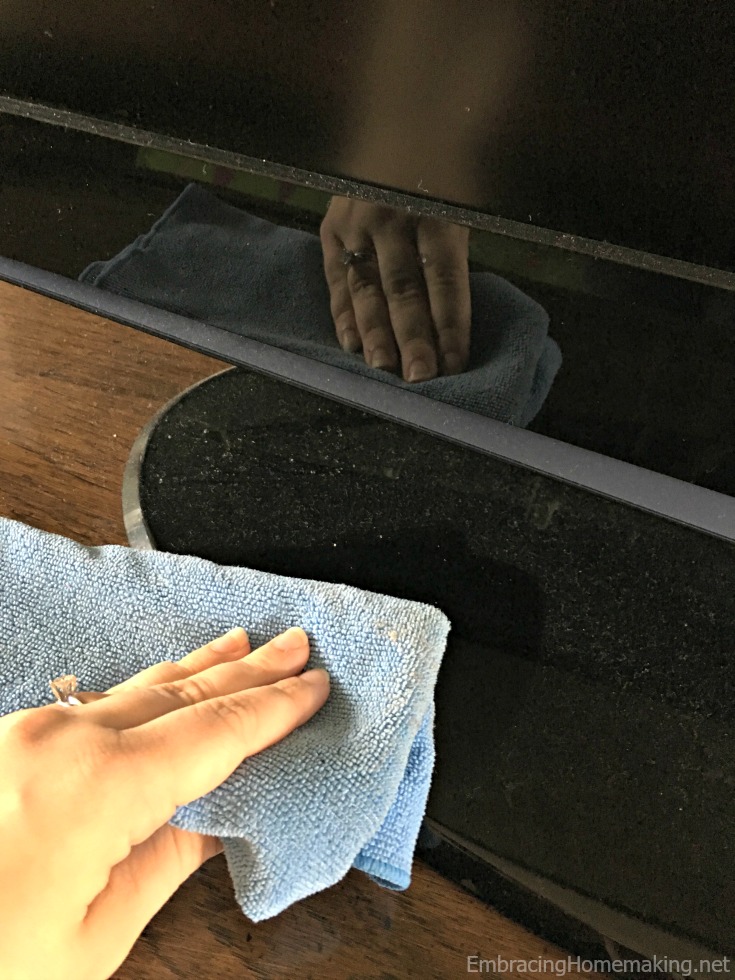 Let's talk tools.  You want something that will grab the dust as opposed to just pushing it around…and you don't want one that will leave lint or feathers behind.  I've heard rave reviews about feather dusters made with ostrich feathers.  I bought one and while I feel like a fancy maid while using it, I don't feel like it really grabs the dust.  That may be because I wait a week (or more!) in between dusting but who has time for more than that anyway?  If you dust frequently and don't have grime left behind from kids that you also want to get off while you dust then an ostrich feather duster may be great for you.  For me and my chaotic life I prefer a microfiber cloth.  It's great!
 Another tool I like to reach for is Endust dusting spray.  It's not a polish that will leave a yucky residue on your furniture but a dusting spray which is just what I need.  Endust is a silicone-free formula that's designed to leave a natural shine without any build-up.  It helps grab the dust and erases the fingerprint smudges.  Plus, my daughter loves the lemon scent it leaves behind.  Where to buy?  You can pick up a can of Endust Lemon at Amazon.com, Walmart, or almost any grocery store.  Here's a coupon for it!
 Dust from top to bottom, THEN vacuum.  I read this tip in a magazine when I was a child and I remember it still.  I have a tendency to want to vacuum first but that will only stir up the dirt that will later end up on my furniture again.  Dusting from top to bottom keeps me from dusting something twice.  If I dust the bottom of the bookshelf first and work my way up, the bottom shelf will have a thin layer of freshly fallen dust on it.  Remember to go top to bottom.
Dusting delicate items.  When I was a kid one of my chores was to dust the items on our family's coffee table.  I can still envision the two deer and the doe that had the crossed legs.  I loved how shiny they were once they were clean!  To clean delicate items lightly spray your microfiber cloth with dusting spray.  Use a moist Q-tip or clean painting brush for those hard to reach places that dust can collect.
 Walls, chair rail, door frames, crown molding, window sills, and baseboards.  Whew, I get exhausted just writing all of that out.  These areas can surprisingly hold a lot of dust.  My mom had me clean our wood paneled walls when I was younger and I have my kids clean our walls now.  This is a great chore to pass on to any youngins you have at home.  Microfiber cloths are again my go to rag of choice.  They're also great to cover a broom with and use to reach the high places you can't reach without a ladder.
Electronics.  A quick swipe with a CLEAN microfiber cloth usually does the trick but if there is any build up from sticky little fingers use a wipe especially for electronics.  I would recommend testing a new wipe in an inconspicuous area if you haven't used that brand before.  If you're cleaning and crevices around vents or cords it's best to turn off and unplug the device before dusting.
Curtains and Blinds.  Vacuum both sides of your curtains regularly to avoid build up.  I'm sure it's recommended to have them laundered on a regular basis too but I never do…maybe I should.  For dusting blinds you could use a feather duster, or a microfiber cloth and painstakingly go over each row.  What I do is fill a bathtub with warm soapy water and dunk the whole set of blinds in there swishing them around, wiping quickly and patting dry before rehanging.  That might not be the best way but it works for me and it quickly gets them sparking clean.
Couches.  I love to deep clean my furniture by using the tools on my vacuum to "brush" my cushions and to get in the crevices and get out any left behind crumbs.  Why do I like to do clean a couch?  I'm weird I guess.
Ceiling fans.  We have a special duster especially for fan blades.  It's easy peasy and leaves the blades clean.  A chair and a cleaning rag work just as well though but I'm lazy.
Light fixtures.  Yearly I'll clean the ceiling lights.  I wish it was more often but I'm just going to be honest with you.  I'll clean the floor and table lamps more often with a damp cloth but the ceiling lights get a once a year treatment.  If I'm up to the challenge I'll clean each light by hand but most of the time I'll set them in the dishwasher and let it do it's thing.  No one has to know! 🙂
Behind the refrigerator and stove.  The first time I cleaned behind mine was when I was pregnant and I wanted EVERYTHING clean.  It was disgusting and took much longer than it should have to clean it because the grime was so thick.  I now clean back there more often with a rag and hot soapy water.  Cleaning behind these may keep your appliances working longer but it also eliminates crumbs that unwanted pests may feast on.  Plus, you'll feel like super woman for having cleaned something that no one would ever see just because you could.
Furnace vents.  I use our vacuum's attachments to regularly clean the dust that is in the vents in our home.  This is a job my daughter loves to do for me.  It's recommended that furnace ducts should be professionally cleaned every few years.
There you have it folks, those are my dusting tips that will hopefully help you clean your home more efficiently and keep dust from accumulating and effecting your health. Out of curiosity, how often do you dust around your home?  Also, if you have any great dusting tips I would love to hear them.  Please share and tips or tricks you have in the comments below!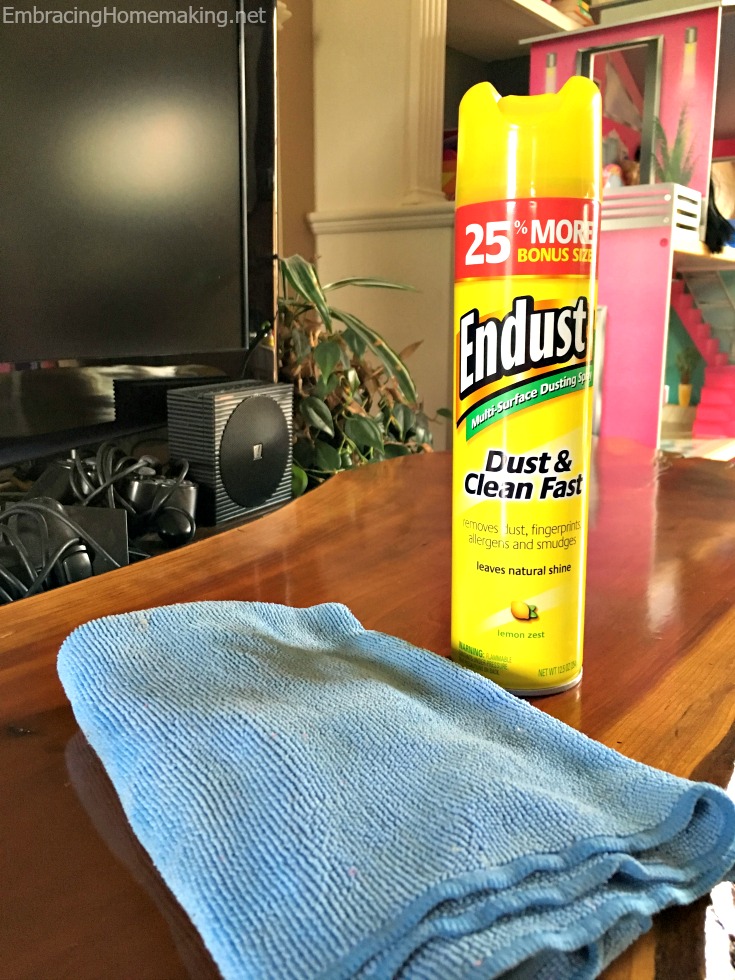 Spring Cleaning Giveaway!
Endust has created the #DustOff challenge to promote spring-cleaning and their Multi-Surface Dusting Spray.  You can enter by tweeting OR posting a before and after photo on Facebook of a surface you have dusted using the #DustOff hashtag.  No purchase is necessary and you don't have to use Endust Products to enter.  There will be 5 winners, each receiving a spring-cleaning package filled with Endust products along with a $100 gift card.  Winners will be chosen and announced on Endust's social channels on May 4, 2016.  Good luck!!