This helpful post is brought to you by Dublin Chrysler Dodge Jeep.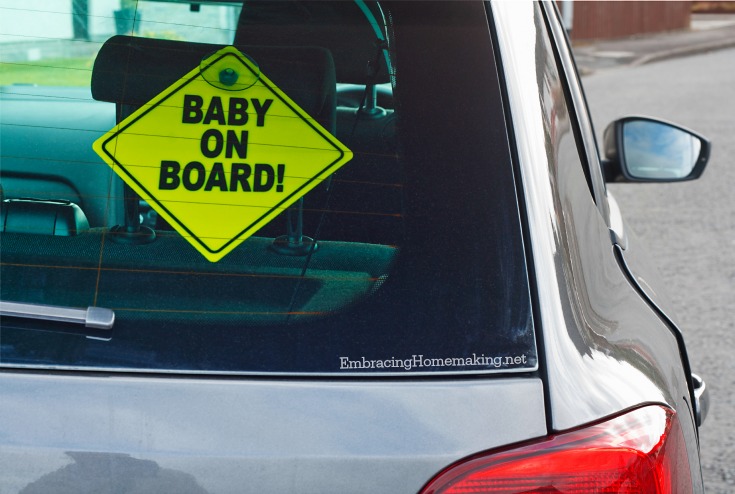 Here are six super simple ways that you can make your car a convenient carriage for your new little bundle of joy.
1.  Changing Pad
As indelicate as it may sound, you just might HAVE to change a diaper on the side of the road. Having a portable changing pad is perfect for this occasion instead of having to use the seat of your car. Portable changing pads are also great if you need to only do a quick diaper change because most decent pads have a container or organizer section for a couple of diapers and a small package of wipes.
2.  Airtight Trash Can
Inevitably you'll need to throw away some smelly trash, especially if you have an emergency diaper change like mentioned above. The best solution I have seen for this predicament is actually an airtight cereal container. Line it with a plastic shopping bag and seal it with the plastic lid. There's an opening in the lid that comes open without having to take the lid off entirely, saving you from struggling with the plastic bag slipping and escaping.
3.  Diapers and Wipes
This was probably your first guess when you read the title. I know I've got some diapers in my bag. I know I've got some diapers in the portable changing pad. It just helps me to know that there are more in the car. I have this panic when I'm out of diapers; I go sheet-white. Remembering that I have more in the car restores my normal face color.
4.  Music
Bring something that you actually like too. I just heard about a radio app for families. It plays top 40 hits that you hear on the radio, but they are censored to be family appropriate. This is an excellent alternative. And though this isn't technically music, it is sound in the car. If your kids are old enough, you should try an audiobook if that's your thing. Some audiobooks even have voice acting which make them especially enchanting to the listener. If your baby is young enough, the sounds of voices will probably be enough white noise to make him drift into sleepyland.  We happen to be big fans of Justin Roberts.  He has fun music for kids that's actually enjoyable for adults too!
5.  Snacks
For you. It's so easy to be a slave to hunger and subsequently a slave to the drive-through. Keeping snacks in the car can help you keep your sanity and your patience. Hungry bear can stay in her cave.
6.  Organizer
Make sure you can find all this stuff that will make your commuting smoother. The last thing you'll want to do is track all of this down in your trunk. Keep everything in the same bin (except for the trashcan) within arm's reach and watch the stress melt away.