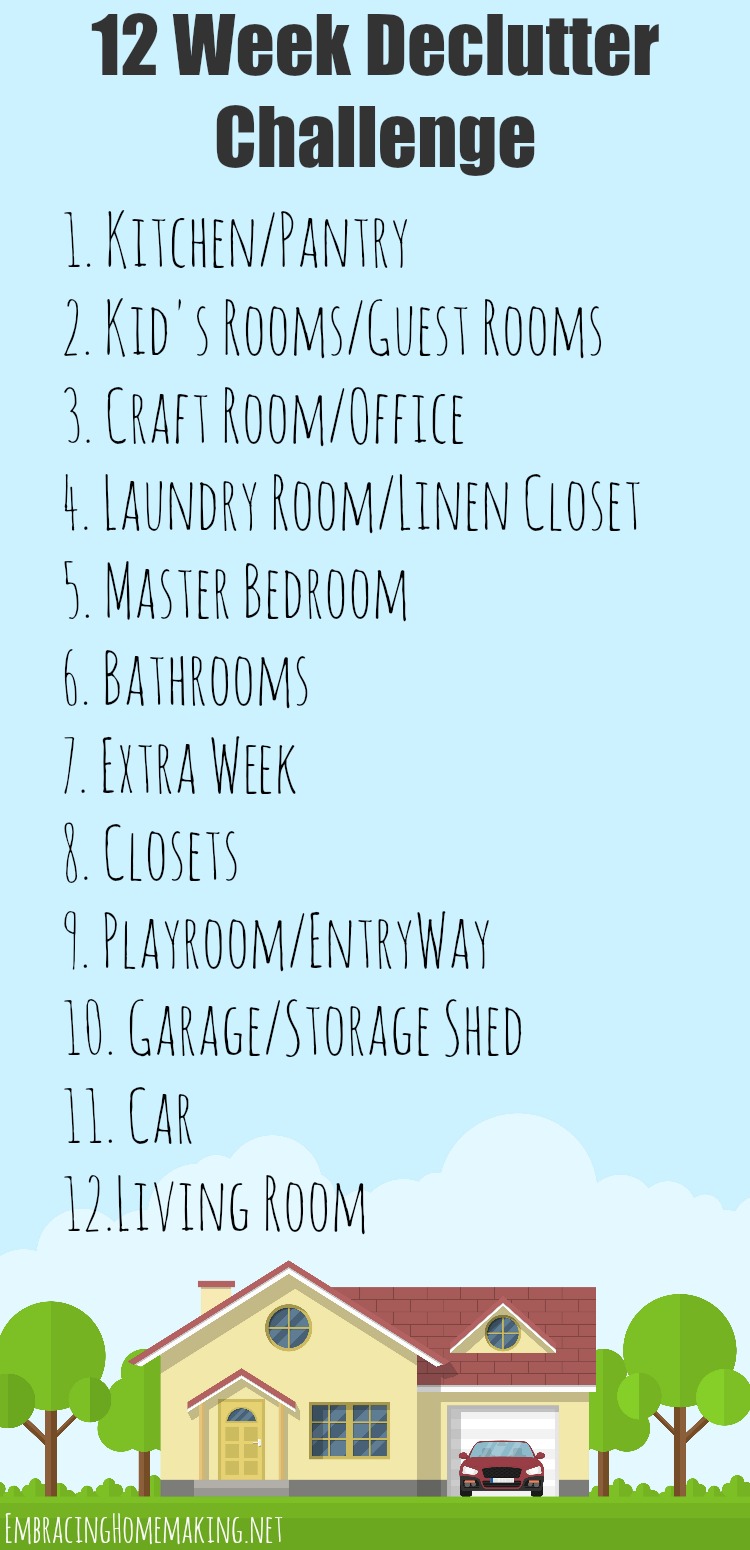 Who's ready to start a 12- week clutter-busting, hold-no-junk-prisoner, challenge?  Challenge, that's right, this is a challenge and it won't be easy folks!  The January challenge we just finished up had over 200 people starting off and less than 50 finished.  Most people dropped off around day 11.  This challenge will be different, however, and will be more of a marathon than a sprint.  The goal is a BIG ONE – to declutter and organize your house.  Through the course of the next 12 weeks I want you to look at, touch, and analyze every single part of your home.
We'll attack 12 areas of our home, one area a week.
Each area will be divided into 5 sections.  You'll have till the next week to finish those 5 sections.  Do it all in one day, spread it out, whatever.  Photograph your progress, at least one photo of each section is required.  Before and after photos and photos of discarded belongings are fun too but not required!  Add your photos to our Live With Less Facebook group (more on the how-to of that later).
If you run into an section of your home that is already decluttered, great!  Take a photo of it to share then feel free to work ahead, find a better way to organize that section, or work on a project you've been procrastinating on.  Do whatever you like, you've got a free pass!
Sound easy enough?  Great, let me show you the first area that will start on February 21, 2016.
Area #1 is the Kitchen/Pantry
The 5 Sections are as follows:
– Counters
– Cabinets
– Pantry
– Drawers
– Refrigerator and freezer
Here's an example of what your week may look like.
Sunday – Rest, work ahead, add an album in our Live With Less Facebook group for this challenge, whatever you want to do!
Monday – Counters
Tuesday – Cabinets
Wednesday – Pantry
Thursday – Drawers
Friday – Refrigerator and freezer
Saturday – Rest, catch up, work ahead, whatever you want but make sure you add the photos of the work you've accomplished this week to our Live With Less Facebook group.
What if you have an enormous kitchen and only get 2/3 of your cabinets decluttered?  That still counts because you got two+ cabinets cleared.  Hopefully it will be motivation to clean the rest too but for this challenge you've met the requirements.
Prizes!!!  The favorite part is the prize.  The prize for this challenge will be $250 cash!  This will be our biggest cash giveaway to date!  If we have a lot of participation we might even have a smaller prize every few weeks.
I know I'll have left something off but let's start with these Q&As and please feel free to ask questions in our group or in the comments here on the blog if I miss something!
Q&A
– If you skip a day are you disqualified?  Yes and no.  It's okay to submit your section photo late but only two days late.  Three days late or later will disqualify you from winning but you're welcome to continue playing.  Remember we'll cover an area a week, Sunday-Saturday.  Submit any of those sections by Saturday and you're good.  Submitting them on Sunday and Monday of the next week is permissible.  Submitting them on Tuesday disqualifies you.  I don't like rules for the sake of rules but it's a good way to keep us accountable and moving forward. 🙂
– What if I'm planning to be out of town one week?  Everyone is allowed to skip an entire week of their choosing.  No questions asked.
– What if I don't have two hours to declutter each section? Don't worry, progress is the goal, not perfection!  Even if you only have 15 minutes for some sections, do what you can.  If we put off everything till we had enough time to do everything, in the very best possible way, we'd never get anything done.
– Where do I share my pictures?  In our Live With Less Facebook group you'll need to start an album (this is easiest from a desktop as opposed to mobile).  Once it's created you can easily add photos from your phone.  All your photos will be in one neat organized bundle for you to look over and admire. 🙂  (Some have noted that unless you comment on your photos that you add, they won't show up on the group wall so if you want everyone to see your updates add a little comment under each picture)
– If I absolutely abhor Facebook can I email you my pictures? Yes, but please put the area you're submitting in the subject line to help me stay organized.  For instance "Area 1 Kitchen."   You can email these to EmbracingHomemaking@gmail.com.  You can email these once a week or as you complete them.
– When will this challenge start, I just heard about it?  The first week of the challenge will run February 21-27th…and with the two days of grace period you can submit all five pictures on February 29th (Leap Day!) and still be qualified.
– Will we be taking Easter off?  Yes, specific details on that will come later.
– If I share pictures of my junk in the Live With Less Facebook group will all of my friends see it?  No, not unless they are in the group.  It's a closed group.
– What if I don't have one of the areas or sections listed?  It's completely fine to veer from the recommended path IF you don't have the area listed.  You're not disqualified in the least.  Simply find another area that needs some decluttering love and share pictures of your progress there.
– Will you be sharing the items you're getting rid of?  Yes!  I'll be posting them in our Live With Less Facebook group.  Forgive the bad quality pics, these are quick pictures that are usually taken at night. 🙂
– What if more than one person makes it to the end?  This would be wonderful and I would choose a winner at random using random.org.
– What if no one makes it to the end?  Then I'll keep the money and treat myself to a day at the spa.
In review:
–  12 areas of our home, one area a week.
–  You only need to complete 11 of the 12 areas to be entered.
–  Each area will be divided into 5 sections.  I'll post at least one week ahead of time.
–  Add photos of decluttered sections to our Live With Less Facebook group.
Who's ready to play?  I hope you'll join me!  This will be more fun with friends!
If you're just now joining us and want to catch up on past posts you can find them all linked here on the intro post to our Live With Less series.