The holidays are upon us and I'm up on the grocery store. I head to Publix® to get some of baking needs. Specifically, I'm getting some Crisco® to help me out with my baking.
I remember when I first started cooking that I didn't really realize how important it is to use shortening when the recipe calls for it. We always had Crisco® shortening in the house, but for some reason we were out. I ended up using oil and my dumplings were a tremendous joke! Just a note – always use what the recipe calls for… but you know that already, you smart people, you.
I decided to make brownies for daughter's Sunday school class and needed vegetable oil, so off to Publix® I went. You can't get an easier recipe than out of the box, but I found the perfect blondie brownie recipe from my sister-in-law's cookbook, that she found from Crisco®!  It's really a no fuss, no frills recipe, but it has classic results that everyone raves over. I topped it with candy cane, edible confetti and voila, it is a Christmas recipe.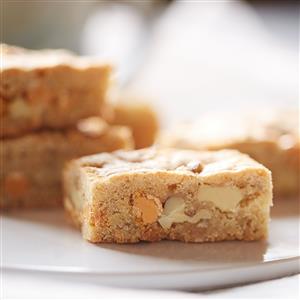 I was able to make brownies with my daughter and create those memories together. I remember doing this with my grandmother, except she never shares her recipes. You just have to figure them out as she goes because she never has any of them written out! I'm writing down key recipes of these family favorites for my daughter – for posterity sake. If you want to be remembered, cook good food.
Cooking good food means that you use good products. Crisco® is that. For the holidays and any time of the year, you can use Crisco® 100% vegetable oil for baking, but don't forget the other everyday cooking products as well like Crisco® Pure Canola Oil and Crisco® 100% Original Oil.
What about you? What favorite recipes do you go to or will be making for your guests? What homemade holiday treats are your families favorites?
This is a sponsored conversation written by me on behalf of The J.M. Smucker Company. The opinions and text are all mine.