When I first found out I was pregnant I was consumed with childproofing our home.  That is, after I was consumed with picking a name and learning what I could and couldn't eat.  There's so much for new moms to think about!  To help make life a tiny bit easier for moms I've compiled a list of ways to childproof your home.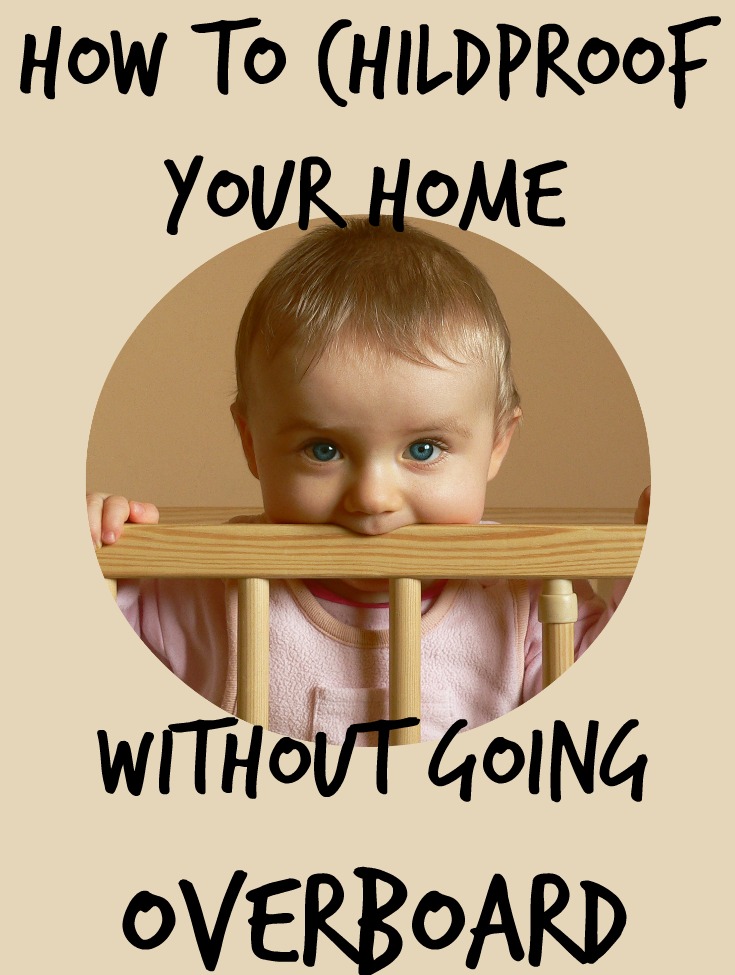 Cover all electrical outlets.  We love the ones that you install into the wall in place of a regular electrical socket.  You have to have both prongs inserted at the same time before any electricity comes out.
Anchor large furniture.  The damage done to walls is negligible in comparison to the safety of your child.
Move breakable objects.  Keep glass objects out of the reach of little hands.  The same goes for heavy items with cords…like an iron or toaster.  Keep them and their cords out of reach.
Use cordless blinds.  I used to think that keeping blind cords out of reach was enough till I watched this disturbing video (watch with caution and without kids around).  It's amazing how fast accidents like this can happen.  That site says,  "According to the Consumer Product Safety Commission over 40 percent of accidents occur on products that complied with the ANSI national safety standard. These accidents are preventable by going cordless with all window blinds."  I just ordered cordless blinds for both of my kid's rooms from Smith and Noble.  I love that they sent me samples to match the colors to my existing decor.  Plus, they sent someone to measure my windows for free!Smith and Noble wants your window treatments to be safe for your families so they are giving a $1000 window treatment makeover to one lucky family!  They will also give away a $50.00 trade in value per corded shades when you enter.  Big savings!  To enter visit their site here.
Stow hazardous supplies.  This includes cleaning supplies, bug killer, vitamins, hand soap, knives, etc.  Lock them up or put them in high shelves where little curious fingers can't explore.
Be prepared. Keep the number for the national poison control center – (800) 222-1222 in the United States – and your local emergency numbers close to every phone just in case.
Keep the ground clear.  Not only do you want to keep your little one from old crumbs but more importantly away from coins, safety pins, paper clips, those tiny plastic clothes tags, and on and on.  My son went through a stage where he wanted to put anything in his mouth, besides his food.
Toilet locks.  We didn't do this one but we have a rule in our house that all bathroom doors are to remain closed at all times.  A child can drown in just one inch of water and I heard somewhere that kids are more top heavy than adults allowing them to fall in easily.
Lock windows.  According to the CPSC, every year about eight children under the age of 5 die from falling out of windows in the United States, and more than 3,000 are injured.  A friend of my family found their son, who was under 2 years old at the time, out his window and on the overhang of his window!  Thankfully his mom rescued him and they now have the most secure windows possible.
Avoid sharp corners.  For sharp edges, like those of a fireplace, you can buy protective foam to cover it while the kiddos are small.
Detectors! Install smoke and carbon monoxide detectors throughout your home.  It's also a good idea to have a game plan laid out a head of time with older children so they know what to do in case an alarm sounds.
This isn't a comprehensive list at all but they are some important ones that we've tried to be cautious of in our home.  Tell me, experienced parents, what did I leave off?