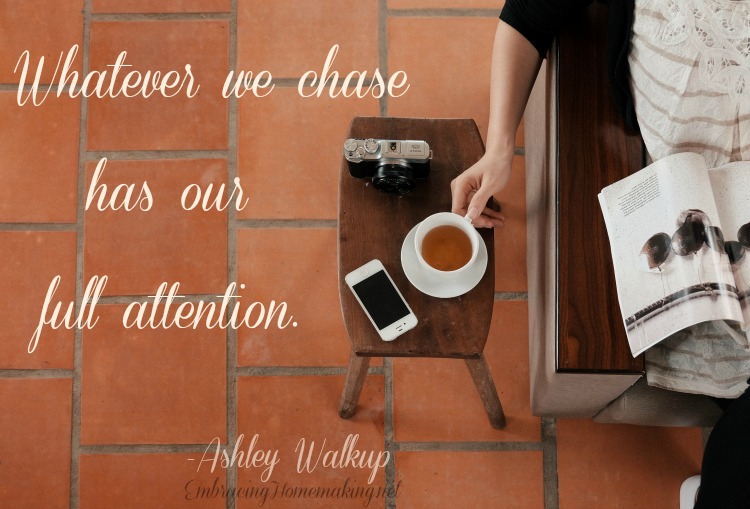 I've often heard that you can't chase two rabbits at the same time.  I believe that statement because I've found it to hold true in my life time and time again.  Whatever I chase has my full attention.  Out of necessity other things have to fall to the back burner.
There are countless books written on the topic of goal setting, intentional living, boundaries, and priorities.  Why are these so popular?  I think the answer is a simple one.  We find ourselves putting aside the important things in life for the urgent.  It's easy to do.  Everyone does it.  How to we stop doing it?  If I knew I'd be a best selling author.  I just want to encourage you to take a minute and evaluate your life…and dream about how you'd like it to be.
Stop to savor the good things like:
– How your dog runs up to greet you when you come home.
– How nice it is to hug your children/grandchildren.
– How it feels to rest after a long day.
– How you…
I can't fill in the blanks for your life but I hope you can think of enjoyable moments in your life right now.
Now think about the things you would like to see different:
– Do you want to be closer to your parents?
– Have a better relationship with your kids?
– Carve out time to have meaningful conversations over coffee?
– Reach this work goal, fitness goal, reading goal, or…
I think once we have our big picture goals/priorities we can hone in on how to put them into action.  It's like painting a mural.  You don't start with a little paint brush painting the details of a flower.  No, you'd start with a big brush painting the sky and the ground.  Only after you have the foundation can you come in and add the details.  If you add the details first…the urgent things, then you won't have time or energy to squeeze in the important things, the things you'll remember 30 years from now.
Set down as a family and decide what's important for your family.  Giving to others?  Worshiping God?  Physical fitness?  Music lessons?  Environmental issues?  Clean eating?
Look over your list and prioritize them.
If your son doesn't love soccer as much as you think he should maybe think about not signing him up for the team this year.
If you want to prioritize giving to others write down ways you as a family can give to others.  The holidays are full of opportunities to practice this.
If you want to be more physically active as a family plan out a month's worth of activities you could do together that would be fun and wouldn't feel like exercise.
Our family is reevaluating a lot right now.  Our family has too many irons in the fire so to speak.  We're chasing quite a few rabbits and making little progress on each one.
A few of our priorities include:
– Worshiping God at church/family devotions
– Volunteering locally
– Downsizing our belongings to live simpler
– Giving to others
– Intentionally building the relationships we have
– Building relationships with each other – family nights out, date nights
– Reading books as a family and individually
The list goes on and on but these few priorities help build the frame work of what we want life to look like.  We're pulling back on volunteering a bit while we focus more on downsizing our belongings…which is going on simultaneously with our move to a new house.  Speaking of downsizing, if you would like to live with less you should join me in my 31 Days to Live With Less Challenge – there's $200 up for grabs!  But only do that if living minimally is a priority to you.
When you find your priorities and live by them, you'll be happier!