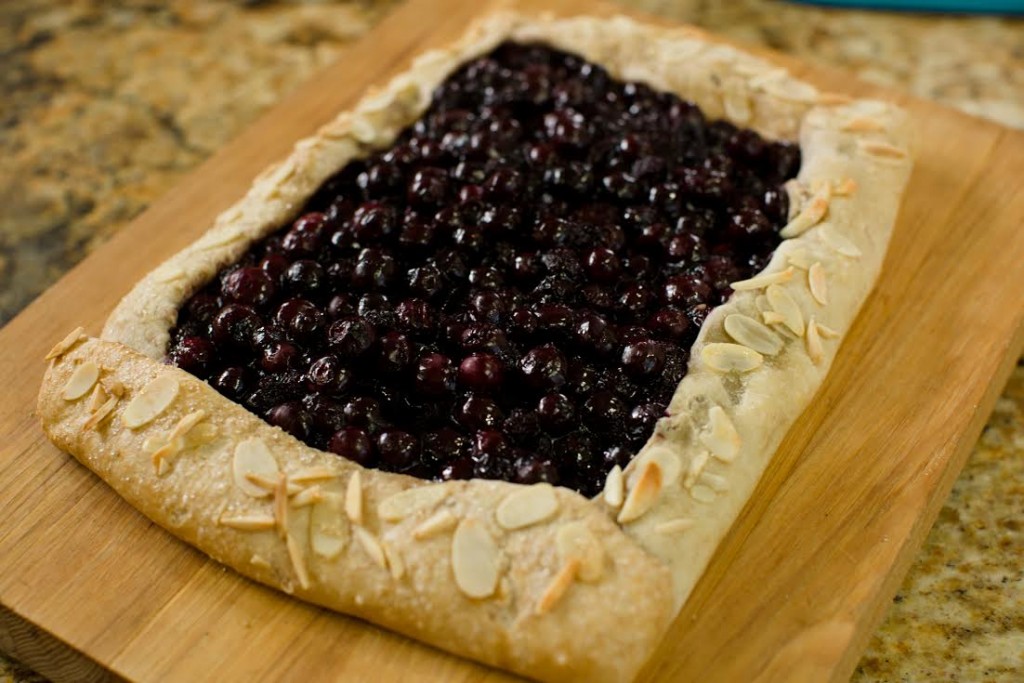 This Independence Day, Jill Bauer, QVC's Home-Savvy Hostess, has the perfect patriotic recipes to help celebrate America in style and she's allowed me to share this delicious recipe with you all.  I don't know about you but I absolutely love blueberries and can't wait to give this recipe a try!
Rustic Blueberry Tart
Ingredients:
Dough:
– 1-1/2 cup all-purpose flour
– 1/4 cup sugar
– 3 Tbsp cinnamon
– 1-1/2 sticks cold butter, cut into small pieces
– 1/4 cup ice water
– Pinch of salt
– 1 cup sliced almonds
– Egg wash (one egg + 2 Tbsp water)
Filling:
2 (14-oz) cans blueberry pie filling
1 lb fresh blueberries
2 oz fresh lemon juice
1/2 cup sliced or slivered almonds
Zest of 1 lemon
Preparation:
To prepare the dough, combine the flour, sugar, and cinnamon in the bowl of a food processor, and pulse to blend. Add the butter, a little at a time, and continue to pulse until the dough comes together in small pieces. If it looks dry, add in the cold water, and pulse. The dough has reached the perfect consistency when you can form it into a ball. Wrap the balled dough in plastic wrap and let it rest in the refrigerator for 1 hour.
Preheat the oven to 375°F.
Unwrap the dough and roll it out to form a 10″ x 16″ rectangle. Wrap the dough around the rolling pin and lift it onto a large rectangular baking pan.
Sprinkle the dough with sliced almonds, leaving a 2″ border clear to fold over the tart.
To prepare the filling, drain the canned blueberry filling, leaving about 1/2 of the syrup in the can. Combine the half-drained blueberry filling with the fresh blueberries and lemon juice. Spoon the filling onto the crust, leaving a 2″ border. Gently fold in the edges on all sides. Brush the edges of the pastry with the egg wash and sprinkle with the sliced or slivered almonds. Bake for 30-40 minutes.
When ready to serve, garnish with the lemon zest.
To see more yummy goodness visit Jill on QVC.