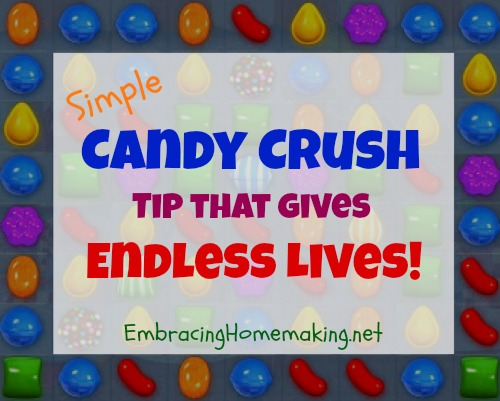 My husband's tech-savvy brother-in-law shared a secret with me that I've kept to myself for a few weeks now.  He told me a simple trick that could gain me an infinite number of lives on the game Candy Crush.  I know right!?  It just dawned on me today to share this fabulous knowledge with you and I hope you find it helpful.  I guess this tip could be bad or good news depending on your level of addiction.
Everyone who plays Candy Crush knows that you get five lives when you start the game and if you lose a life it will take 30 minutes to get that one life back.  An hour for two lives, ninety minutes for three lives, etc. but you can only accumulate five lives at any one point.  If you're completely out of lives you can purchase a full set of lives or ask your Facebook friends for a life.  Nobody wants to bug there friends but everyone wants to play more…now I have the solution!
Unfortunately, this trick doesn't work on your computer but it works on iPhones, iPods, Android devices, etc.  All you have to do is change your clock forward one day.  Open Candy Crush and voila you have five new lives!  Go back and change the date back and then you're free to crush some candy!  You can do this over and over again but being an addict myself I try to limit myself to only doing this once or twice before I have to force myself to get on with life and do something else.  Use this information wisely.
If you found this tip helpful please pin this to share it with others.
Happy crushing!