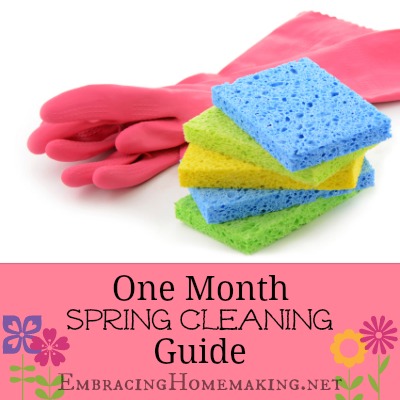 I don't know about you, but I LOVE deep cleaning.  A little clutter here and here is okay by me but I disdain dirt and dust!  My husband is the exact opposite so you would think we would have an immaculate house but we don't.  Every year spring cleaning leaves me exhausted but also with a deep sense of accomplishment.  Last year I was pregnant during spring so I had to do things a little differently and space out my bursts of cleaning.  I actually enjoyed cleaning that way and I don't think I'll ever attack spring cleaning the same way again.
What about you?  Don't know where to start with your own spring cleaning?  I've developed a four week list that will help you break it up into small, manageable bits.  Follow my week-by-week checklist of three items per week to restore order and cleanliness to your home and help you prepare for a relaxing spring and summer.
Week One: De-Clutter Your Kitchen
1. Cabinets
Attack your spring-cleaning cabinet organization by addressing the problem areas first.  Think junk drawer, Tupperware cabinet, spice cabinet, etc.  Try to figure out what the problem is and why it's a problem for you.  For example, my spices were in the top cabinet above my stove and as my husband and I used a spice we returned it to a different part of the cabinet.  They had no sense of order and caused a frustration for both of us.  Find a solution to address the root of the problem.  For us, I moved all of our spices into a large easily accessible drawer and used that difficult to reach space for holding rarely used items.  Your solution may need an organizational product from the store but you can probably make due with a little reorganization.
2. Fridge
No one likes cleaning their fridge but what better time to do it thoroughly than spring cleaning?  The frugal side in me doesn't want to say this but if you have the money to do so, cleaning companies usually have a fridge fee and it's generally pretty inexpensive.  If you are going to tackle this project by yourself I recommend by starting with the freezer.  The USDA says frozen foods remain safe to eat indefinitely but you will sacrifice the foods taste and quality after a so much time passes.  You can use their chart to determine how long each food should be kept.  After you're through tossing out old leftovers, clean your freezer with a 1:3 mixture of vinegar and water.  Vinegar is great to use because it's safe to use on areas that foods touch and it's powerful enough to remove tough stains and odors.  Aren't you glad you cleaned out your cabinets so you can easily find your vinegar?  Repeat this with your fridge then finish up by dusting the top of the fridge, wiping down the sides, and vacuuming your refrigerator coils.  Clean coils will help your fridge run more efficiently and help keep money in your pocket.
3. Oven/Dishwasher
All you need to do for the oven is wipe off the outside and turn on the self-cleaning feature.  To clean your dishwasher, start by wiping down the outside and then work your way in.  Inside the dishwasher you'll want to wipe down the front, sides and bottom which never get a good wash from a normal wash cycle.  Next, clean any debris out from the wheels, arms, and the draining grill.  Then add some distilled white vinegar and baking soda and run a hot wash to help remove any hard water deposits and nastiness you can't reach.
Week Two: Clean the Details
1. Closet Clutter
I get stressed out just thinking about cleaning my closet.  You can read more about the mental exhaustion I face during cleaning closet clutter here.  However, if you are a more decisive person than me you can attack your closet giant for this step.  You can ask yourself the regular question, "Have I wore it in a year?"  Don't forget to make a trash pile and a donate pile as you're sorting through.  For those who keep a tidy closet or who need a full two weeks to clean their closet, I have another task for you.  Organize your dresser drawers.  Use the same problem solving skills you used in cleaning out your kitchen cabinets.  This is a great time to find old t-shirts you can re-purpose into cleaning rags.
2. Ledges, Backboards, & Backsplashes
Get a damp sponge and a dry towel and wipe down every backsplash and baseboard in the house.  If you haven't dusted your baseboards in a while it may be a good idea to follow up with a vacuum around the baseboards using your vacuum's extension tube.  Clean the ledges or lips of furniture and appliances in every room.  Be sure and use furniture polish or a dry rag when dusting wood.  Examples of these ledges include bathtub rim, mirrors, and any chair railing you may have. These are often-missed surfaces that gather dust.
3. Corners & Hard-to-Reach Areas
Any corner or crevice that you can think of that harbors dust or dirt go for it.  Light fixtures that contain dead bugs, cobwebs in ceiling corners, dust behind the toilets, etc.  This is a good time to clean your lint filter if you don't do it regularly.  Fabric softeners build up and prevent proper air flow which slows down on the efficiency of your dryer.  Don't believe me?  Run yours under water and see how the water gets trapped in the mesh.  A quick wash with hot soapy water will do the trick and help extend the life of your dryer!  Fill your bathtub half full with warm and soapy water and give your blinds a little soak.  This will get rid of the difficult to remove dirt and dust that has been collecting all year.
Week Three: How About That Home Office?
1. File, File, File
During week three of this spring cleaning challenge I'm suggesting that you organize your file drawer.   If you don't have a file cabinet or file drawer go buy one and then file your important papers there.  A few hanging file folders later and you're organized! Suggested categories are taxes, medical, insurance, etc.  If you already have a system in place go through it and see what documents you can shred.  Here is a handy list of how long to hold on to important documents.
2. Clean Up Your Computer
Spring cleaning doesn't have to be only about physical spaces!  Electronic clutter can slow you down and clutter your mind just the same.  Clean up unused items on your computer, run your anti-virus and anti-spyware scans, and defragment your hard drive.  This is also the time to electronically organize your pictures.  Upload your camera cards, add them to Facebook or a photo printing site (if you want), and organize them on your computer by date.  If you have important documents or pictures on your computer find a file back up system that works for you.  You could manually add everything to a cloud, copy it to an external hard drive, or pay one of those services that updates your information to a cloud automatically for you.
3. Drawers and Cabinets
Take a few moments and clean out your office drawers and cabinets.  You may find a way to house everything more efficiently or maybe you just have a few broken rubber bands that need to be thrown away.  Organize this space so your mind is free to focus on what really matters.
Week Four: Big Spaces
1. Gutters
Grab a ladder and a buddy to hold the ladder and clean out your gutters.  Since I'm not the one in my home who does this chore I'll refer you to a tutorial from DIY Network on cleaning and repairing your gutters yourself.
2. Windows
Clean the inside of your windows by using a window cleaning product or a 1:1 mixture of hot water and vinegar.  Vinegar to the rescue again!  Next, go outside and use a cloth (or a broom and a cloth) to sweep away any cobwebs and debris from the outside of your windows.  Then you can clean the glass itself with the solution of your choice.  Using a squeeze to wipe away excess water saves time and helps prevent streaks. Finally, wipe dry with a soft cloth.
3. Deck & Patio Furniture
Sweep your deck and if it's really grimy get a spray-on deck wash to use with your water hose.  To clean your patio furniture, I recommend mixing dish-washing liquid with warm water for a sudsy solution.  Use a brush or cloth to scrub your table and chairs, rinse, and if needed repeat.
You've done it!!! Four weeks of three tasks per week is behind you and now you can relax, sit back, and enjoy the warm weather!  Or, if you have extra time, take care of some other every-few-months tasks:
Change your air filters.
Change your water pitcher filters.
Inventory items in your home in case of theft or fire.
Check out this information that answers the question, "How Often Should I Clean This?"
Do you enjoy or dread spring cleaning each year? What tasks are on your must-do list? I would love for you to share your thoughts in the comments!