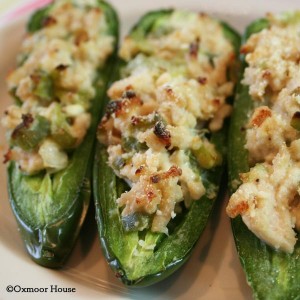 Your favorite baseball teams will start the new season in 2 weeks.  Enjoying food while watching your favorite team is not exclusive to football.  While watching your team run through innings, enjoying the speed from the infield or catching a fly ball everyone enjoys and has fun around food!
Gooseberry Patch's newest cookbook, Game-Day Fan Fare, is now available and getting awesome reviews.
Here is a free recipe from the Game-Day Fan Fare cookboook:
Healthy Jalapeño Poppers
Submitted by: Sarah Timpa-Funderburg from Westlake, LA
Ingredients:
1 T. olive oil
1/2 lb. ground turkey breast
3/4 c. green pepper, finely chopped
1/2 c. onion, finely chopped
1 clove garlic, minced
1/2 c. fat-free cream cheese, softened
Greek seasoning to taste
10 jalapeño peppers, halved and seeded
Garnish: low fat parmesan cheese
Directions:
Heat oil in a skillet over medium heat. Brown turkey with green pepper, onion and garlic; drain. Transfer turkey mixture to a bowl; blend in cream cheese and seasoning. Add one tablespoon of turkey to mixture to each jalapeño half; sprinkle with Parmsesan cheese. Transfer filled jalapeños to lightly greased baking sheets. Bake at 425 degrees for 15 to 20 minutes, or until tops are golden. Makes 20 servings.
Let's play ball!
Looking for another light recipe?  Try this classic watergate salad recipe from my friend Trisha from The Salty Side Dish.