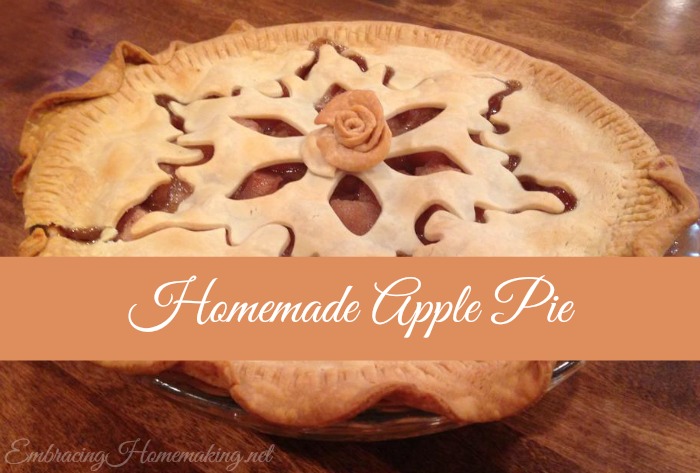 A classic all American apple pie bubbling with brown sugar and gooey, cinnamon apples.
Who says this yummy dessert can only be enjoyed in the fall months?  It's perfect for celebrating America's Independence in July, it's the perfect end to a Thanksgiving meal, and well, it's a delicious dessert staple year round!  Apple pie has been and will likely always be in my top 5 favorite desserts.  It's my husband's #1 dessert and I know he wishes I would make it on a regular basis.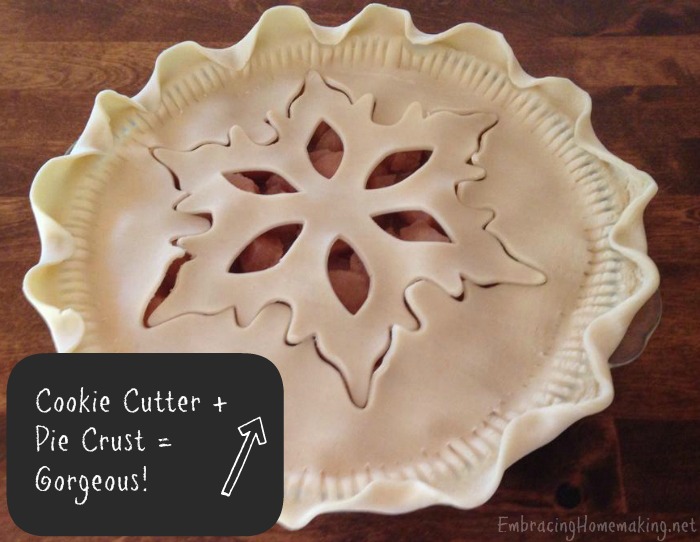 This apple pie was made by a friend of mine and I was absolutely amazed at her creativity.  She gave me permission to use her pie decorating idea and I'll be sharing my favorite apple pie recipe at the end.  She took a simple cookie cutter to make this wonderful snowflake design.  It's lovely just like that but she doesn't stop there.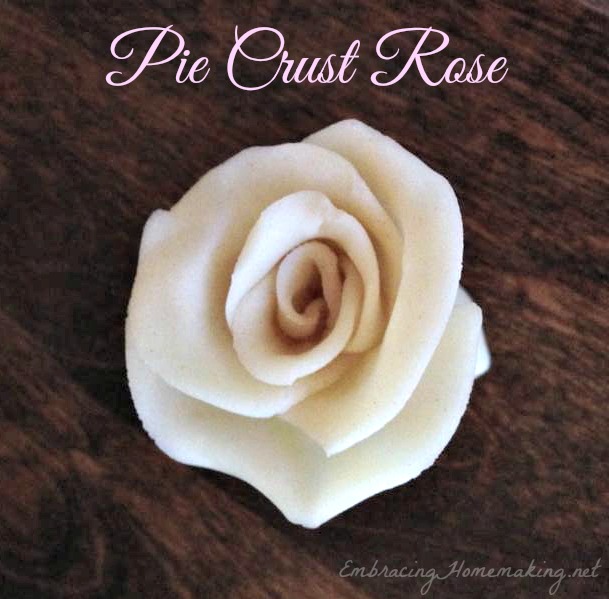 She told me how she took a little extra rolled out pie dough and made a pie dough rose out of it.  If you're unsure how to do this you can take a look at my Rolled Fondant Rose Tutorial to get an idea.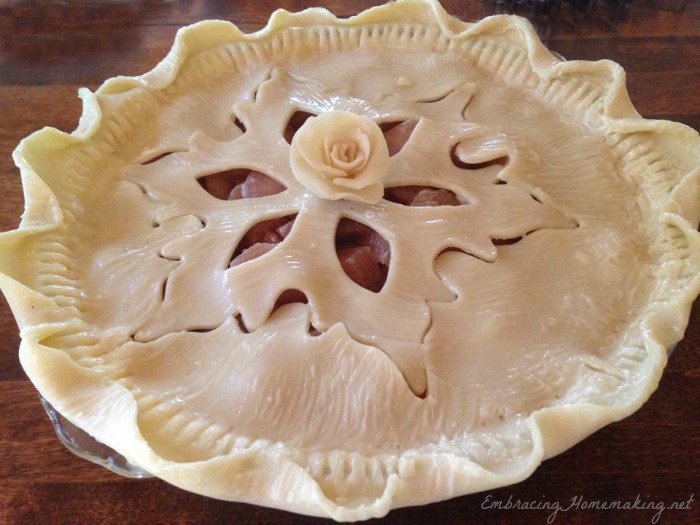 Here's the pie covered in an egg wash and ready for the oven.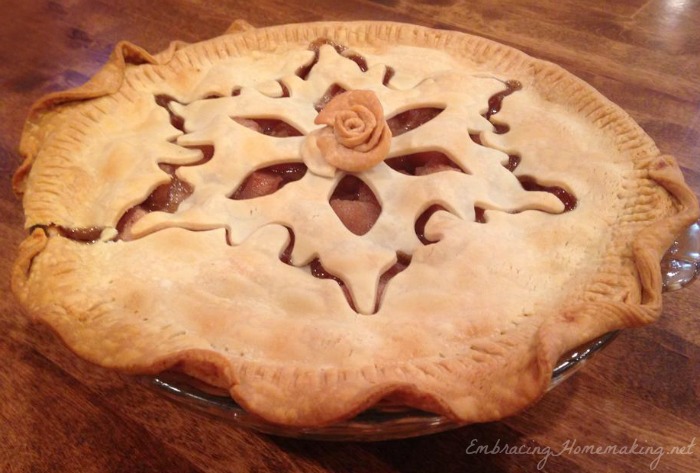 Ta-da!  I love this decorative twist on a traditional pie!  Don't forget to serve warm with ice cream because there's always room for a good vanilla bean ice cream, right?
Now without further delay, here's my favorite apple pie recipe…
Homemade Apple Pie
Author:
Absolutely delicious apple pie!
Ingredients
[b]For the dough:[/b]
2 1/2 cups all-purpose flour
1 tsp. salt
2 tsp. granulated sugar
16 Tbs. (2 sticks) cold unsalted butter, cut into 1/2-inch dice
3 to 4 Tbs. ice water
[b]For the filling:[/b]
2 lb. Granny Smith apples, peeled, cored and cut into slices 1/4 inch
thick
2 lb. Pink Lady apples, peeled, cored and cut into slices 1/4 inch thick
1/2 cup firmly packed light brown sugar
1/4 cup granulated sugar
1/2 tsp. ground cinnamon
1/4 tsp. salt
1/4 tsp. freshly grated nutmeg
4 tsp. cornstarch
1 Tbs. fresh lemon juice
2 Tbs. cold unsalted butter, cut into 1/2-inch pieces
1 egg white, beaten with 1 tsp. water
Instructions
To make the dough, in a food processor, pulse the flour, salt, and granulated sugar together until combined, about 5 pulses. Add the butter and process until the mixture resembles coarse meal, about 10 pulses. Add 3 Tbs. of the ice water and pulse 2 or 3 times. The dough should hold together when squeezed with your fingers but should not be sticky. If it is crumbly, add more water 1 tsp. at a time, pulsing twice after each addition. Turn the dough out onto a work surface, divide in half and shape each half into a disk. Wrap the disks separately in plastic wrap and refrigerate for at least 2 hours or up to overnight.
On a lightly floured work surface, roll out half of the dough into a 12-inch round about 1/8 inch thick. Fold the dough in half and then into quarters and transfer it to a 9-inch deep-dish pie dish. Unfold and gently press the dough into the bottom and sides of the dish. Trim the edges flush with the rim of the dish. Refrigerate for 30 minutes.
On a large sheet of lightly floured parchment paper, roll out the remaining dough disk into a 12-inch round about 1/8 inch thick. Using a cookie cutter of your choice make your design in the dough. Reroll the dough scraps to make your rolled dough rose. Refrigerate the pie crust and rose for 30 minutes.
Meanwhile, make the filling: In a large Dutch oven, stir together the apples, brown sugar, granulated sugar, cinnamon, salt, nutmeg and cornstarch. Set over medium heat, cover and cook, stirring occasionally, until the apples are just tender but not mushy, about 20 minutes. Uncover and cook until the liquid has thickened and become glossy, 5 to 7 minutes more. Remove from the heat, stir in the lemon juice and let cool to room temperature, about 30 minutes.
Position a rack in the lower third of an oven, place a baking sheet on the rack and preheat the oven to 400°F.
Let the pie shell, decorated top and rolled rose stand at room temperature for 5 minutes. Transfer the apple filling to the pie shell, scatter the butter pieces on top, and gently invert the decorative top over the pie. Trim the edges flush with the rim of the dish and press the top and bottom crusts together to seal. Brush the underside of the rolled rose with egg wash and gently press into the middle of the pie crust. Gently brush the entire top crust with egg wash.
Place the pie dish on the preheated baking sheet. Bake until the crust is crisp and golden brown, about 1 hour, covering the edges with aluminum foil if they become too dark. Transfer the pie to a wire rack and let cool for at least 1 1/2 hours before serving.