This post contains affiliate links.
While it may sound more convenient to head out to your local household retail store to purchase cleaners from the shelf, it's not necessarily cheaper or better for your family. If you're looking to be more natural with your spring cleaning efforts this season, then please read on for some natural spring cleaning mixes that will help you save money and refrain from the use of harsh chemicals.  I've divided the solutions by what you'll use them to clean.  I hope you'll find the list helpful!  If you buy store bought cleaners there are safe ones out there.  Mrs. Meyers is a favorite of mine.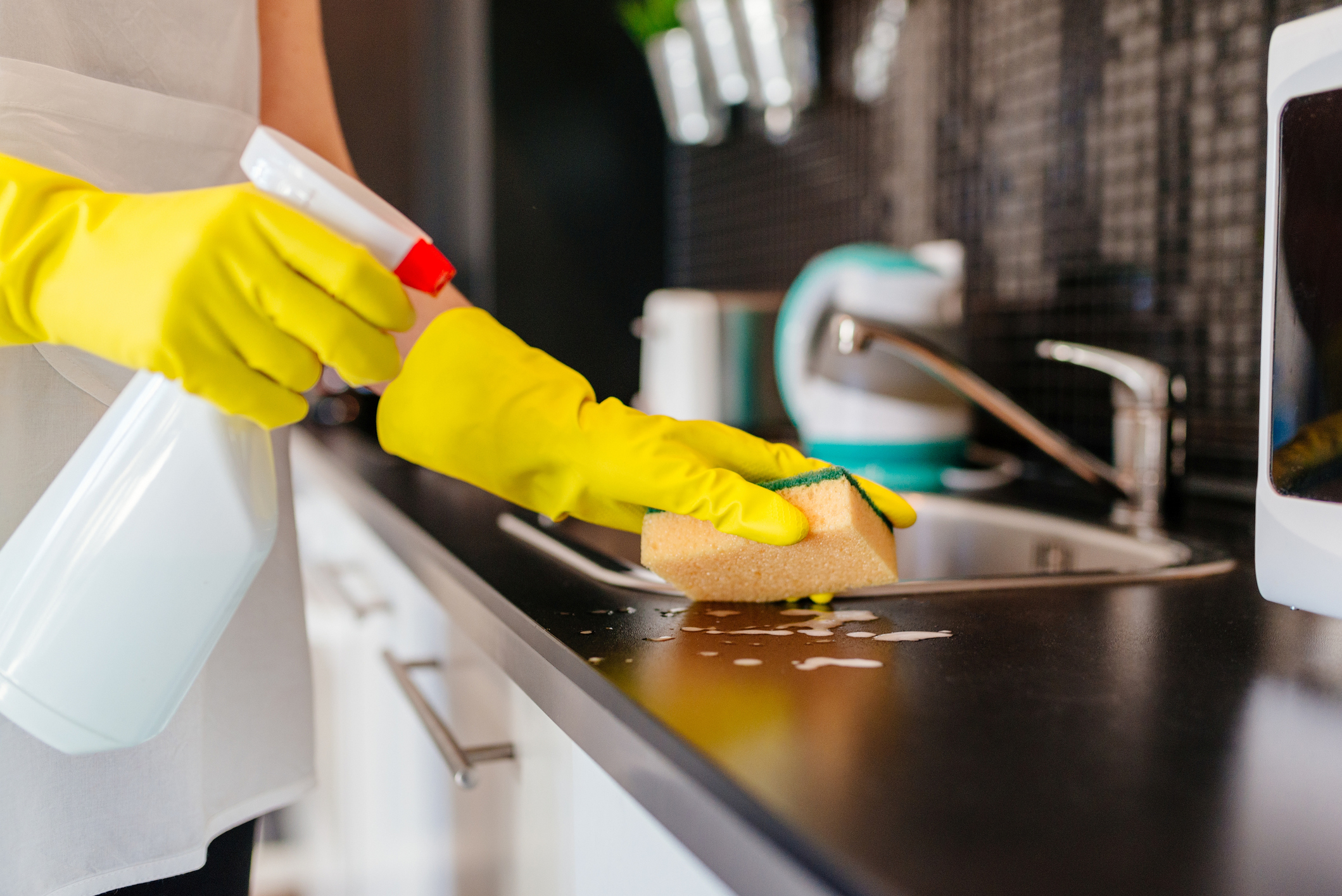 Clean that Stove Hood or Vent
Using mineral oil on your stove hood or vent will surely make that stove shine. Whether you're looking to remove dingy dust or fingerprints, mineral oil is your go-to natural spring cleaning option.
I love Amazon's brand of microfiber cleaning rags.  They have 4.5 stars and over 3,700 reviews!
Polish up Stainless Steel
It's crazy to think that the ingredients in your kitchen can help you polish up stainless steel. Using a small amount of white vinegar on a cloth will clean up the steel and olive oil after will boost the shine.
Clean the Stove Top
We all know how dirty that stove top can get from cooking meals for our family. The trick to getting those burners and the stove top clean is using vinegar and baking soda, let it soak and then wipe down.
Use Lemons for Everything
You'd be surprised how many things you can clean using the simple fruit lemon. You can use this to clean off faucets, shelves, and counters all by itself without mixing it with anything.
Clean the Oven
Use baking soda with water mixed together to create a pasty texture, wipe down the insides of your oven, let it sit for a half hour to an hour and then wipe the inside of your oven clean.
Clean the Kitchen Pots
If you have pots with caked on grime, you can use salt to help scrub away the grime. Soak the pans with a mixture of 3 tablespoons of salt in a couple inches of water.
Bathroom Cleaning
You can create an all-purpose vinegar mixture that is 1 part white vinegar with 1 part water. This mixture can be placed in a spray bottle and naturally clean any area within your bathroom.
Clean the Microwave
Many families can relate the annoyance of a dirty microwave. Place ½ cup of white distilled vinegar with ½ cup of water, heat in the microwave until boiling and wipe away all of that grime.
Clean Laundry
Using 1 teaspoon of tea oil in your laundry will help rid clothes of that dingy cling-on dirt and stains that often take over your kid's clothing.
Clean the Home
You may also use tea oil as an all-purpose cleaning. Mix 15 drops of tea oil with 1 quart of warm water and place in a spray bottle to clean the entire home.
There you have it, a few natural spring cleaning mixes that will surely help you get that home looking shiny and new in no time. With spring season here, it's time to get that home looking it's best to help boost your spirits after a long winter season.  (I know it's still technically winter but now that Christmas is behind us I'm looking forward to warm days)