Everywhere you look, there are countless suggestions and rules for parenting. You're being too careful… You're not being careful enough… Do this, don't do that! But being a new parent is all about trying different approaches and seeing what works for you. The first kid is a mystery – you've never done this before, and no matter how much you read or talk to friends, everything changes once that baby is in your arms. But as your child grows, or as siblings arrive, you get into the swing of things and get your own routine. Getting out of the house doesn't take an hour anymore, and you don't need three bags and seven changes of clothes!
While each kid has different needs (favorite toy or blankie, or a food allergy, for example), here are six things we always have in a bag ready to go on outings:
Baggies
Keeping a roll of Ziplock bags has proven useful time and time again. They're perfect for separating out portions of food for multiple kids.  They're great for small portions of leftovers when you won't want to bother with getting a big to go box.  Don't have a trash can nearby? Put dirty diapers, wipes, or clothes in a large bag. Child about to be sick? Use one as a sick bag to save your car upholstery (and avoid a messy cleanup)! There are sizes for every need. Thin, tall bags are perfect for handing out snacks, while large gallon bags hold wet clothes from a day at the pool or in the rain, and the empty bags take hardly any space!
Snacks
While we're on the subject of baggies, use one or two of them to keep snacks in at all times. If your kid has a favorite snack, maybe a cereal, maybe dried fruit or a trail mix, keep a baggy of it in your bag so it's there any time you leave the house. It's perfect for when you're running late or are out longer than expected, with kids getting fussy and anxious for food. It's also perfect for keeping their beautiful little mouths quiet while mommy and daddy try to get an errand done.
Sturdy Sippy
Keep your favorite sturdy, spill-proof sippy cup in the bag, ready to go. If you forget to grab a drink for your little one, you'll be thankful to have it so you don't have to rush home or hear "I'm sooooo thirsty!" from the back seat the entire trip, after explaining fifty times why they can't have your full water bottle which is bound to spill all over. And in a more rare, but has-happened-to-me event, your remember your child's drink, only to accidentally leave it at the mall play place after they hid it in their super secret hiding spot (or threw it in a trash can).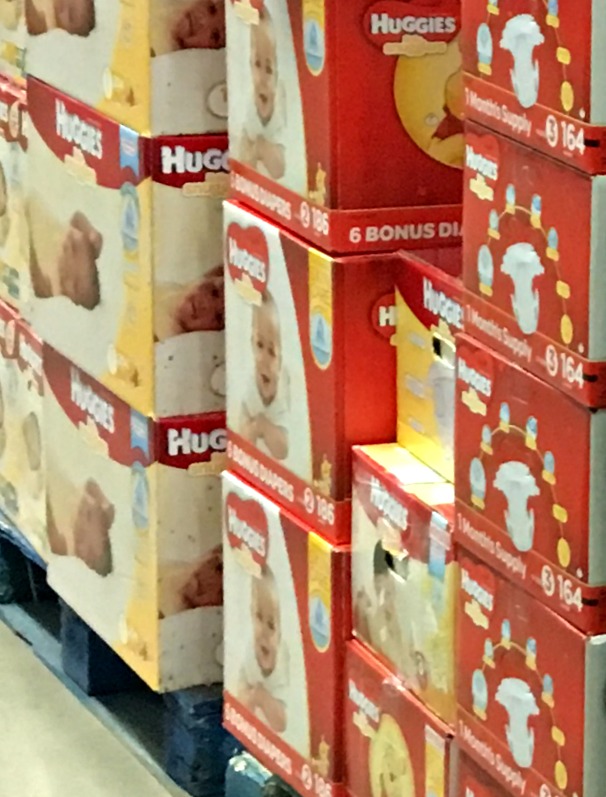 Diapers
If your little one is in diapers, even if they only wear them at night, keep multiples in the bag! We all have times where we plan to be out for 20 minutes, and three hours later, we're finally heading home. If you didn't plan on being out that long, you'll be happy to have the extra diapers. We prefer to have Huggies Little Snugglers on hand ourselves. Little Snugglers have held up better than any brand we've tried for our kids, with less leaks and never a broken tab, no matter how active they get. And our little ones find them the most comfortable, like a #SecondHug. If your child is a deep sleeper like ours, diapers are a must on mid to long trips. If he or she starts nodding off, pull over for a bathroom break and put their diaper on to avoid a wet car ride home. And spills happen too, so always bring more than one!
Wipes
Speaking of spills and diapers, always keep a fresh pack of baby wipes handy. Your baby is going to need them, whether for a dirty diaper or a quick bath after spitting up. You're going to need them, whether because you touched a dirty diaper or got spit up on. And your toddler is going to need them, because you can outgrow the dirty diapers, but not sweat, milk mustaches, peanut butter beards, or sticky fingers. Even your car is going to thank you for this one – wipes are great for cleaning up sticky spills from the upholstery while you're on the go.
Extra Clothes
Did I mention spills yet? Sometimes wipes and an extra diaper aren't all you're going to need. Even the best diapers can blow out, the most careful kid can make a huge mess, and the best sippy cups in the world won't help when mommy or daddy forgets to put the valve in the lid and the cup gets held upside down while your little one gazes in wonder at the liquid sprinkling out of the spout into their lap, cup holder, car seat… everywhere. You need to have extra clothes. It doesn't have to be a full outfit, it doesn't have to match, and it doesn't have to be right for the season. But when you're twenty minutes into a grocery shopping session and the clothes get soaked, especially with something smelly, you're going to have two choices – grab the extra clothes you have just for such an occasion, or buy a new pair of clothes at whatever price this store has.
One last thing to remember, just as important as all the items above, is to restock! Wipes dry out, sippy cups get used and dirty. Refill diapers, snacks, and clothes as needed when you get home, so they're ready to go next time. If you're always ready, you never have to explain why you're always twenty minutes late because of the baby any more (but let's be honest – it's a great excuse to have sometimes).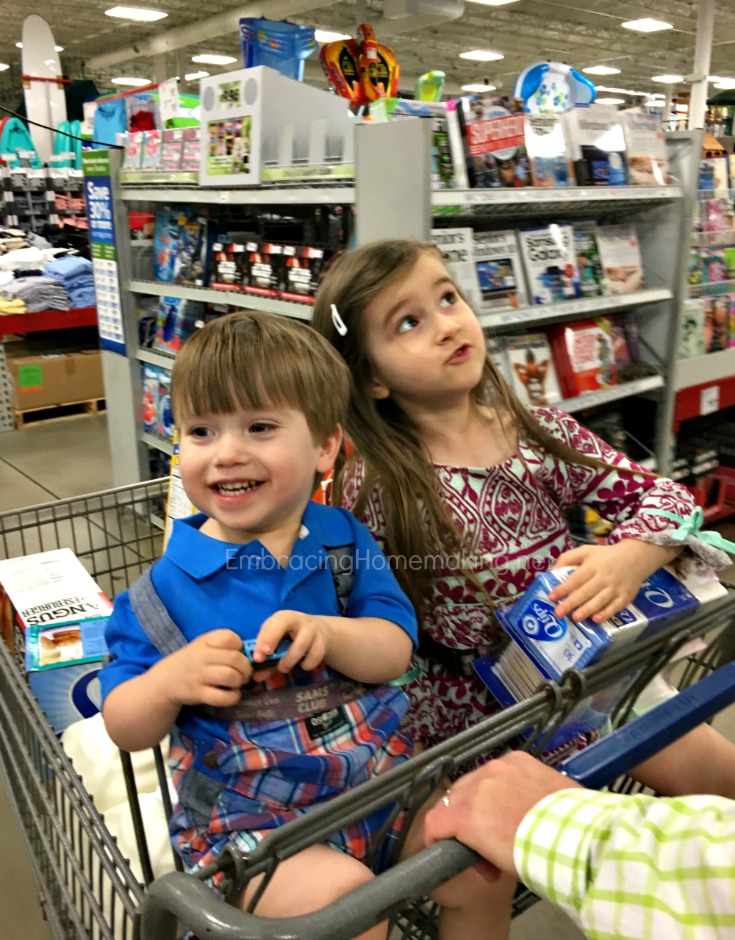 My kid's love shopping at Sam's Club because they can ride together in the cart.  🙂
If you're needing to get started on your supplies, Sam's Club is offering a great deal on diapers right now, too! If you purchase two products from the Huggies Little Snugglers or Natural Care Wipes lines, you can get a $10 Sam's Club e-Gift Card, on top of $3 instant savings just for being a Sam's Club member! So go on, make a check list of the things you absolutely can't forget to take when you leave the house, and get your bag always-ready!