Hershey's partnered with me for this post. #Simply5
Summer and ice cream go together like peanut butter and jelly.
Like a milkshake and whipped cream.
Like Tom and Jerry.  …maybe that's a bad example because they don't really get along but you get the picture.
Ice cream is what summer memories are made of.  Ice cream by the pool, ice cream on the front steps of your grandparent's porch, and of course, the iconic ice cream from the ice cream truck.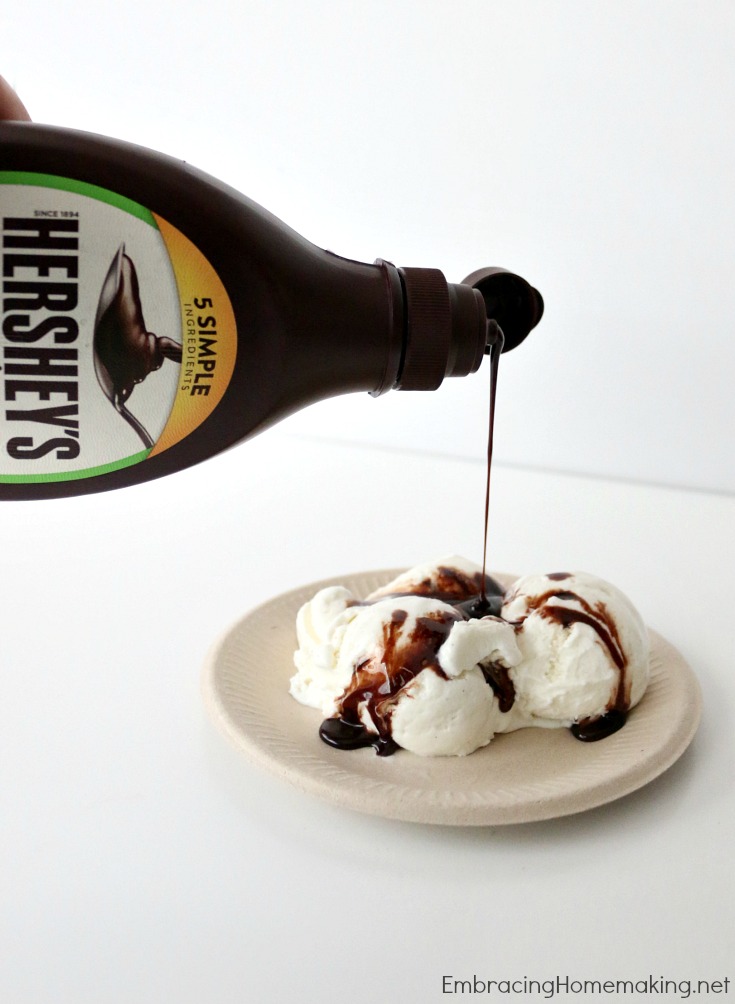 Summer memories make up most of the memories from my childhood.  I can vividly imagine my much younger dad setting beside me on the porch.  I can feel the warm evening breeze on my skin and I can see my little legs going up and down as we watch the fireflies flickering.  I can picture my mom and me swimming in the pool in our yard.  I can almost feel the rush of rolling down the hill…on purpose.  I tried this recently with my kids and let me tell you, this is a treat that only the bodies of kids can enjoy.  Most of my summer memories were good but some were extra sweet, and by sweet I mean that they included ice cream.  Not just vanilla ice cream but ice cream with Hershey's Syrup on top.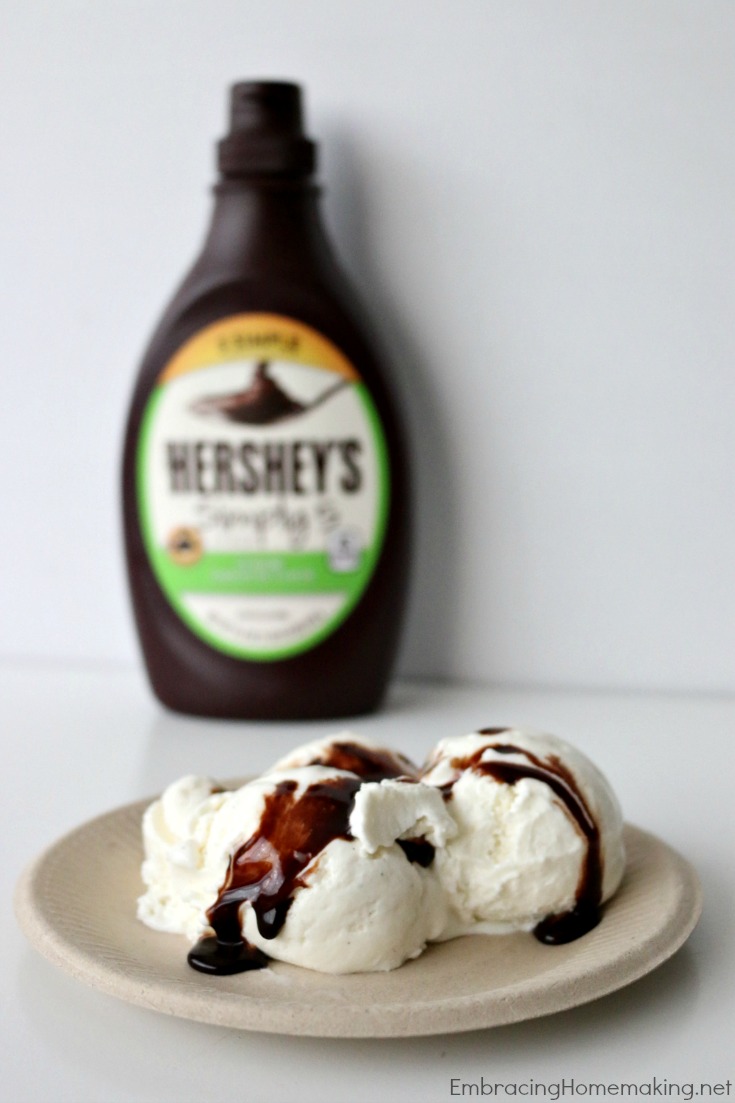 I always liked a little chocolate on top and then swirled it till it was a light tan color.  My dad liked a lot of chocolate and ate it without mixing it.  I'm a mixer of ice cream.  No chaotic, uneven bowl of ice cream for me.  Nope, it had to be mixed, even, and smooth.  I made an ice cream treat for my family to celebrate the ones who made me a mommy (Happy Mother's Day, ya'll!) and I made it like my dad would have enjoyed it.  I guess I could have made it like my mom would have enjoyed it but she likes the syrup hot and it was too warm out for that!
Now that I'm grown and have kids of my own I'm trying to be intentional about creating good childhood memories.  I hope that summer and ice cream will one day stand out in their minds as they look back and think about their years growing up.
My son, bless his heart, is allergic to soy and dairy.  Which if you didn't know, is terrible because soy is in EVERYTHING!  We're hoping he'll outgrow this soon but until then we read every label.  One thing I have been so excited to find is that Hershey's Simply 5 Syrup doesn't have soy in it.  He can have chocolate!!!  A few basic box brownie mixes don't have soy but every other label I've read contains soy.  Hershey's Simply 5 doesn't – woo!  I literally called my husband in excitement when I found out.  By the way, my son loved his first chocolate syrup experience and endured the coldness of the (coconut milk) ice cream to get the chocolate. 🙂  I was too excited to take pictures but trust me, he was adorable!
My husband says that this new version tastes better than ever and he thinks all companies should take the simple approach to ingredients.  I happen to agree with him.  It was delicious and I love that it doesn't have any high fructose corn syrup or artificial colors and flavors, and is made from non-GMO ingredients.
If you want to get a little crafty with this new chocolate deliciousness try this Chocolate Cinnamon Banana Mug Cake!
Prep time: 5 mins
Cook time: 1 min
Total time: 6 mins
Serves: 1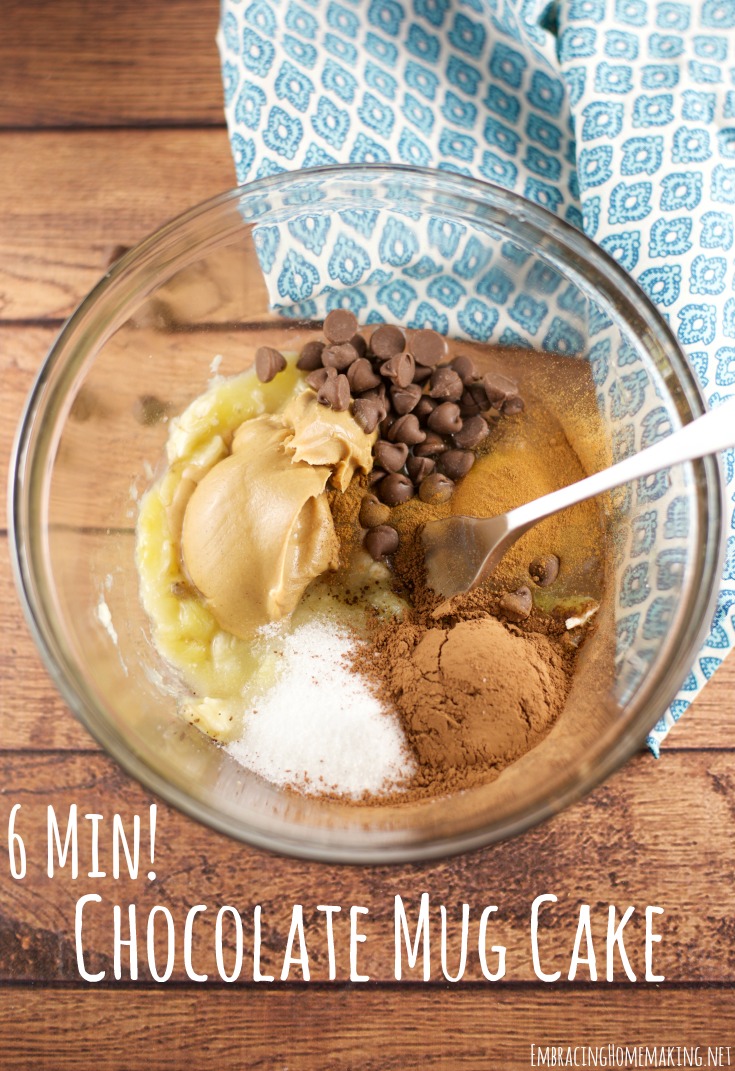 Ingredients for Cake (whipping cream ingredients listed separately):
–  ½ medium banana, mashed
–  1 tablespoon almond butter (or any other nut butter)
–  ¼ teaspoon vanilla extract
–  4 ½ tablespoons flour
–  ¼ teaspoon cinnamon
–  1 teaspoon cocoa powder
–  ¼ teaspoon baking powder
–  2 tablespoons Hershey's chocolate chips
–  1 tablespoon Hershey's Simply 5 Syrup
–  pinch of salt
Cinnamon Whipping Cream Ingredients:
–  ½ cup whipping cream
–  1 tablespoon sugar
–  ¼ teaspoon of cinnamon
Instructions:
In a large microwave safe mug mash the banana with a fork
Mix in the almond butter and vanilla
Add the flour, cinnamon, baking powder and salt a little at a time and gently stir until combined
Microwave for 45 second- 1 minute or until it is firm in the middle (this timing is based on my 1200W microwave so your timing might vary)
While that's baking, whip together whipping cream, sugar, and cinnamon till firm.
Top with a swirl of Hershey's Simply 5 Syrup, some more sliced banana, the whipped cream and enjoy!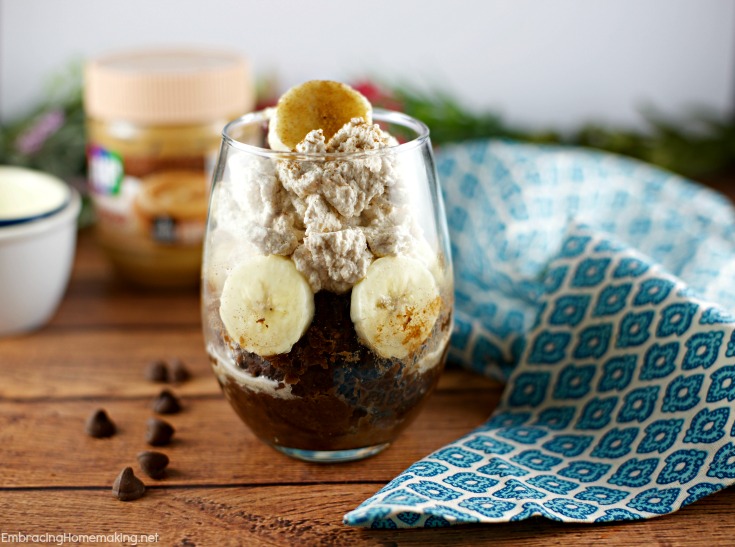 Notes:
–  Cooking time may vary greatly depending on your microwave and the width and depth of the mug.
–  Always keep a close eye on your mug while in the microwave so it doesn't over flow or over cook.  I may have done this a time or two practicing!  If you're easily distracted but a plate underneath the mug just in case!
–  You can mix the cake up the night before but I enjoy it warm!
–  You can use whole wheat or oat flour as a substitute for white flour if you wish.
For more information on Hershey's Simply 5 visit Hersheys.com.
Now, I have to know.  Do you mix your toppings in your ice cream, like me or do you just eat them as is, like my dad?