This post contains affiliate links.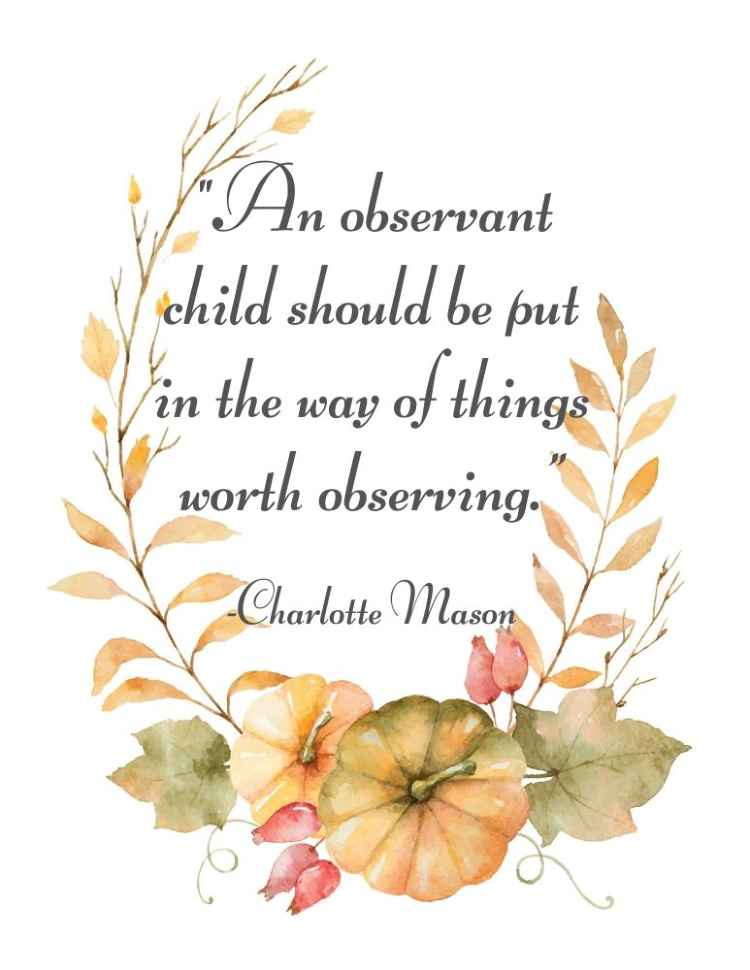 Charlotte Mason is one of my educational heroes.  I love learning so much as I'm slowly making my way through her volumes.  You can check them out Charlotte Mason's volumes here on Amazon.  We all need a little motivation from time to time and Charlotte Mason always rejuvenates me.  She was quite an inspiring lady who was far ahead of her time!  I've been collecting several great Charlotte Mason quotes from her as I'm going through them and this one especially stuck out to me.  I knew I wanted it to be in my homeschool room so I made this printable.  I'm sharing it here today in case anyone else would like to have this sweet reminder in their home too.  I know the pumpkins are a little out of season (I made this in the fall) but I think I'll keep mine up year round…till I decide to replace it with my next Charlotte Mason quote.
May we all put our children in the way of things worth observing.
You can click the link below to download this pdf.
An observant child should be put in the way of things worth observing." -Charlotte Mason
Here are some other of my favorite Charlotte Mason Quotes that I've come across so far.
"Every day, every hour, the parents are either passively or actively forming those habits in their children upon which, more than upon anything else, future character and conduct depend…"-Charlotte Mason
That one is convicting, isn't it?
"The mother who takes pains to endow her children with good habits secures for herself smooth and easy days." -Charlotte Mason
Also convicting but it simultaneously motivates me to step it up.
"Our aim in education is to give a full life. We owe it to them to initiate an immense number of interests. Life should be all living, and not merely a tedious passing of time; not all doing or all feeling or all thinking – the strain would be too great – but, all living; that is to say, we should be in touch wherever we go, whatever we hear, whatever we see, with some manner of vital interest." -Charlotte Mason
Life should be all living.  I think of this quote just about daily.
"Never be within doors when you can rightly be without." -Charlotte Mason
I do love this one too!
"The question is not, — how much does the youth know? when he has finished his education — but how much does he care? and about how many orders of things does he care? In fact, how large is the room in which he finds his feet set? and, therefore, how full is the life he has before him?" -Charlotte Mason
How large is the room?  I love it!!  What a great view of education.
"The most common and the monstrous defect in the education of the day is that children fail to acquire the habit of reading." -Charlotte Mason
Yes!  It's a great habit that is worth the investment.