This post is brought to you by Lustine Toyota.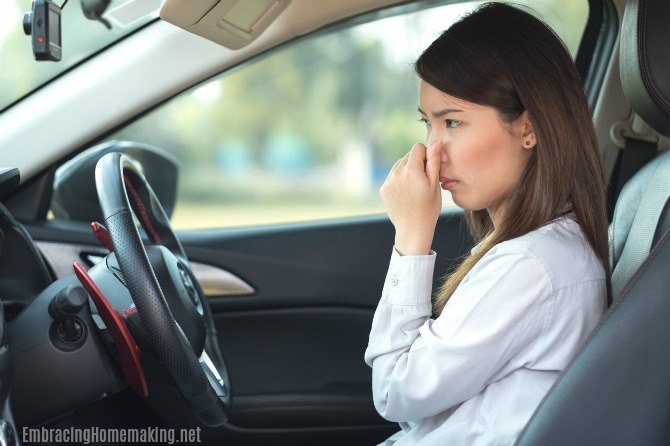 Scent is a powerful thing and is often one of the first things people notice when entering a new place.  For drivers that can be bad news.  Some odors can be easily avoided by not smoking or leaving food in the car.  However, other spills, especially with kids, are harder to avoid.  Take hope though, I have some suggestions to help keep you remove car odors to leave your car smelling fresh and clean.
-The easiest way to keep a car smelling good is surprisingly easy.  Grab a pack of dryer sheets, poke a few holes in a baggy, throw them in, and toss them under the seats.  They're out of sight and will cost only a few dollars a year.  Easy peasy!
-If you're not a fan of chemicals and want to take a natural approach I've heard that you can use fresh herbs to make your car smell lovely.  Buy a few sprigs of basil, lay it on some newspaper, and set it in the car's back window.  There it will receive sunlight and will dry out.  Other aromatic herbs can work too.  Mint and thyme come to mind as good options to try.
-The next step isn't too hard as long as you have nice sunny day and a water hose.  Clean your car mats.  The mud and muck can build up and make your car smellier than it needs to be.  A quick rinse and maybe a scrub will help keep your car fresh.
-If you still have a funky smell you can sprinkle baking soda over the seats and carpeted flooring.  Baking soda is one of the world's best natural fresheners.  Plus, it's incredibly cheap too!  Leave the baking soda sit for a few hours and simply vacuum it up.
-One unsuspecting place that can hold bacteria and mold is your car's air conditioning system.  Fortunately, there is a $10 fix that's easy to implement. Simply buy a can of air conditioner odor treatment spray, turn the air conditioning on high (with the re-circulation button off), and spray the treatment into the exterior air intakes (at the base of the windshield).  Wait ten minutes or so and turn the re-circulation button on and spray the treatment again into the interior vents.  Leave running to another ten minutes or so.
-One of my favorite cleaning products for inside the house can also be beneficial inside the car – vinegar!  White vinegar is super cheap and it works as a great cleaner and deodorizer.  We buy it buy the gallon for roughly $4 a gallon.  Mix equal parts water and vinegar to a spray bottle and go to town.  The temporary smell will dissipate leaving your car cleaner and fresher than before.  It can clean upholstery, windows, and hard surfaces alike.
-This next tip is one that we learned how to do when my husband accidentally left a gallon of milk in the car…for a couple of days.  Oops! He thought he just forgot to buy it.  If you're a coffee drinker this will be an easy fix for you…and better yet, if you're like me and continually accidentally buy bags of beans instead of coffee grounds you already have a good supply of coffee on hand. 🙂  Fill a tin or plastic container with about 6-8 ounces of coffee grounds or beans (beans are less messy) and poke holes in the top of the lid.  Simply leave it in the car overnight (or in our extreme case for a couple of nights!)  The oils from the coffee beans absorb and eliminate the odors and leaves a faint delicious coffee smell behind.
There you have it folks, seven ways to remove smelly odors from your car so you and others can enjoy a fresh ride around town.