This post is made in partnership with Portrait Innovations.
Family is important, right?  That sounds like the understatement of the year.  Yes, of course families are important!  They're what hold our communities together.  They're what make the difficult times bearable and the good times great.  Sure, they can push your buttons sometimes but they're family so they're allowed to do that.  Family loves you no matter what and they'll always have your back.
I've shared on this blog numerous times about the ways my family makes memories together.  While I don't succeed perfectly, it's my goal to enjoy each season of life to the fullest.  Right now, my children are at the heart of childhood and I want to embrace that.  From forts in the living room to chalk drawings in the driveway, I want to be present with my kids.  I try to document the milestones of their lives with my smartphone and occasionally my nice camera.  …but do you know who doesn't get documented?  If you're a mom, you know the answer already.  ME!  Unless I specifically ask my husband to take a photo of me it doesn't happen.  I want my kids to remember what I looked like in this stage of life.
My mom has so few pictures of herself after I turned 3 years old.  She decided she didn't look good and didn't want to be photographed.  You can see a few pictures of her hiding behind people but very few at all and absolutely no professional pictures.
I would LOOOOVE to see what my mom looked like in the stage of life I'm in.  I think she's gorgeous and couldn't be ugly if she tried.  I understand how she felt though because I feel that way now.  I wish I was a good number of pounds lighter and with a few less wrinkles.  Trust me, I wish I could erase that double chin of mine in every photo and off myself in real life.  But I can't.  This is me.  While I try to almost daily reassure myself that me, this post-children me, is good, okay, lovely, has value, is strong, etc. I want to capture what I look like now…in the trenches of motherhood.
I want to make it a yearly habit to have family pictures no matter how I look.  I want my children to look back and see what their mom looked like.  I want them to see what I'm wearing and laugh at the styles that are popular now.  I want them to see the wrinkles and know that they are laugh lines…that they helped create. 🙂  I want them to know that their mom loves them more than anything and wants to capture moments on paper that they can look back and maybe one day show their kids.
Recently, we went to Portrait Innovations for our yearly pictures. It was the first time we've been there but we loved the experience.
From our time in the waiting room…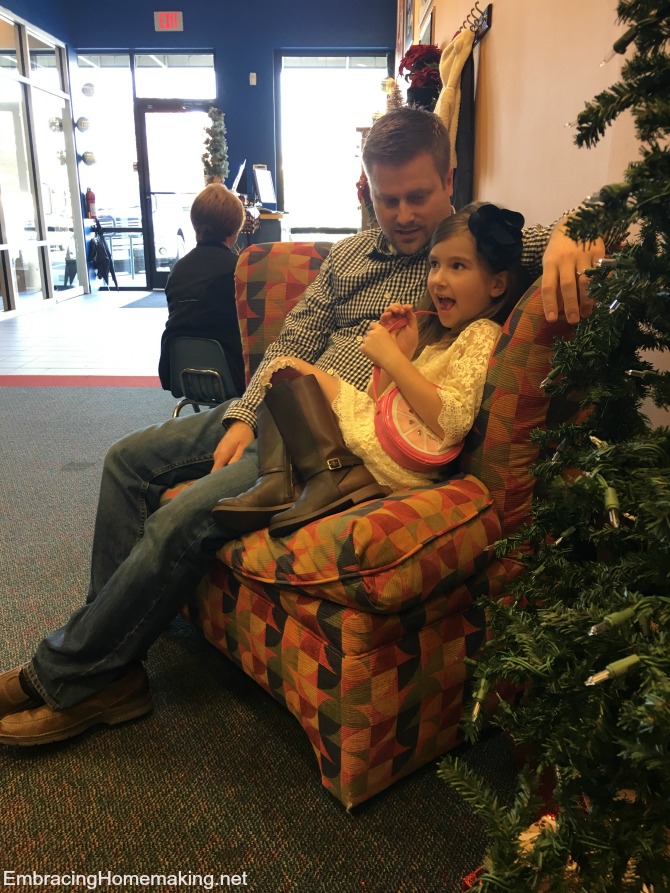 …to our time with the photographer…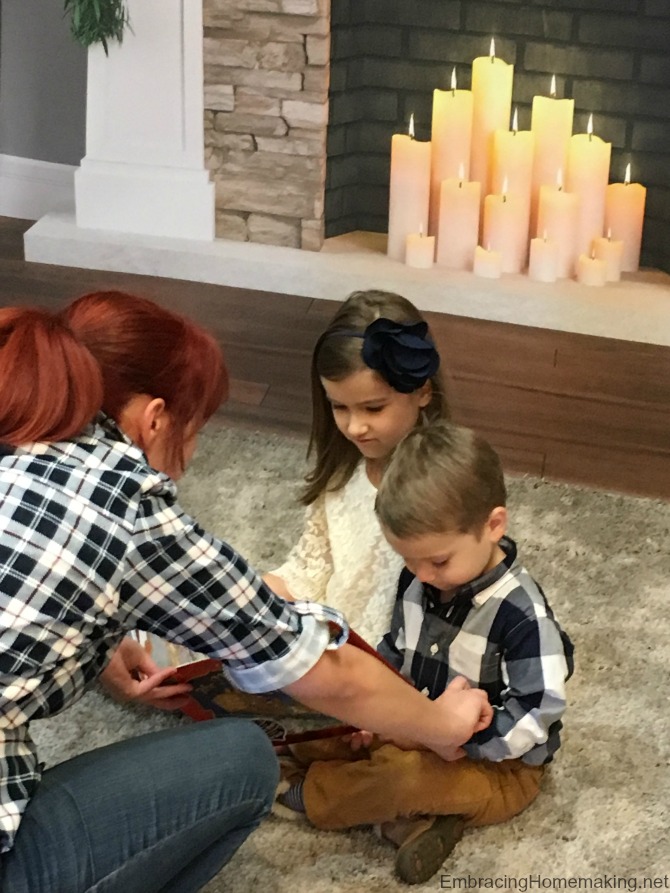 …to our time picking out which photos we wanted we were well taken care of.  I should have gotten a picture of the massive computer screen they use to let you preview the pictures but I was so excited to look through them I forgot!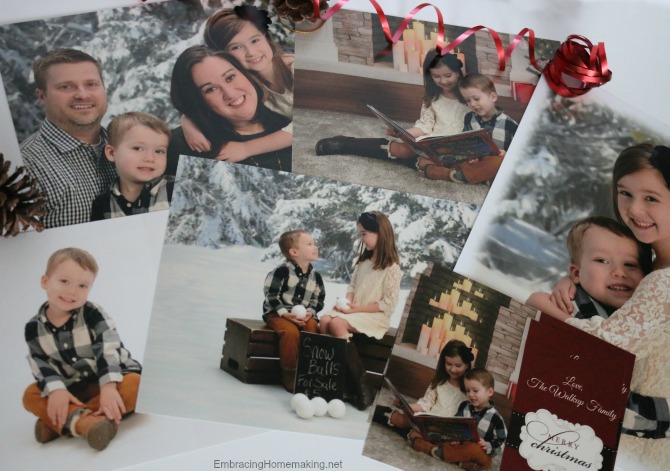 I highly recommend Portrait Innovations if you're looking to get family pictures made.  They have so many backdrops to choose from and the photographer we worked with was very professional and made the whole shoot very fun.  While we didn't take advantage of it, they allow multiple clothing changes too.  We don't have family in town but if you did it would be great to get a full family photography session too.  We saw one family there that did that and because Portrait Innovations has been doing this for years they were well equipped to handle such a large group.
Warning, this post is picture heavy because it was so hard to narrow down which pictures to show you.  I hope you enjoy looking at the variety of pictures they offer.  If you don't want to see them all be sure you at least scroll to the bottom for your chance to win a photography session and prints of your own!!
Don't they look mischievous?
They love to read together so I thought this was just precious!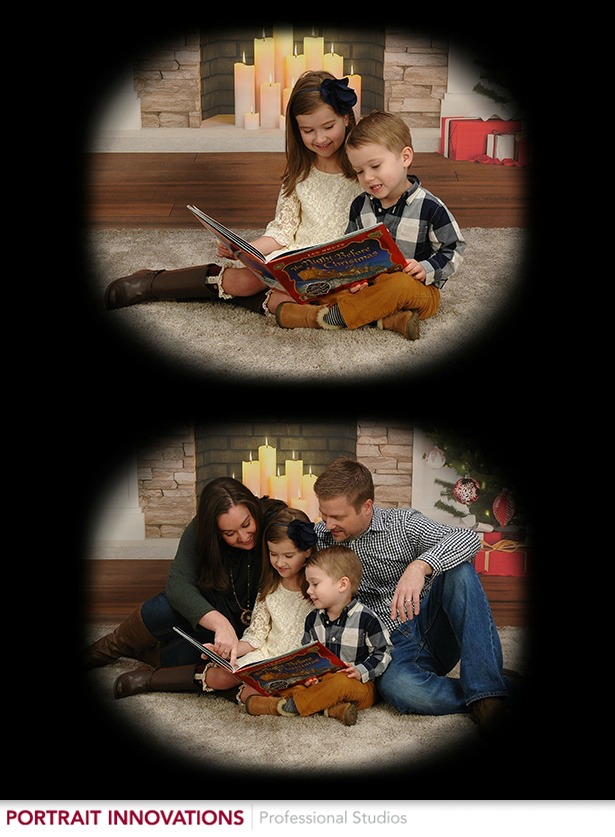 I loved how they went a step further and edited a few pictures like this for me.  Isn't it cute?  These are called Decorator Portraits.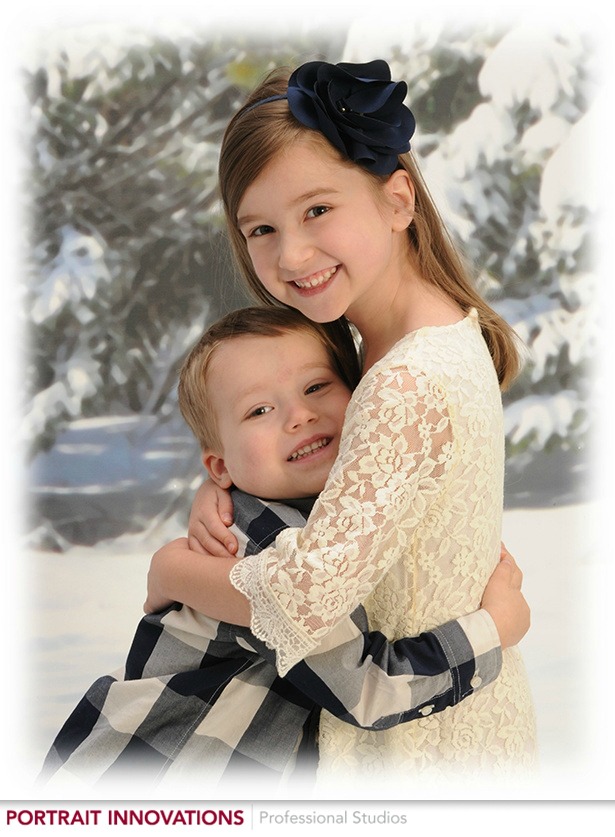 This is another Decorator Portrait.  I love the soft white vignette added to the snow scene!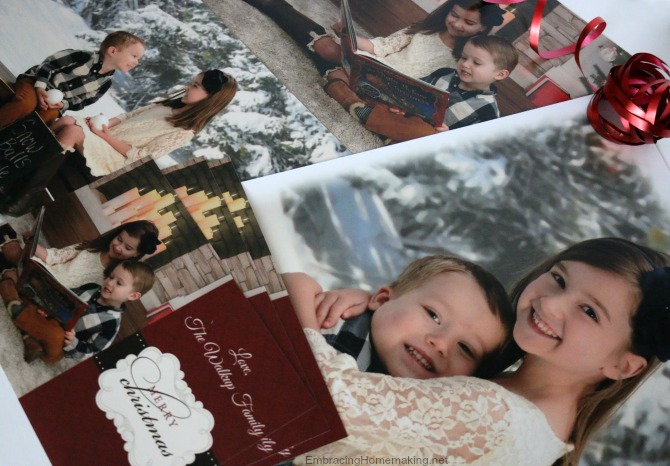 We ended up with a ton of prints to keep and to share.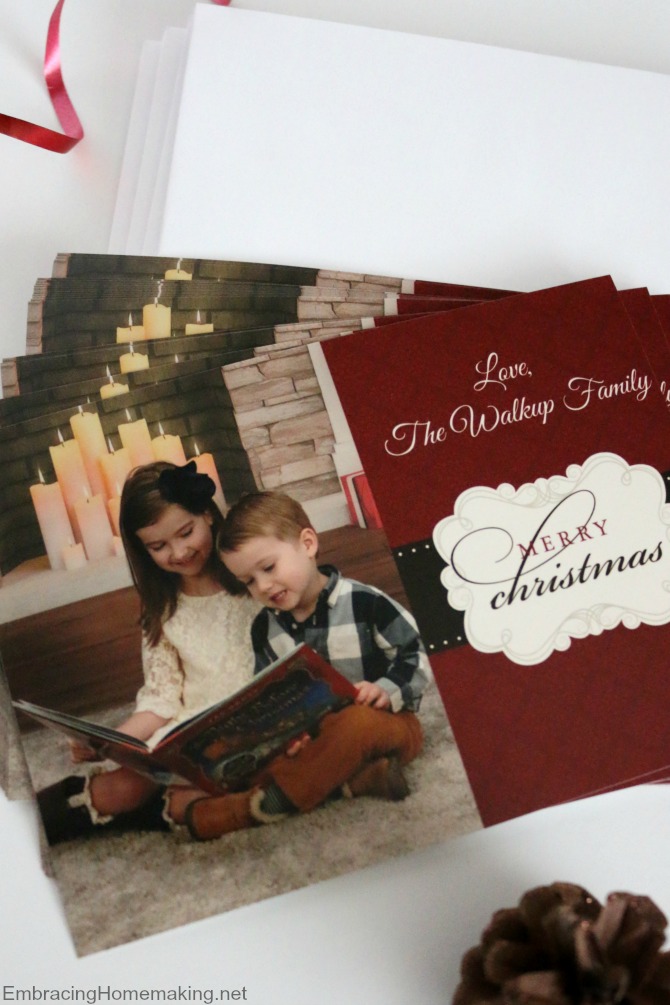 We were even able to order our Christmas cards right then and there in the store.  We went to grab lunch and when we came back all of our pictures, CD, and Christmas cards were there waiting for us.  I couldn't be happier with the experience and I'm excited to give one of you lucky winners the chance to enjoy the same treatment I did.
Enter via the Rafflecopter below:
Check out Portrait Innovations on Twitter and follow Portrait Innovations on Facebook to keep up to date with them and their specials.  Speaking of specials, right now they have a great special going on!  Check out their website PortraitInnovations.com for all the details.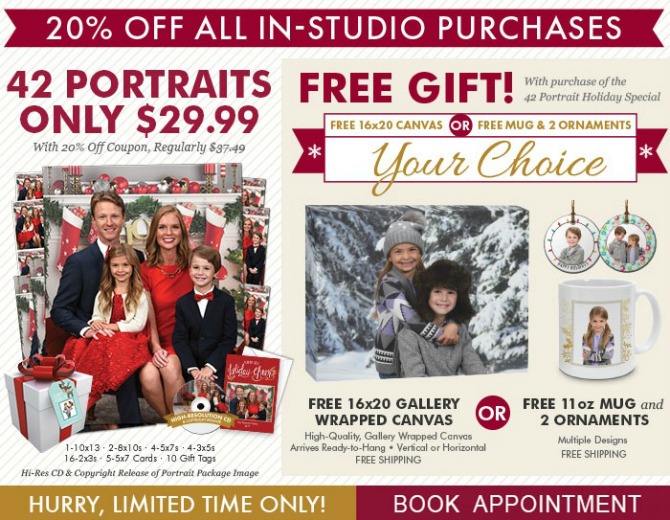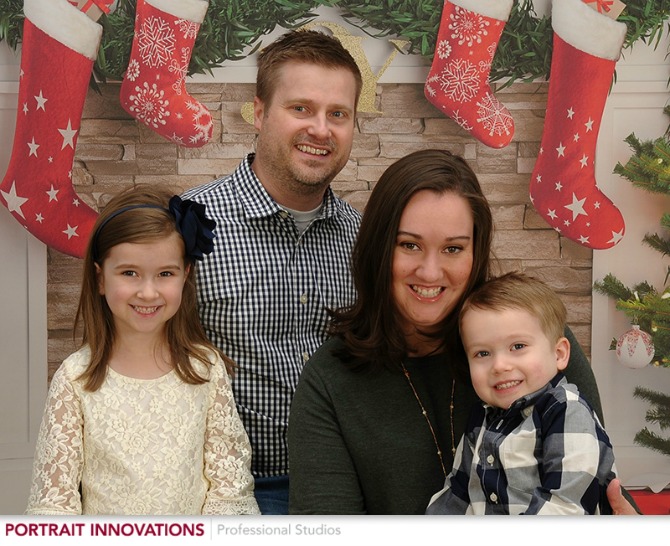 From our family to yours, Happy Holidays, Happy Thanksgiving, and Merry Christmas!