The reviewer has been compensated in the form of a Best Buy Gift Card and/or received the product/service at a reduced price or for free.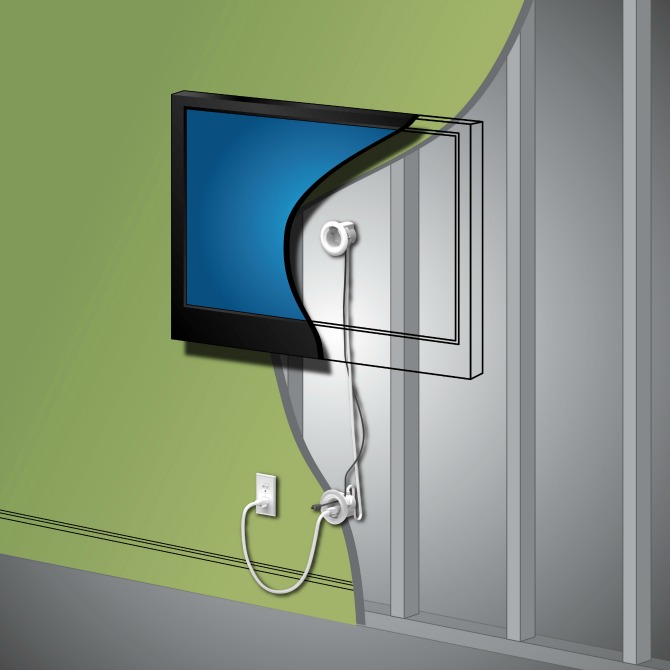 If you've followed my blog for a while you know that we moved last year and we're still making this home our own.  We've moved walls, redone the floors, painted and painted and painted everything, and we're currently working on adding trim to the baseboards.  One of the projects on my husband's to-do list is to install our TV on the wall.  Currently, it's setting alone on the TV stand.  While it does have suction cups on the bottom of it I still worry that something could happen and it fall on one of the children.  Ugh, I don't think I could live with that.  That's why I'm glad Best Buy emailed me about the Legrand In-Wall Power Kit.  It houses the cords in the wall so they won't be dangling down.  Doesn't that sound amazing!?  It's like it's just floating there on the wall.
I responded to Best Buy before consulting with my husband and as it turns out that that wall we built, where the TV will one day live, is made with extra dry wall and super thick sound proofing insulation.  That won't be a problem, but we'll just have to wiggle the insulation around to feed the tube and that seems like a project that's going to require my husband's assistance.  Any project that requires me to think and I can't just follow step by step instructions isn't a project for me when the kids are around.  I don't have good problem solving skills with little ones running around me. 🙂  This should be an easy peasy project for my husband once he gets the time off from work to do it.
The Legrand In-Wall Power Kit Includes:
Power grommets, 54″ power harness, 6′ power cord, fish tape
Hole saw, hole saw handle
Here's the step by step instructions:
–  Before you do anything measure your TV plug width.  This is designed for most TV plugs up to 1.13″ wide.  By the way, this casing is paintable for a perfectly customized look. I just love that!
–  Then you'll want to locate where your electrical cords are located and avoid those.
–  Next, cut a hole in your drywall where you want the TV to go.  The Legrand In-Wall Power Kit comes with a tool to cut the perfect hole.  No worries there!  If you're drilling into a wall with insulation, simply move it to the side when you insert the wires.
–  Cut the hole where you want the power cord to go below.
–  Once you have the hole cut you can feed the cord through the top hole to the lower hole with the power plugin. The Legrand In-Wall Power Kit comes with a hook that you can feed up from the bottom hole to pull the power cord down in the right place.
–  All that's left to do is to screw in the front plate it puts tabs along the side of it to hold it onto the wall. This will hold it in securely so you don't have to worry about it falling out or being pulled out.

I hope that helps give you an idea of how to install it but here's a video from Best Buy that will show you exactly how easy it is to install the Legrand In-Wall TV Power Kit.  I'll come back and give you an update once our TV is on the wall.
If TV cords have been driving you insane or you're worried about a tipping TV, head over to your local Best Buy and pick up the Legrand In-Wall TV kit! You can also find out more info and order it on BestBuy.com.