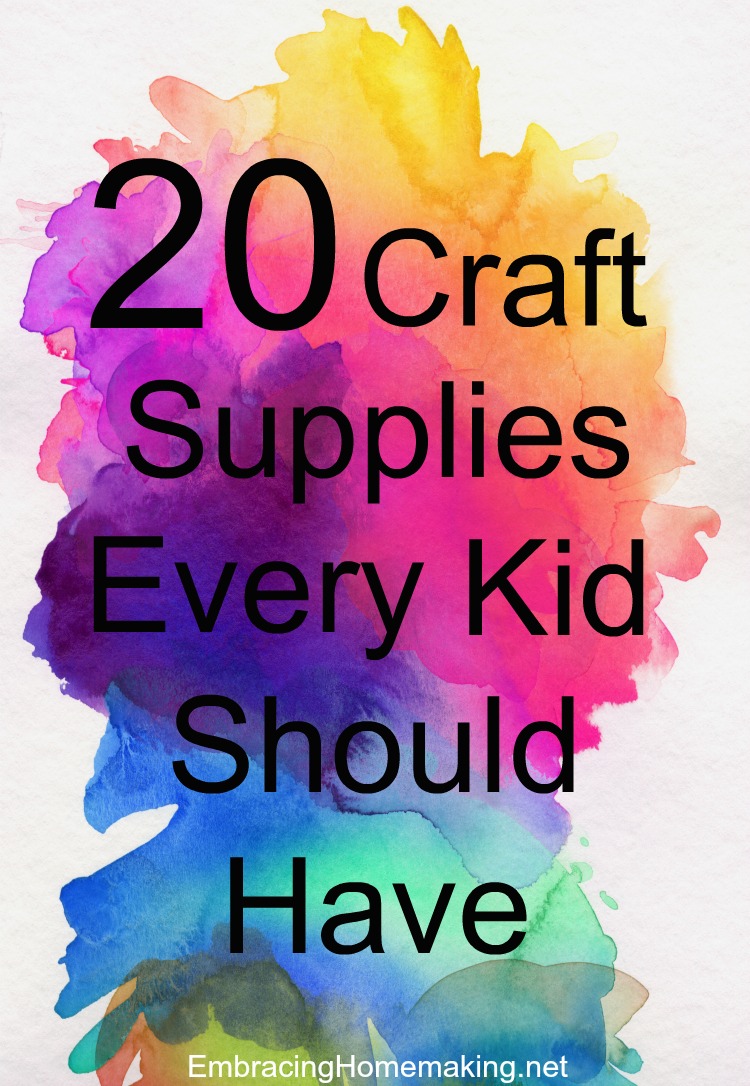 I believe that everyone approaches crafting time differently. Some may anticipate it and bend over backwards to carve out that time.  Some enjoy crafting spontaneously.  Sometimes like just needs to take a break while you fire up your hot glue gun and go to town.  No matter which category you fit into I bet you feel like crafting is a relaxing affair.  A place where you can sit and let your creativity overflow and you don't have to think about the worries of life.  I love crafting and enjoyed it since I was a kid.  Now that I have children I want to pass along my love for creating something from little pieces of nothing.  Making something beautiful out of otherwise trash-worthy items thrills my heart.
I know not all mamas feel the joy of crafting that I do but still want to create the bonding moment that is crafting with kids.  To help you out I want to give you a list of my go-to craft supplies.  Sure, you can feel free to add in a cleaned out milk jug lid or a left over twist tie.  Add what you want to the list but to get your creative juices flowing I'm going to share my basic bare bones list.  (Trust me, you don't want me to lay out all that I have because it's a lot.  We craft several times a week and would do several crafts a day if the decision was left up to my kids.)  This post contains my affiliate links.
1.  Crayons:  Crayola, crayola, crayola!  I've used others and I always come back to Crayola.  Call me a crayon snob if you want! 🙂  I usually stock up on the 24 and 36 packs during the back-to-school season and keep them out of reach of the kiddos until the current box is in nubs.  We'll then take those numbs and toss them in a bin until we have enough to melt down and make our own crayon molds (they make great birthday party favors!).  I've been eyeing this 152 Crayola color set from Amazon and I'll probably be investing in it soon.  So many colors!!
2.  Glue & Glue Sticks: Glue sticks are great for most things but liquid glue is a must in some situations so it's a good idea to have both on hand.  This Crayola Washable School Glue is my favorite for little kids because it has a precise applicator and it's slow flow.  No more gluey messes!  Elmer's Purple Glue Sticks are my favorite because they're colored and you can see where the glue is…okay, who am I kidding?  I just love them because they're purple!  Glue Dots would be great with older kids but I haven't shown them to my children yet because I'm afraid they would enjoy putting ALL the dots EVERYWHERE! 🙂
3.  Paper:  Construction Paper & Cardstock.  Paper is the foundation of most crafts so stock up on these babies.  I love cardstock because it is thick (which means less messes and it's easier for little hands to cut) and holds up well to all sorts of paint.  I'm not picky on cardstock brands but I just try to get a heavy weight.  Construction paper seems to be the same colors no matter the brand, with one little exception.  Melissa & Doug's construction paper has slightly lovelier colors.  I'm still waiting for the day when a company makes really pretty colored construction paper but I'm afraid my kids will be grown by the time that happens.  Hey, maybe I can be the crafting grandma!
4.  Child Scissors:   These Melissa & Doug scissors are great for early beginners and then any child scissors will do.  If your child is left handed do them a favor by getting them a pair of left handed kid scissors for them.  It didn't dawn on me to do this till I happened to see some in the back-to-school isle one day and the light bulb went off.  My daughter cuts almost as good as I do now!
5.  Washable Paint:  Crayola's Washable Paint paint is the perfect paint for nearly every project.  It's thick so it won't get all over everything (with adult supervision of course).  At our house we also love the Crayola Neon Paint Set and hope to try the Crayola Glitter Paint Set soon!  I don't mess with the fancy paint cups or pallets, I just get a paper plate and put a glob of each color on it.  No clean up required!
6. Paintbrishes:  Sure, there are a 101 ways that you can paint without a paintbrush but brushes are generally neater and therefore my go-to.  The Crayola Assortment Paintbrush Set is my favorite and we've tried quite a few.  The brushes hold up very well and the quality is so nice that I've even used them for a few of my adult painting projects.
7.  Watercolors:  Watercolors are great when the kids get a little older but can be frustrating for very young children.  I started with a cheap watercolor set from Target's dollar section and as my daughter's skills improved we graduated her to the Alex Toys Watercolor Set.  The colors in here are absolutely stunning!
8.  Liquid Watercolors: Liquid watercolors are also AMAZING!  Every adult and kid who likes to play with paint should own this set of Sax liquid watercolors.  The colors are bold and beautiful.  You can dilute them with water if you want and they are washable!  These pipettes help in transferring the paint to a pallet or a small glass cup (as we use) and these watercolor pens are incredible!!  I've bought a set for my kids and a set for myself.  They make hand lettering with the watercolors very fun.  I'm not very good yet but I love to practice.  You can fill the pen with the liquid watercolor, leave empty to work with liquid watercolors, or fill with water to use with the dry pods of watercolor.  I just have to mention that this is my favorite book for using liquid watercolors with when I want to save the picture.  The paper is thick and nice and perfect for adult use…and sometimes I let the kiddos use it too.
9. Oil Pastels:  I'm still a tad bitter that no one told me about these until I was an adult!  These are the things creative girls should know about.  These were what I always wished crayons were!  Lovely, thick, mixable colors!  Seriously, these are beautiful!  It's probably no surprise to you that Crayola Pastels are my favorite.  The Amazon reviews say that they are just as good as the fancy pants artist's pastels so I'll take their word for it and stick with these inexpensive gems!
10. Craft Sticks:  These craft sticks, aka popsicle sticks, come in a variety of sizes and are great for letting the kids use their imaginations.  They could transform them into anything! While they do come in a lot of colors and sizes we mainly stick with the regular sized craft sticks and the jumbo craft sticks.
11. Pom Poms:  These are so much fun to hold, build, and craft with.  I've even used them as a sensory/fine motor skills game with my little one as he put them in an empty coffee creamer container….over and over and over again.  You can pick these up almost anywhere but this set on Amazon has some truly lovely colors in it and a variety of sizes in one package.  This is one of those craft items that you'll want to use the liquid glue with.
12. Clothespins & Doll Pins: Doll pins are absolutely perfect for making little people!  When buying clothespins look for ones that are specifically for crafts or double check that they're smooth and not rough.  Some I've bought could have easily given someone a splinter if they weren't careful and children aren't careful.
13.  Pipe cleaners:  Pipe cleaners are fun to hold and bend even if that's all you do.  Plus, you can make our super cool borax snowflakes with them!  Jumbo pipe cleaners are also fun in our house although I don't think we've ever actually made a craft with them. 🙂  They are very fun to play with though!
14.  Googly Eyes:  Googly eyes make me feel like a kid again!  I love these things!!!  They come in all sorts of colors and sizes too.  Just be careful with these around little ones or stick with the jumbo googly eyes till they're older.
15. Craft Foam:  The sheets are thick, durable, and comes in a lot of fun colors!  We save our left over craft foam pieces in a zip lock baggie to keep the waste and mess down. Foam stickers are also a great addition to your craft supply, especially if you don't like the hassle of cutting little foam pieces out.
16. Contact Paper:  To be honest, I'm just now finding myself in love with this sticky substance called contact paper.  It makes tremendous sun catchers and fun sticky collages with magazine clippings (all pink things, random letters writing the child's name, etc.).
17. Washi Tape:  It's the easiest way to decorate, well, anything and it's completely mess free.  The glitter washi tape is my favorite!
18. Pony Beads:  Pony beads are fun to glue onto a project but our favorite use of them is to make all sorts of bracelets and necklaces.  They have primary colored beads, neon colored beads, transparent beads, glitter beads, glow in the dark beads, and even beads that change color in the sun!
19.  Letter Beads:  Letter beads are also great for jewelry, not to mention practice with letters and spelling too!  They come in black and white beads and also colored letter beads.
20. Gems & Pearls:  I am a girlie girl and am raising a girlie girl.  We love the gems and the pearls that have flat backs and can be glued on anything.
That's all that I can think of at the moment.  You'll notice glitter (as much as I love it, it's not for your average crafter.  You have to loooove it to make it enjoyable!) and markers didn't make my list.  I like clean crafting. 🙂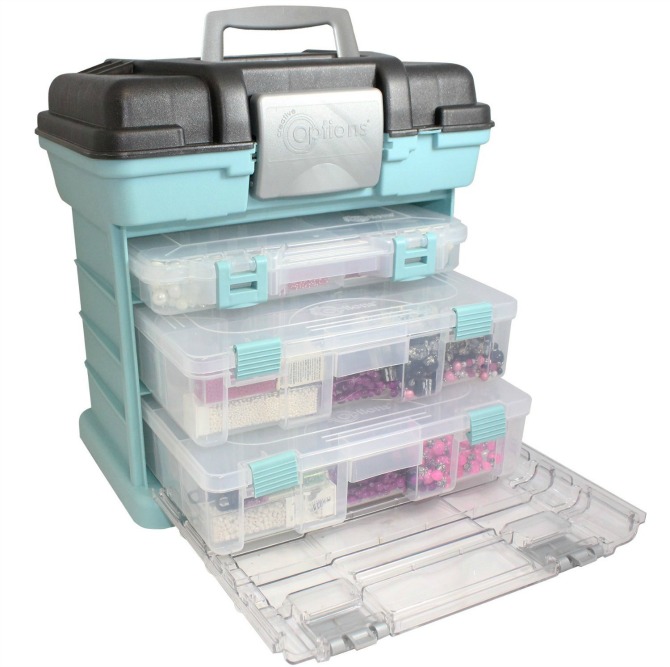 To keep my craft supplies organized and my sanity intact I use Creative Options' Medium Rack System.  They sent me a sample a few months back and it has revolutionized my craft chaos.  I've even bought an extra one (or two lol).  You can check them out for yourself on CreativeOptionsCraft.com or buy them on Amazon or Hobby Lobby.  They hold everything in neat little compartments and you can pull out separate sections to bring to the craft table for easy working.
If you're unfamiliar with kid's crafting I do hope you'll give it a try.  It can be a lot of fun!