Sponsored post by Mirum.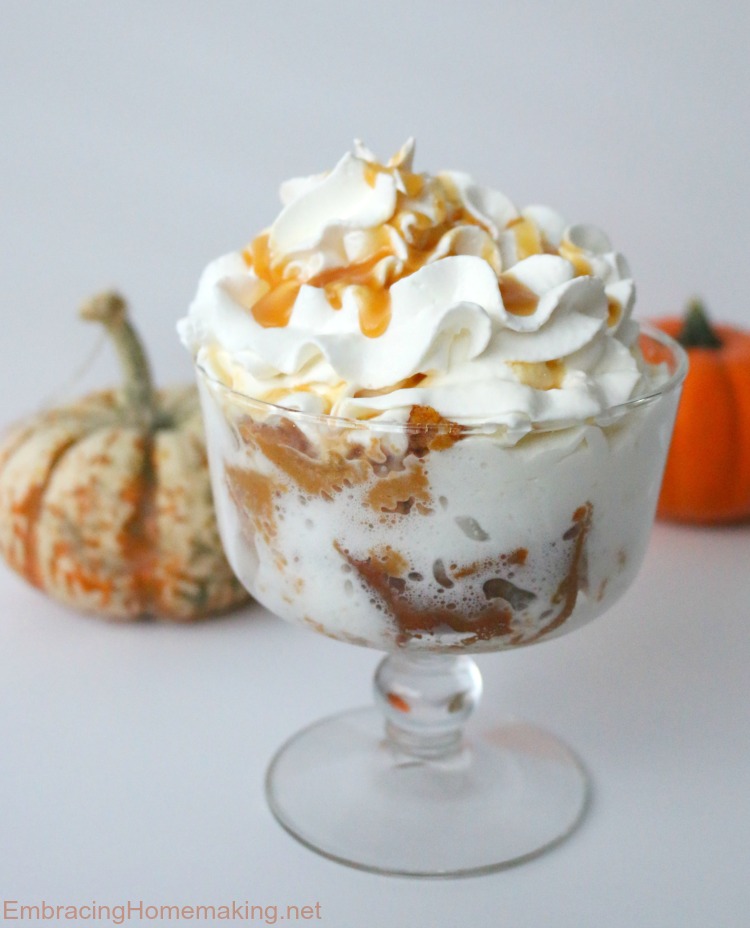 This Caramel Pumpkin Trifle brings delicious fall flavors together in an easy and elegant dessert!  It's like eating fall in a cup.  This is a great dessert to make in individual servings or in a big trifle dish for the holidays.  Thanksgiving is right around the corner you know!
The weather around here has been crazy.  It's 76 on the day we get our Christmas pictures and are suffering in our sweaters and the next day it's in the 50s and the bitter cold wind cuts through us no matter what we put on.  Pumpkin is the perfect dessert for either temperature!  Pumpkin pie can be eaten cold or served warm.  I chose to heat up mine for this dessert and afterwards I realized that I probably should have done it cold for better pictures but it was so good warm! 🙂
This yummy parfait is made with Marie Callender's pumpkin pie, caramel sauce, graham crackers, and Ready Wip.  My favorite thing about this recipe is how easy it is.  My kids helped me make it and they loved making it as much as eating it.
Enjoy!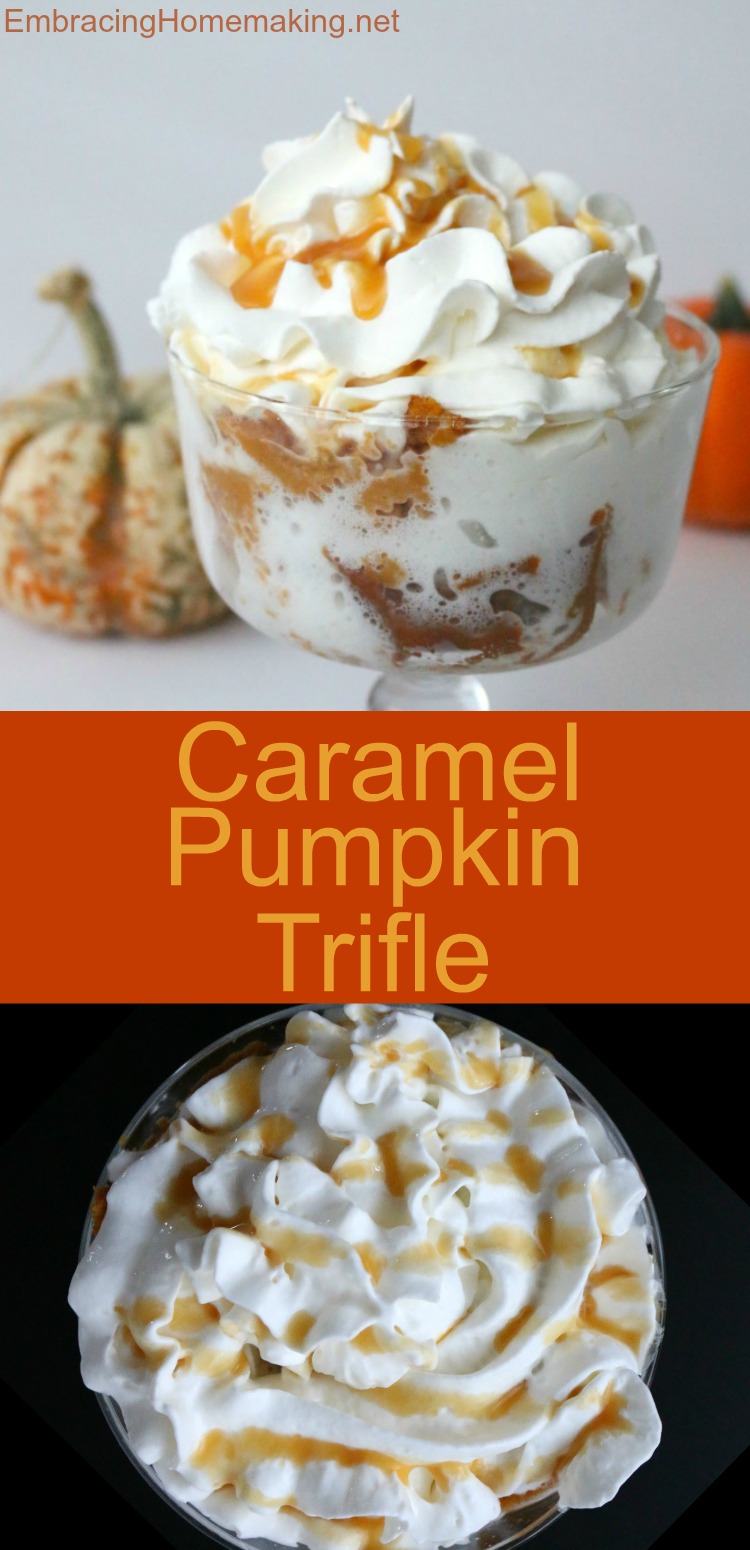 Ingredients: 
– Graham crackers (crushed)
– Caramel sauce
Directions:  Gather your ingredients and add a heaping tablespoon of crushed graham crackers to the dish.  Add a layer of pumpkin pie.  Add a layer of Ready Wip.  Add a layer of crushed graham crackers.  Add a layer of pumpkin pie.  Add a layer of Ready Wip.  Drizzle caramel layer on top of your dessert for a lovely presentation.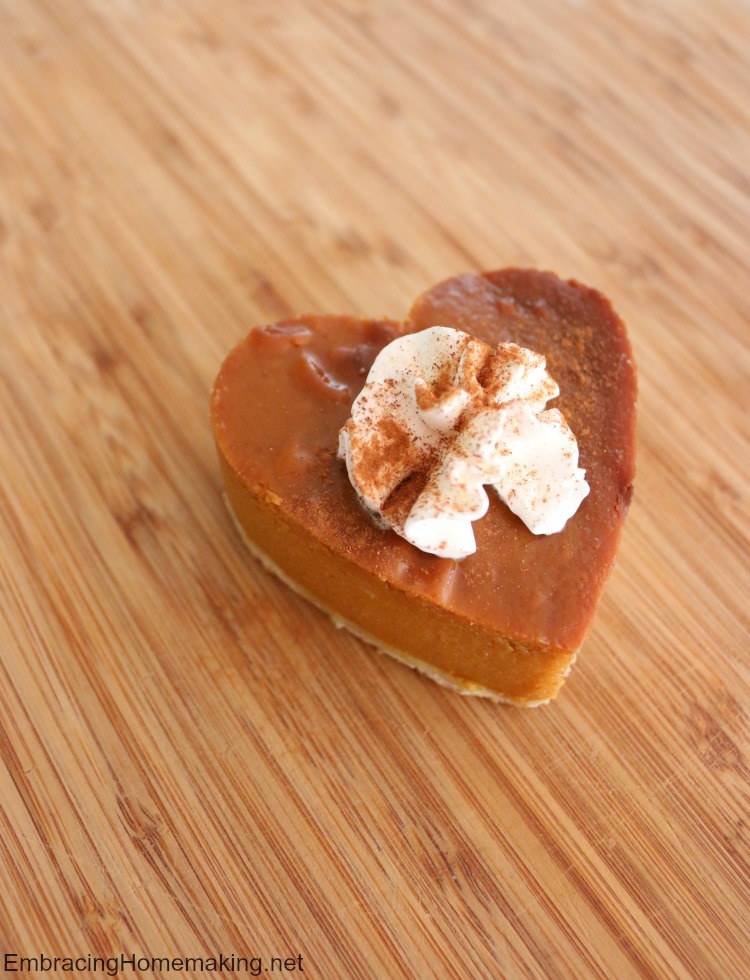 We had some leftover pumpkin pie and made these little pumpkin hearts with cookie cutters.  We added a little Ready Wip on top and sprinkled with cinnamon and they were ready to serve!  These mini pumpkin pies are yummy with hot chocolate.   We add a squirt of Ready Wip and a sprinkle of cinnamon to our Swiss Miss hot chocolate to make it extra special!
I'm not one for making pies, Marie Callender makes all of mine for me.  I figure that make in another stage of life I'll learn how and make the perfect pies.  For me, stopping by Walmart is a fool-proof way to get a delicious pie and I can spend more of my time with those who mean the most to me.  Easy peasy.
For more delicious inspiration check out these yummy ideas: