This post is brought to you by Akins Dodge Jeep Chrysler.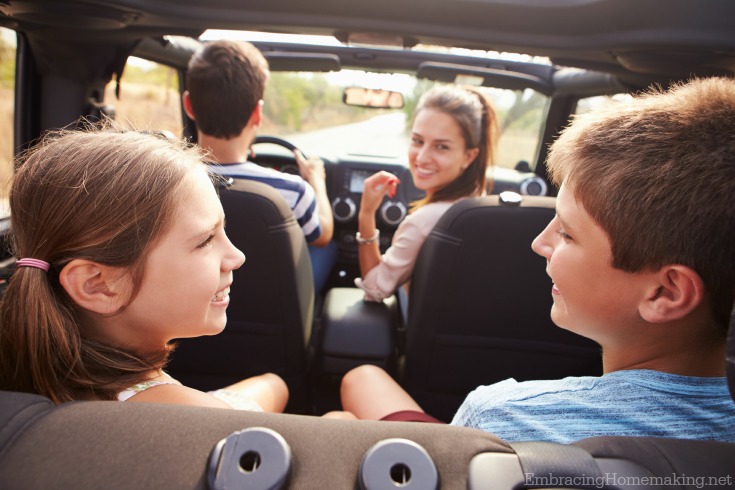 Get in the auto attitude WITH kids and it will help keep your attitudes up while on the road.
It's so easy to get frustrated with our kids, especially in a mobile, contained area – the car. We can handle them outside on the playground, but it seems that this space-restricted area also restricts our patience. Keeping some things in mind can make the car ride, and the day, better.
 –  They are children.
Sometimes I expect my children to act like little adults, to act like they have all the knowledge and self-restraint that I have. I hate to break it to you, and to remind me, but they don't have the life experience and developed social skills of thirty-some years that we do. I try to remind myself of this often when they seem like little terrors, when I get "the-look" from the others moms in the stores.
–  They are contained.
Your little packages of fun and energy have now been literally harnessed in. They just might explode! Be considerate of this. On a long trip, take them to a rest stop and let them run. Remember not to overdo the sugar, dad. It may seem worth it to give into the sugary sweet that they are begging for, but I regret it about thirty minutes after consumption.
–  They are fun-oriented.
If your little ones don't perceive the car as fun (and they're not asleep), they're probably not going to enjoy the car ride. Like said above, they want to frolic, and skip, and run, and somersault, and, and, and… Though it takes a little more work, I try to make the car ride fun. What games can we play? What new can we listen to? What bribery can I use… I mean, what?
–  They are not in control.
Begging is an excellent way to get what we want. What's the adage? The squeaky wheel gets the oil? When we are more vocal about what we want, we tend to get it. In order to avoid giving into these begging session, it's best to offer options. You can do this, this, or this. Giving some control to your strapped in kid will help them feel less constrained and more like part of the family team.
A little empathy goes a long way. Putting ourselves in our children's shoes can help eliminate daily stress and mold positive reactions for them in the future. What's your mental game plan for enjoying the car rides with your kids?