This post contains affiliate links for your convenience.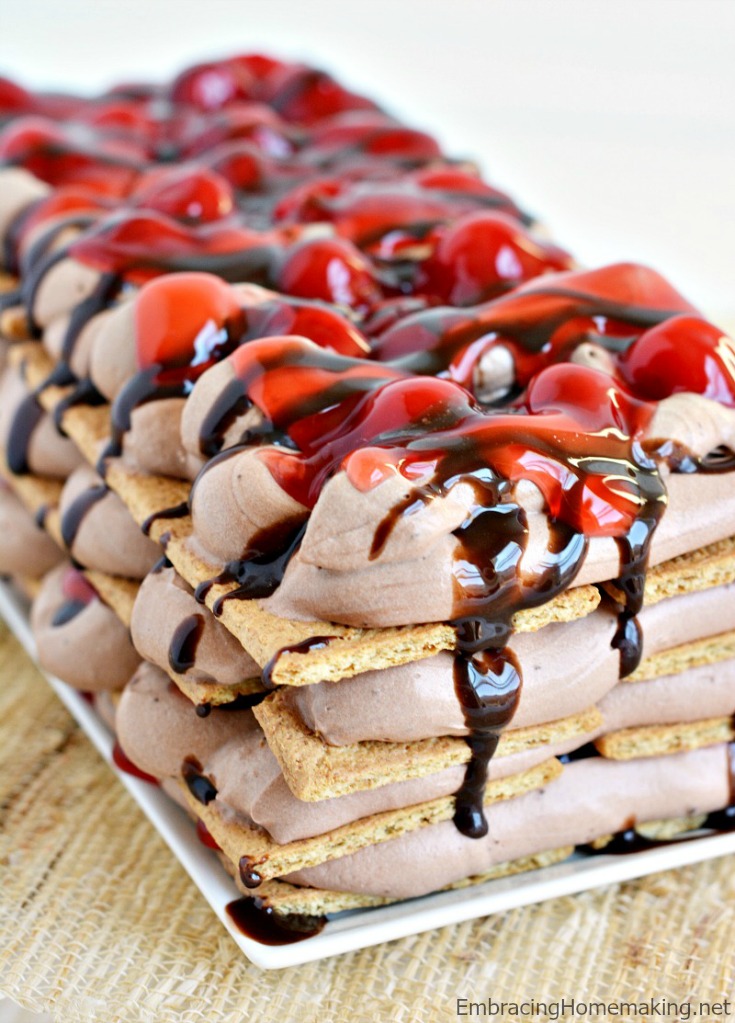 This chocolate cherry ice box cake is by far my favorite summer dessert!  This is a great go-to for company or a pot luck or BBQ where you don't have a clue of what to bring.  You can't go wrong, everyone loves an icebox cake!  I love how decadent and yet how refreshing this is since it is chilled until ready to serve.  The graham crackers layered between get nice and soft, similar to a thin layer of cake.  All of the flavors together are so delicious!  There's something about chocolate, cherries, and cool whip coming together that make this the perfect dessert!
Ingredients:
– 1 – 5.9 oz box instant chocolate pudding powder
– 2 1/2 cups whole milk
– 2 cup Cool Whip dessert topping, thawed
– 16 whole graham crackers
– 1 – 21 oz can cherry pie filling
– 3 tablespoons chocolate syrup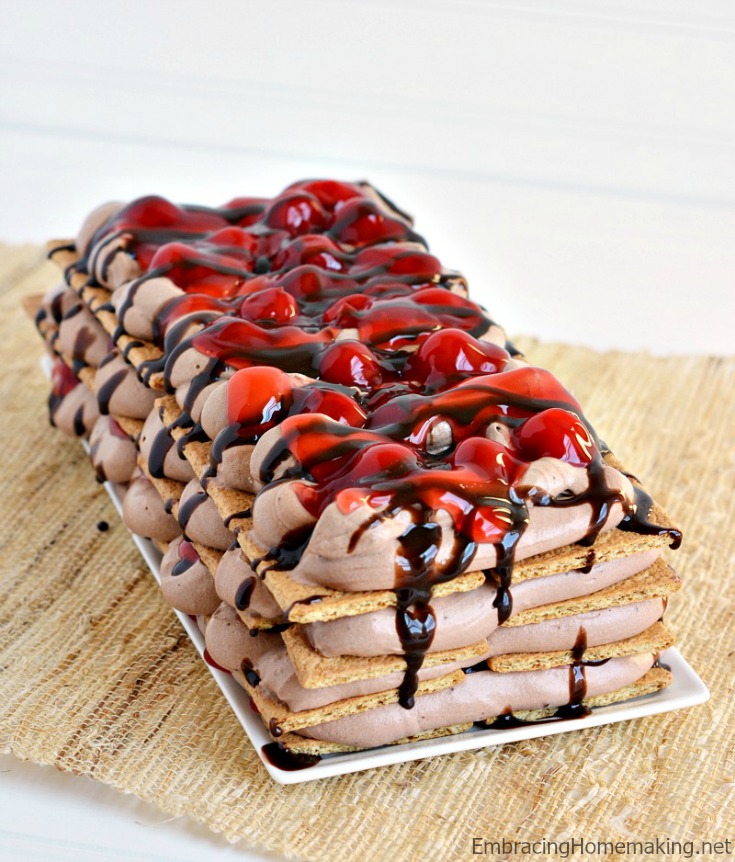 Directions:
1. Using an electric mixer, whisk milk and pudding powder for 2 minutes.
2. Gently stir Cool Whip into the pudding.
3. Refrigerate pudding mixture for 10 minutes.
4. On a rectangular serving dish, place 4 whole graham crackers length-wise into the shape of a rectangle.
5. Spoon the pudding mixture into a piping bag or gallon zip-loc bag and cut the corner.
6. Squeeze the pudding mixture from left to right and back, covering all 4 graham crackers.
7. Spoon 1/4 of the can of pie filling over the pudding mixture.
8. Repeat the layers until you've used all the ingredients.
9. Drizzle the chocolate over the top and refrigerate for 4 hours, until ready to serve.
If you want a delicious, SUPER simple dessert to make, you've got to try this!  I promise you, it will not disappoint.
What about you, what's your favorite go-to summer dessert?  Cheesecake? Icebox cake? Homemade ice cream?
If you like this, pin this recipe so you can find it later and follow our dessert Pinterest board for more yumminess.