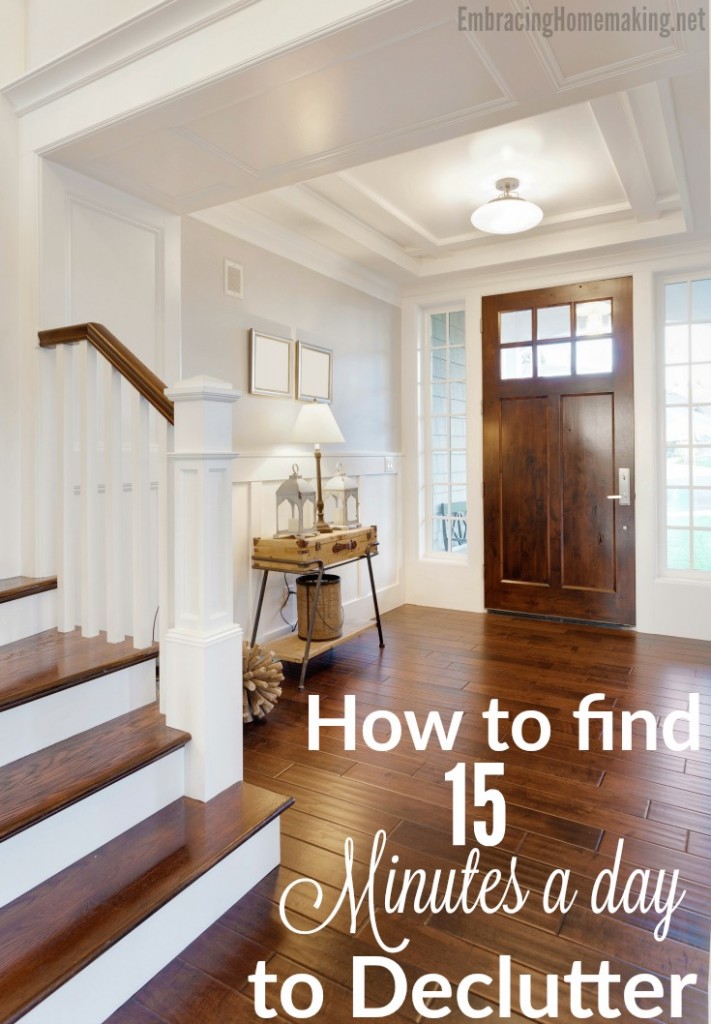 It can be overwhelming to try to declutter your home when you take a large chunk on at once. Rather than attack it full-force, you are probably more prone to put it off. Day after day, the task seems less than inviting. Daunting even.  You're not sure but you think you heard your pile of papers and dust bunnies mocking you.
What if you set aside 15 minutes to declutter? Would you be able to approach it then?  Try these tips to get yourself closer to a clutter-free home.
1. Set a reasonable goal
If you want to take on a closet, for example, you will not be able to get it all done in 15 minutes. Start with a shelf, time yourself for 15 minutes and do a really job purging what you don't need and re-organizing that particular space. The next day, continue with that shelf if needed or move on to another one.
2. Use the KRRT rule
Decide if you want to keep it, re-use it, recycle it or trash it. If you have not used it within the past year, then it is not an item you need to keep. Can it be donated? Is there someone you know who needs it more than you do?  Sometimes, by asking these questions, our perspective on the item changes.
3. Decide on a home
Everything you are re-organizing needs a home. If you just toss it back on the shelf, it will become chaotic quickly. By having a specific home for each item, you are bound to stick to a more organized space. Use bins, jars, labels and whatever else works to keep your space the way you want it. This will add visual appeal and motivate you to stick to your newly organized space.
4. Wake up 15 minutes earlier
I like sleep as much as the next guy. Probably more! However if you're having trouble squeezing 15 minutes a day to declutter wake up a little earlier. Don't declutter with your eyes still glued shut but once you're awake and moving attack a problem area and I bet you'll have a spring in your step the rest of the day.
5. Talk and declutter at the same time
Can't chew gum and walk at the same time? Well, this probably isn't for you. 🙂 The idea is simple, to distract you while you declitter. Hopefully this will help you from overanalyzing everything and make you more efficient. Plus, if you're talking to a girlfriend she can help give you the nudge you need to let go of some things.
15 minutes a day is all it takes to get yourself started with de-cluttering your living space. That could amount to almost the same time as a Netflix show or a few songs from your favorite playlist.